Meet the Formspring sisters, both born in Indianapolis.
Of the two, more likely you've heard of Formspring.me—the social-media-site sister who gets all the attention and moved to San Francisco last year.
Byers
Some say Formspring.me has the potential to be the next Facebook or Twitter. At least that's what venture capitalists, who've showered it with more than $15 million in funding, are betting on.
Back in Indianapolis remains Formspring.me's Plain Jane sister, Formspring—renamed Formstack last year.
Its drag-and-drop form builder isn't flashy, but it's intensely practical for organizations needing contact forms, order forms and other online business tools.
Sexy sister Formspring.me may be surfing the social media wave along the Pacific. But, hey, said Formstack CEO Chris Byers: "We are profitable."
The Formspring/Formspring.me/Formstack saga is one of the strangest chapters yet in the city's burgeoning IT sector.
It all started six years ago when Anderson University computer science graduate Ade Olonoh co-founded Formspring to make online forms available on a monthly subscription basis.
The company landed a number of customers. Some were HVAC contractors that wanted a form for their wireless phones to order parts for a customer's furnace. Universities use its forms to conduct surveys.
Two years ago, as the story goes, Olonoh noticed that some bloggers had adapted a Formspring form designed to collect customer feedback to, instead, interact with friends. A light bulb went off in Olonoh's head: Why not make money off the concept through a social media site that encouraged friends to ask and answer questions?
Formspring.me took off. It now claims tens of millions of registered users. Olonoh and a couple of the Indianapolis employees loaded up the truck and moved to California.
Byers said Olonoh retains an ownership stake in the original company Formstack.
Formstack isn't without its believers. It has gathered investments from firms such as Gravity Ventures.
"We are pretty much the same company," said Byers, who knows Olonoh from their student days at Anderson University.
Byers was brought in to lead Formstack about a year ago. He and his wife had been living in Europe, where they were helping start churches. In fact, his wife, Dana, created the website Bluedoor.tv, an online church planting site.
Formstack, a software-as-a-service company, had seven employees when Byers arrived a year ago; now it has 12. "We'll probably add a number in the next few months."
Formstack has customers in 110 countries, ranging from Fortune 500 companies to not-for-profits to Web designers. Among customers is the town of Fishers, which has used its online forms for things such as resident surveys on trash removal, and to accept job applications.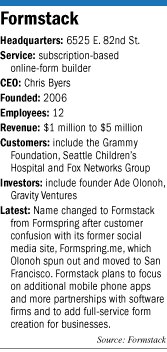 Generally, customers pay between $30 and $160 a month, depending on how many forms they use.
Formstack's annual revenue is still somewhere below $5 million, although Byers is eager to grow that.
"We are planning more focus on mobile, which is set to include another app and some focus on easier ways to use our forms on mobile devices," Byers said.
The company has also been integrating its forms with other popular online firms, such as Palo Alto, Calif.-based collections firm WePay and Indianapolis-based e-mail marketing giant ExactTarget.
The integration with other firms could, for example, help a business whose customers register for an event using a Formstack form. Data collected through the form can be automatically added to ExactTarget subscriber lists. That way the person registering for an event could receive marketing e-mails, later, such as notification about subsequent events that are planned.
Byers said Formstack also will begin offering more custom services for businesses. These could include organizations that need more help integrating data they collect using Formstack's forms with their existing IT infrastructure.
Though the market size for firms like Formstack for online forms is hard to define, the company clearly is a player in the niche, which also includes firms such as SurveyMonkey and Zoomerang.
That niche is getting more crowded. Last month, software giant Adobe entered the market with a hosted online survey service known as Adobe FormsCentral.
"We have a lot of people trying to copy what we do," Byers said.
Not among them, of course, is fraternal twin Formspring.me.
The latter's social-media focus may in the end have more revenue potential than Formstack. Though Indianapolis lost a potentially promising social media firm when Formspring.me moved West, the upside is that it could have found funding here, said Jim Jay, president and CEO of TechPoint.
Jay counts at least 22 venture firms–most from outside the state–that have invested here in recent years. Recipients include Scale Computing and Angie's List. A decade ago, such firms may have had to move to the East or West coasts to get noticed by investors, he said.
"It was really the desire of the founder to be in California, frankly," Jay said of Formspring.me. "There's not a lot you can do about that one."•
Please enable JavaScript to view this content.