Frank Gehry's creation for the New World Symphony overshadowed the grand opening of the Palladium in Carmel—at least in the national press—but Artistic Director Michael Feinstein is catching up with the limelight.
PBS film crews will be there May 12 for "Michael Feinstein: The Sinatra Project." Backed by a 17-piece band, Feinstein will lead a musical exploration of Sinatra's influence on Rosemary Clooney, Dean Martin, Peggy Lee, Lena Horne, Nat King Cole and Ella Fitzgerald.
The live concert will serve as pledge-drive programming on PBS member stations around the country later in 2011.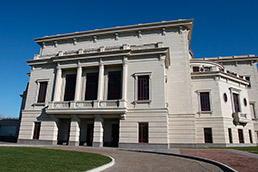 PBS will film a Palladium performance of Feinstein's Sinatra project on May 12. (IBJ File Photo)
The Palladium will also provide the backdrop for a National Public Radio program, "From the Top," on April 26. The program shares the stories and performances of pre-collegiate musicians.
Please enable JavaScript to view this content.