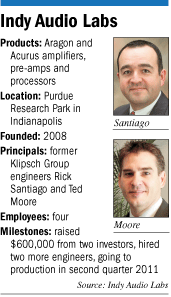 In the age of portable devices, Indy Audio Labs has invested a lot of brainpower in a black box that weighs about 30 pounds.
The local startup, a team of former Klipsch Group engineers, has spent the past two years trying to infuse high-end home audio equipment with the all-in-one sophistication of a smartphone. The result is big and expensive but, they promise, finally meets the expectations of tech-savvy audiophiles.
"The ability to sit down in front of your television and get at the entertainment you want right then and there is the ultimate goal," co-founder and Chief Operating Officer Ted Moore said.
The company's target customer will soon find out whether the promise is reality. After landing a $600,000 investment from an undisclosed source, Indy Audio Labs is planning its first production run of preamplifiers and amplifiers for the second quarter.
Costing $2,000 to $4,000, these are the electronic components one would buy to power a set of top-of-the-line speakers. Referred to in the industry as "separates," amps and preamps are used instead of a single receiver, which is common to more affordable systems.
Indy Audio Labs is selling its product under two brand names, Aragon and Acurus, which founders Moore and Rick Santiago bought from Klipsch in early 2009.
Klipsch had decided to get out of electronics to focus on speakers, but Moore and Santiago, who both worked in electronics, saw an opportunity to bridge the worlds of software and audio engineering.
The pair worked out of their homes and self-financed the operation until February, when they landed financing. Since then, they've hired two more engineers and moved into offices at the Purdue Research Park off Ameriplex Parkway. Moore and Santiago declined to name their investors, but said they're affiliated with the Jeffersonville-area contract manufacturer that they'll use.
Indy Audio Labs will compete in a small but reliable market, said Sean Murphy, senior account manager in market research at the Consumer Electronics Association, based in Virginia. People who can afford, or who place a high priority on, equipment that costs upward of $2,000 are always there, Murphy said, and he thinks that, with the recession starting to fade, they're ready for some upgrades.
"I do think, personally, that the market for home audio on all levels is better now than it has been in the last decade," Murphy said.
One driver is the advent of flat-screen TVs. Without a sound system to match the video quality, Murphy said, consumers realize they're getting only half the home-theater experience.
The volume of home audio components sold to dealers last year increased 22 percent, to 8.2 million, and it's projected to rise another 4 percent this year, according to Consumer Electronics Association research.
The market for the top-shelf components is but a fraction of that. About 7,000 amplifiers were sold last year, according to CEA research, which Murphy said does not capture all the high-end manufacturers. The number of preamplifiers, which are the brains of the system, is even smaller.
Like many of its peers, Indy Audio Labs expects to do a significant portion of its sales, about 50 percent, overseas, Moore said. People around the world still look to the United States for durable audio equipment, and a lot of those buyers are newly wealthy people in emerging economies. Indy Audio Labs already has a big purchase order from China, Moore said.
Moore and Santiago declined to disclose their projected volume, but said they expect to be self-sustaining by early 2012.
The company's real debut will come in September at the national convention for Custom Electronic Design & Installation Association, which happens to be in Indianapolis. A lot of the feedback so far is based on the brand reputation of Aragon and Acurus with some dealers even putting in advance orders, Santiago said.
Gary McCormick, founder of locally based Ovation home entertainment stores, was intrigued by the Acurus preamp.
"That's where all the magic happens," he said. "There's definitely room for some pizzazz there."•
Please enable JavaScript to view this content.