Versus cable channel, which signed a 10-year television deal with the IndyCar Series starting in 2009, is demanding the series black-flag its online streaming of races, practices and qualifications this year. That leaves some fans wondering where they're going to get their open-wheel fix.

"The IndyCar website had a really nice offering, so this is an unfortunate blow," said Mike Mooney, a Bloomington resident and longtime IndyCar fan.

Versus is planning its own online content, including streaming video from cameras placed inside the cars of Will Power and Ryan Briscoe, during 10 races this season.

But content shown on Versus' TV broadcasts will not be replicated online, Versus officials said. The season begins March 27 in St. Petersburg, Fla., and Versus' first broadcast is April 10 in Birmingham, Ala.

Fans who don't have a cable package that includes Versus have been especially vocal about the change.

Versus reaches about 74 million households, according to New York-based Nielsen Media Research. It is not as ubiquitous as ESPN, which reaches nearly 100 million households.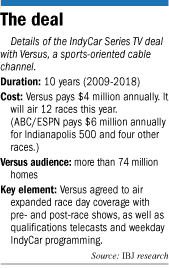 The stipulation that Versus could force the series to drop its online streaming has always been part of the contract, but Versus officials told IBJ that this year they insisted series officials drop the feature from their website "to push all possible eyeballs" to the cable channel.

"I understand their goal," said IndyCar Series CEO Randy Bernard. "It's to get the ratings up. That's everyone's goal."

Mooney called the move "short-sighted."

"If they're concerned with building a fan base for the series, taking away these online features isn't the way to do it," Mooney said.

IndyCar officials said they are looking into the possibility of offering online streamed content after the events have occurred, but have not yet worked that deal out.

Ever since Comcast Cable, which owns Versus, bought controlling interest in NBC in late 2009, there has been a major push to grow Versus to a size that would rival TV sports powerhouse ESPN.

"There's been a very vocal segment of IndyCar fans who feel something has been taken away from them," said Tim Frost, president of Frost Motorsports, a Chicago-based motorsports business consultancy. "But for Versus and its parent company, this is just a matter of trying to grow their return on investment."

Though Versus officials declined to say how much they pay the IndyCar Series for its broadcast rights, sources familiar with the deal said the cable channel pays the series $4 million annually to air 12 races. ABC/ESPN pays another $6 million to air the Indianapolis 500 and a handful of other races.

While sources within the series voiced frustration over Versus' decision, they said pushback from IndyCar has been muted because of all that Versus is doing for the series.

This year, Versus is expanding race-day coverage from three to five hours, including coverage of up-and-coming drivers in the Indy Lights Series. Versus also added a one-hour, in-studio show to run during each week of the season, and will air a total of 140 hours of IndyCar programming this season, a huge leap from the series' former coverage on ESPN.

Mooney suggests that Versus pick up the online features they forced IndyCar to drop from its website. The series not only streamed practice and qualifications, but live race broadcasts, including in-car camera shots from up to five cars with live timing and scoring features.

Without those features, Mooney said Versus and the IndyCar series risk alienating an upcoming generations of fans.

"I have an 11-year-old son that watches everything—past races, live races, quals and practices—on his Ipod touch and/or the computer," Mooney said. "He's a huge fan and the ability to watch on the Internet is a primary reason for that."•