WRTV-TV Channel 6 is partnering with HomeTown Sports Indiana, a division of Noblesville-based HomeTown Television Corp.
Financial terms of the deal were not disclosed.
The new partnership will give more than a million Hoosiers access to HomeTown Sports productions and will give WRTV's viewers access to a mixture of live and taped sporting events, said WRTV-TV Channel 6 General Manager Larry Blackerby and HomeTown Sports Indiana President Rick Vanderwielen.
Regional high school and collegiate games will be featured on WRTV's digital channel, RTV 6.2, which is available on nine cable systems throughout central Indiana, reaching nearly 830,000 viewers.
RTV 6.2 can also be seen over the air by all television households in the Indianapolis market.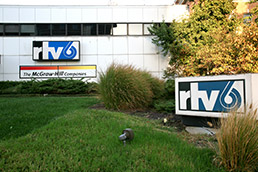 WRTV is amping up its local sports coverage by partnering with Hometown Sports Indiana. (IBJ File Photo)
HomeTown Sports Indiana debuts on RTV 6.2 on May 1.
"The viewers in central Indiana are going to love this channel," Blackerby said. "We are going to have high school sports of all types. They'll get high school football, high school basketball, high school volleyball, high school bowling. You name it and we're going to have it on this channel. Then you throw in the college sports from across the state, it's a wonderful opportunity."
Under the partnership, RTV 6.2 will feature a variety of sporting events from the IHSAA, University of Indianapolis, Franklin College and Wabash College. RTV 6.2 will also feature a live Friday Night Football Game of the Week, beginning this fall.
Please enable JavaScript to view this content.