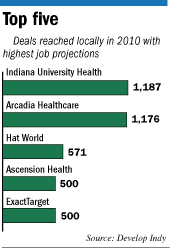 The city's decade-record number of job commitments in 2010 could be the most frequently discussed figure in the run-up to this fall's mayoral election.
But voters might want to take that number—8,702—with a grain of salt.
The number of commitments is difficult to verify because of the confidentiality surrounding the city's agreements with companies—and the reluctance of companies to share personnel information with the public.
It's even harder to track whether those jobs come to fruition. The city doesn't follow up with companies to see if they create the jobs promised unless local incentives are attached.
So, while Republican Mayor Greg Ballard touts those numbers and Democrats raise questions about them, experts advise against placing too much importance on them in the broader political debate.
Some say the commitment numbers reflect more optimism than reality.
"They mean hope—you hope these [companies] do what they've persuaded you they're going to do," said Jerry Conover, director of the Indiana Business Research Center. "Job commitments are promises of things to happen, but we all know that promises don't all come true."
The commitment numbers include pledges made by companies that get assistance in any form from Develop Indy, the economic development agency funded by the city and private sources.
Of the 8,702 jobs committed, 4,403 were associated with companies receiving local public incentives, such as tax abatements or infrastructure upgrades. Other companies are offered local incentives but accept only state tax credits; they account for 2,600 of the jobs.
Still others get no public dollars but accept Develop Indy's help in recruiting employees or selecting a site. Those companies committed to 764 jobs on the city's list.
A handful of other companies on the list—representing 935 of the job commitments—remain confidential because they have not yet publicly disclosed their move or expansion plans. Some have been offered local tax abatements, but it's unclear whether they will accept them.
Job commitments with tax dollars attached can be verified by public documents, but the 764 with no incentives—and possibly some of the 935 that are confidential—cannot.
That's because those numbers are based on questionnaires companies fill out when they initially express an interest in moving or expanding here. Those numbers may be modified as discussions progress.
Develop Indy keeps its questionnaires confidential to protect some company information, such as wages and revenue.
Melissa Todd, Develop Indy's vice president of operations, said her group counts a project on its commitment list when a company has confirmed it is moving forward with plans. That can be through an acceptance letter, a verbal commitment or word that they've accepted a state incentive.
"We're very confident these projects are going to happen," Todd said, noting that if Develop Indy hears a deal falls through, it is removed from the list.
For example, one of the companies initially on the 2010 list, Prescotech Industries, retracted its request for tax abatement. So Develop Indy pulled its 35 jobs from the list.
No formal tracking
Modifications in plans, however, aren't always reflected in the city's numbers, raising questions about the city's process of verifying how close companies come to keeping their commitments. Anecdotal evidence suggests missing the mark is not uncommon.
IBJ called a handful of companies on the 2010 list to see if their plans matched commitments made last year. One company, Scale Computing, plans to add 80 employees, which is more than the 50 job commitments on the list.
But another, Perpetual Technologies Inc., says its growth plans include 43 jobs—some already added and others in the works—not the 100 jobs reflected on the city's list.
Unless jobs come with local incentives, the city has no way of tracking whether they come to fruition. And in many cases, the public can't track them, either.
Companies that get local tax abatements—temporary relief from the taxes paid on new development—must file annual paperwork with the city to report their progress in bringing promised jobs or risk losing their city money. Those receiving other public incentives also are tracked by the city to ensure compliance. Those reports are public.
The Indiana Economic Development Corp. tracks whether jobs that come with state tax credits come to fruition. But the state does not disclose individual companies' progress. And the city doesn't follow up with the state to find out, so the public can't know which of the 2,600 Indianapolis jobs with only state incentives came to be.
The city also has no formal process to track whether companies that don't receive incentives create the jobs they pledge.
The lack of tracking is partly a resource issue, leaders say, but also a question of creating a climate that's conducive to business.
"If we're not investing taxpayer dollars on job commitments, there's no need to set up bureaucracy," said Michael Huber, the city's deputy mayor for economic development. "Taxpayers don't have any recourse in that situation."
The city's current procedures for reporting job commitments and tracking them are essentially the same as they were during Democratic Mayor Bart Peterson's administration, according to two Peterson-era economic development officials.
Some cities, however, do keep closer tabs on whether companies make good on their commitments. The Greater Oklahoma City Chamber, for example, meets with companies that pledged jobs to ask, among other things, how many came to fruition.
They keep information about individual companies confidential but report in aggregate on the progress.
"It's a really good way to follow your economy and see the health of your entities," said Robin Roberts Krieger, the group's executive vice president for economic development.
'This is the maximum'
Experts say they know anecdotally that companies tend to promise more jobs than they deliver.
"People tend to—when they do the big public announcement—talk about what they hope will occur," said Tim Bartik, a senior economist with the W.E. Upjohn Institute for Employment Research in Kalamazoo, Mich. "A lot of times that falls short. I think [job commitment numbers] are interpreted as, 'This is the maximum.'"
Calls to a handful of companies that made commitments in prior years turned up examples on both ends of the spectrum.
In 2008, for example, Fort Wayne-based communications firm Briljent committed to 50 new jobs in Indianapolis. They have brought 122.
But IT firm Double-Take Software, which pledged 218 new jobs that same year, produced none after a planned relocation fell through and the company was purchased by Vision Solutions last summer.
City records of tax-abated jobs show, in 2009, about 82 percent of the job commitments expected in that year came to fruition. That figure was 84 percent in 2008, and 64 percent in 2007.
The state's numbers show an average of 87 percent of jobs came to fruition from 2005 to 2009.
Experts say it's important for voters to keep those statistics in mind, particularly as job commitments increasingly become linked with political capital.
"The typical voter wouldn't be that well-served putting great emphasis on that [figure], given the stats are somewhat murky and you can't authenticate them," said James McCann, a Purdue University political science professor.
Ballard's opponents say he has portrayed the commitments incorrectly as guarantees.
In press releases and his State of the City speech, Ballard has consistently referred to the numbers as commitments. But in the city's 2010 jobs report, he said the city is in a period of significant job growth—a statement with which some Democrats take issue.
The number of employed Marion County residents has dropped about 6.4 percent from the first quarter of 2008—the early recession and the beginning of Ballard's term—to the first quarter of 2010, the most recent comparable quarter for which U.S. Bureau of Labor Statistics data is available.
"It's important as people are struggling out there not to leave a misleading impression that a commitment without any formal backing is the same thing as job growth, because it's not," said Melina Kennedy, a Democrat vying to challenge Ballard in the November election.
Ballard said he's taken pains to make it clear the jobs won't all come to pass. But he doesn't downplay their significance. The numbers still are stronger than those produced in earlier years using the same metrics, he said.
"It means the city of Indianapolis is a good place to do business—companies realize that," Ballard said. "We look like a business-friendly city."•
Please enable JavaScript to view this content.