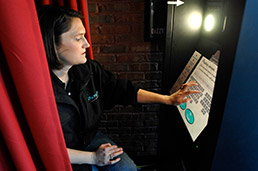 Fish Face Photo Booths' Beth Johnson changed her plans after feedback from entrepreneurs. (IBJ Photo/ Perry Reichanadter)
Local entrepreneur Beth Johnson thought she knew what she wanted when she began planning her startup Fish Face Photo Booths. Then she entered her idea in a business plan competition and her vision got even sharper.
Johnson won the Hamilton County Entrepreneurship Advancement Center's inaugural community business plan competition in January. Now Fish Face—which sells and rents photo booths—is fielding inquiries from potential customers nationwide.
"This competition has been a huge influence on our company and allowed us to make these quick decisions in the beginning to get us where we need to be," explained Johnson, 30. "We have interest from all over the country. We expect to sell, hopefully, at least 50 of the photo-booth kits this year."
The feedback she got from established entrepreneurs during the competition made her re-evaluate her plan to sell only so-called "vend" booths, intended for commercial use in malls, amusement parks and the like. Now she also sells and rents "event" booths that can be set up at weddings, proms and similar celebrations.
Spun off from the Hamilton County Alliance as a separate not-for-profit in early 2010, the Entrepreneurship Advancement Center offers assistance to county residents who aspire to own a business. It operates on a shoestring budget of less than $45,000 a year, funded mostly by about 20 corporate sponsors, including North Carolina-based Duke Energy, the Indianapolis law firm Baker & Daniels and Carmel marketing firm Roundpeg.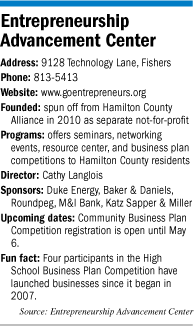 The center began as the economic development group's entrepreneurship education branch—working with high school and college students—but expanded its services to the community at large when it struck out on its own.
It sponsors networking events and workshops on various business-ownership topics, such as providing health care and attracting investment capital. It also organizes two high school business plan competitions and the new Community Business Plan Competition.
"There are so many people in Hamilton County that have an idea for a business or are at a point in their lives where they want to try something new," said board member Arthur Fisher, an attorney at Baker & Daniels. "They're not in high school. They're not in college."
The rate of startup activity in Indiana is among the lowest in the country, according to a 2010 study from the Ewing Marion Kauffman Foundation in Kansas City, Mo. But hopes run high for fast-growing Hamilton County. And a difficult economy could prompt more would-be business owners to give entrepreneurship a shot, said center Executive Director Cathy Langlois.
"If you lose a job, that becomes an opportunity," she said.
Organizations like the Entrepreneurship Advancement Center give potential entrepreneurs the tools they need to seize that opportunity, said Julie Grice, executive director of the Business Ownership Initiative in Indianapolis. Grice also is a 10-year veteran of the Greater Indianapolis Chamber of Commerce and has owned her own marketing business, Grice Smart Sponsorships.
"Given the challenges of existing jobs and new openings, I think that [a resource center] puts the onus and sparks the fire under entrepreneurship for people who at some times in their lives have thought, 'Gosh, I really want to start a business,'" Grice said.
The Hamilton County center has built connections to established entrepreneurs, who help aspiring business owners figure out where to begin. The Community Business Plan Competition is one such tool.
Finalists in the competition consulted with experienced business owners, who provided detailed analysis of the startups' business plans. From there, competitors had two months to make changes and realign their objectives.
"The services we've received as a startup business have been invaluable," said Johnson, who runs Fish Face with her husband, David. The expert advice got their company headed in the right direction, she said, and "it immediately gave us legitimacy as a company to open the doors" to potential customers.
Johnson received a prize package valued at $10,000, giving her further consulting, marketing, financial and legal assistance.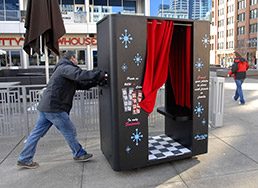 David Johnson delivers a Fish Face photo booth to Scotty's Brewhouse downtown. (IBJ Photo/ Perry Reichanadter)
That helped her develop the Fish Face Photo Booth Kit, a portable booth setup that can be pieced together and taken apart for transportation, and the Fish Face Portable Booth, which is a one-piece model also designed for easier travel.
Johnson also is developing video and green-screen applications for her booths, which can share photos right after they are taken, via e-mail and social media such as Facebook and Twitter.
Having resources within an industry is one of the most important factors in startup success, Grice confirmed, and it also helps the company execute its business plan.
"One of the most critical things is to have a good mentor," she said. "It's ideal to find a mentor who has experience as well as strength in a different skill set."
Johnson, for example, has worked with local engineering and software companies to develop the photo booths for her business—and they are manufactured locally.
"She's supporting other businesses and their work," Langlois explained. "Even these small businesses support other jobs within the area as well as in the state. The EAC's roots are out of economic development, so it's about job creation, job retention."
Even beyond the competitions, the organization has connections that could provide startups with financial assistance in the right circumstances, board members said.
"There are certainly times when our people will say, 'We can help you with that,'" said board member Ellen Dunnigan, noting that many times the assistance comes in the form of logistical help.
Many of those resources came about through the networking Langlois has done, Dunnigan and Fisher agreed.
"She's very much our benevolent Mussolini," joked Fisher, the attorney. "She keeps the trains running on time and keeps everyone in line."
Langlois said the organization helps act as a stop-gap for getting local businesses to "the next level." That is a service Langlois has been told fills a need in the community.
"There are so many people that have said, 'Gosh, we need what you're doing, and I wish it was around when I was trying to start my business,'" she said.
Grice heard similar sentiment from others while working at the Chamber, and she has seen the benefits such organizations offer their communities. She hopes to see similar developments at the Business Ownership Initiative, which she joined in February.
"Hopefully, it can really speed along the assistance process," she said of the resources the centers can provide. "Things just move so much more quickly in this day and age. … There are so many outstanding opportunities."
Fisher said the Entrepreneurship Advancement Center does not plan to expand its operations out of Hamilton County, but that might change, depending on the group's success.
"One of the things that's very exciting about being involved in an organization like this is, you can go in a lot of different directions," he said. "We ourselves operate like a startup. We love testing new ideas."
For now, the Hamilton County center's board is focused on raising awareness of the Entrepreneurship Advancement Center as a "one-stop shop" for both startups and experienced owners, Fisher said.
"We still have a ways to go with that, but we're making good progress," he said.•
Please enable JavaScript to view this content.