HANGZHOU, China—When Gov. Robert Orr led a delegation to China in the late 1980s, he left a memento—a miniature version of the Indianapolis Museum of Art's Love sculpture—with the chairman of Chinese auto parts maker Wanxiang Group.
In 2009, Gov. Mitch Daniels returned to China with a group that included Charles Gassenheimer, CEO of battery-maker Ener1 Inc., who met with the same Wanxiang executive, Lu Guanqiu.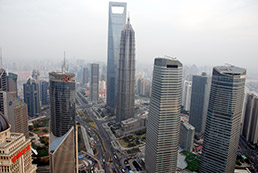 Shanghai is mainland China's leading financial center. (Photo/George Vlahakis)
"Dr. Lu pointed at the statue and said, 'I have been waiting for you to come back,'" said Jeffrey Seidel, Ener1's chief financial officer.
What resulted from that meeting was a game-changing joint venture for New York-based Ener1, whose principal subsidiary is EnerDel, the Indianapolis-based maker of lithium-ion batteries.
Under the deal signed in January, Ener1 will own 40 percent of a partnership that expects to make 40,000 battery packs a year by 2014. The packs will be manufactured at a 553,000-square-foot plant that Wanxiang is providing in this southeastern Chinese city.

"This really opens up the Chinese market. You can't really do that without a partnership," Seidel said.
Many Hoosier firms are stepping up efforts to get into China, which is the world's most populous nation and has its fastest-growing economy. China's gross domestic product rose an average of 11.2 percent over the past five years and is widely expected to continue expanding at a rapid clip.
Experts say that while big Indiana companies long have had sophisticated China strategies, smaller firms often viewed it as a place for low-cost manufacturing, rather than as a vast new market for their products.
But with growth in the United States sluggish, U.S. companies are racing to capitalize as hundreds of millions of Chinese move into the middle class—and adopt a Western-style thirst for goods and services.
Many Chinese, especially in rural areas, remain poor. But 300 million of the country's 1.3 billion residents now are considered middle class or upper class—and are only now beginning to spend accordingly.
"They are consuming cars, refrigerators, washers and dryers, and all sorts of other pieces of the fabric of Western society that even our generation takes for granted and our children's generation can't fathom being without," said Mitch Roob, Indiana's secretary of commerce.
"And, oh, by the way, there are a billion other people who are going to be coming into that in the next 20 years. So if you are making a product today and not selling that product in China, that probably means your competitors are, and they are going to be selling a product to a marketplace that is just going to continue to expand at 5, 6, 7, 8 percent a year."

Roob
It's not a one-way street. Chinese companies are beginning to invest in the United States, albeit on a small scale compared with the Japanese invasion into the country in the 1980s. The biggest Hoosier deal to date: Last month, Shandong Province-based Nanshan Group announced it will spend nearly $100 million to build a 435,000-square-foot aluminum-extrusions plant in Lafayette, creating up to 150 jobs.
Don't expect a deluge of similar deals anytime soon, though, in part because Chinese companies are focusing on their home market and don't yet have global brands to market here, consultants and executives say.
But opportunities abound to go into China. The country welcomes foreign investment—and the know-how and business sophistication that comes with it.
Developing relationships is key, Roob said, since otherwise the Chinese might not even have heard of Indiana or known about its expertise in such areas as automotive manufacturing and life sciences.
Nanshan said its decision to build in Lafayette grew out of a meeting Daniels had with company officials when he led a delegation to China last fall. The governor also went on a Chinese trade mission in 2009. Indianapolis Mayor Greg Ballard led a delegation to the country in 2008.
"There are so many opportunities in China that it turns out that knocking on doors there actually works," Roob said. "I generally hate the line that 90 percent of success is showing up, but in China it is."
Mixed bag
But that doesn't mean success in China is easy to achieve, said Ben Shobert, managing director of the Indianapolis consulting firm Teleos.
For starters, Chinese culture places heavy emphasis on "guanxi"—the building of personal relationships and connections—which slows down the process of gaining a foothold in the market. Especially key is building ties within the government, which regulates industry and owns many of the largest companies.
Then there's the country's highly regionalized and fragmented distribution system, which puts national distribution out of reach for many firms.
"Going to China and selling into China is too broad of a way to start," Shobert said. "Being successful in Shanghai would be a great start."
The issues are especially thorny for high-tech firms, which must wrestle with spotty intellectual-property protections, or even the risk that the Chinese will co-opt U.S. technology for themselves.
Especially controversial are the country's "indigenous innovation" policies, which are aimed at helping Chinese companies address an inherent weakness: their failure to come up with ground-breaking technology
Unlike the United States, the country hasn't been able to come up with the "monster, earth-shattering innovations that can take one in a very different direction," said Scott Kennedy, director of the Research Center for Chinese Politics and Business at Indiana University.
Kennedy
That's partly because it's in the catch-up phase of economic development, "where what is most valuable isn't inventing some new product, but in more efficiently manufacturing things that already exist," he said.
Even so, China is eager to move beyond its reputation as the world's factory floor, producing low-margin, commodity products. Its leaders want to move up the economic food chain, becoming a force in higher-paying industries where the United States still thrives.
That could mean China would condone, or not severely prosecute, violations of intellectual-property laws, Kennedy said, though he noted that the government has watered down the most egregious elements of the indigenous-innovation policies.
The U.S. Chamber of Commerce is assuming the worst. In a report last fall, it called indigenous innovation "a blueprint for technology theft on a scale the world has never seen before."
The good and the bad
Ener1 encapsulates both the risks and opportunities of tapping the Chinese market.
The company was the recipient of a $118 million U.S. Department of Energy grant, which allowed it to expand production but doesn't ensure strong sales. China, on the other hand, is stoking demand, setting targets for cities and provinces to purchase a certain number of buses and taxis that use lithium-ion batteries.
"We are getting access to an end market we normally wouldn't have access to, and we are seeing the demand side primed through government stimulus," Ener1's Seidel said.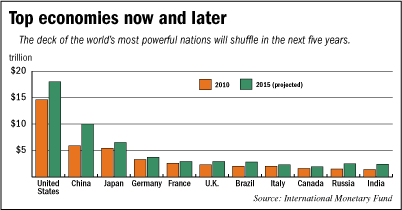 But under the joint venture, Ener1 is turning over to Wanxiang its technology for assembling battery packs—potentially saving the Chinese company three years of development time.
"They are already very, very advanced in terms of cell manufacturing," which is the more sophisticated technology, Seidel said. As for pack assembly, "you ultimately will get there. From that standpoint, I don't have a lot of concern."
On the other hand, he said, Ener1 carefully structured the joint venture to ensure its interests are protected. For example, he said, most matters require a unanimous board vote, even though Ener1 is the minority partner.
"We will have a very, very firm handle on how the JV grows, how it is capitalized, and what customers it is focused on," Seidel said.
Indiana implications
How this deal, and similar moves into China by other Hoosier firms, will affect employment in the state isn't entirely clear.
Seidel
Columbus-based Cummins Inc. is one of the success stories. It says rapidly growing sales in China and other emerging markets will fuel its hiring of 350 additional headquarters workers by next year.
In January 2010, Ener1 said it planned to create 1,400 jobs in Indiana over the next several years, most at a new production plant in Hancock County. Seidel said he thinks that estimate "is still in the ballpark. It depends on how end markets develop."
"I think what will happen is, you might not see assembly jobs [in Indiana as a result of the China joint venture], but you might see a fair amount of expansion in R&D and process engineering," he said.
That's in step with larger economic trends in Indiana. The most secure jobs increasingly require brainpower and at least an associate's degree, while nuts-and-bolts factory jobs that require only a high school diploma are disappearing.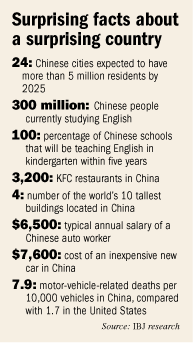 And the viable factories of the future in Indiana will employ fewer people and feature more technology, said Mohan Tatikonda, an associate professor of operations management at Indiana University's Kelley School of Business in Indianapolis.
"A lot of people bemoan that the United States is not a manufacturing country anymore, or that all our manufacturing has been lost," he said. "But the reality is the United States does more manufacturing now than it has ever done in the past. It simply does so with fewer people."
Tatikonda said a classic example of a modern manufacturer is Roche Diagnostics Corp., which produces test strips for blood glucose monitors on the northeast side of Indianapolis. "They have put in place such advanced manufacturing technology that they can produce a great volume of products with high quality and high precision" with not that many workers, he said.
Rather than wishing for yesteryear, Indiana manufacturers must rise to the challenge, Roob said. The days of Hoosier workers' earning premium pay making commodity products are gone and aren't coming back, he said.
"We can wring our hands that the Chinese and the Indians and the others are going to whip our butt, or we can decide that we are going to create competitive products and services that meet a world scale at a world price," he said.
"I think that is the attitude that realistically most Indiana manufacturers have taken—that it is impossible to put the genie of globalization back in the bottle, and that globalization in the main has had a positive effect on humanity and a positive effect on this country."•
Please enable JavaScript to view this content.