William "Bill" Alfred Cook, a life sciences industry pioneer and philanthropist who became the wealthiest man in Indiana, has died at the age of 80.
The founder of Bloomington-based medical device giant Cook Group Inc., died Friday at 4:30 p.m. at his home in Bloomington. Cook Group spokesman Dave McCarty confirmed the death Friday night.
Despite years of dealing with congestive heart failure, Cook continued to be an active presence at the Cook Group and in the community, said Steve Ferguson, chairman of Cook Group Inc.
"Bill's many contributions to the medical industry are unprecedented, and his many contributions to the community and to charitable organizations are extraordinary," Ferguson said in a prepared statement. "It was through his unique vision, persistence and dedication that Cook grew into a compassionate and caring company for patients, customers and employees. He truly epitomized the meaning of success."
Cook founded his company in 1963 in the spare bedroom of a Bloomington apartment. The corporation today is a global operation that employs 9,500 people and has annual revenue of $1.5 billion. About 5,000 of those employees work in Indiana.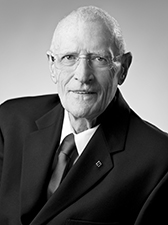 William Alfred Cook
The company manufactures more than 50,000 medical products sold worldwide, including catheters, wire guides, introducer needles and stents.
Cook was ranked as the world's 362nd richest man by Forbes magazine in 2010 with a net worth of $3.1 billion. Forbes first named him the richest man in Indiana in 1988.
Beginning in the late 1970s, Cook became almost as well known for historic preservation as health care. He and his wife, Gayle, are credited with saving at least 57 historic structures in Indiana, including many in downtown Bloomington, and in Cook's childhood hometown of Canton, Ill.
"As far as we know, no other individuals in Indiana command such a record," Marsh Davis, president of Indiana Landmarks, told the Herald Times of Bloomington in 2010. "Bill and Gayle Cook have elevated preservation in a very public way as both a social good and a practical economic activity. All of us in Indiana reap benefits, now and for generations to come," because of them.
The Cooks spent an estimated $75 million to save, restore and maintain the West Baden Springs Hotel, a National Historic Landmark in southern Indiana. The hotel, once known as the eighth wonder of the world, reopened in May 2007, more than 10 years after the Cooks launched restoration efforts.
Cook also purchased and restored the nearby French Lick Springs Hotel, which reopened in 2006 with a new casino and conference center.
Last year, Cook donated $7 million of the $10 million needed to renovate the former Central Avenue United Methodist Church in Indianapolis, also known as Old Centrum. The church is being used as the headquarters of not-for-profit preservationist group Indiana Landmarks.
Cook wrote about his love for historic restoration in a column in IBJ last April.
Cook was an outspoken critic of health care reform plans passed by the federal government last year, saying the plan would cost jobs without addressing the major problems. Instead, he called for a network of federally funded clinics, a new federal insurance program for hospital procedures, medical malpractice reform with Indiana-style caps on damage awards, and the freedom to buy health insurance across state lines.
Cook's philanthropic activities extended beyond preservation. Last year, he and his wife donated $15 million to the Indiana University athletics department to help fund a 67,000-square-foot basketball development center. It was the largest single gift in the department's history. All in all, the Cooks donated more than $45 million to the university, where Cook served as a trustee from 1995-98.
IU recognized Cook with an honorary degree for his contributions, as did Northwestern University, Rose-Hulman University, Marian College (now Marian University) and Vincennes University.
Cook graduated from Northwestern in 1953 with plans to attend medical school, but did not return after being drafted into the U.S. Army for a two-year stint during which he served as a surgical technician, helping napalm burn victims.  
He and Gayle were married in 1957. They have one son, Carl, born in 1962, who serves as president of the company's Cook MyoSite division.
The Cooks moved to Bloomington in 1963 and launched their business from their apartment, assembling kits for a revolutionary new catheterization process invented by Sven-Ivar Seldinger known as the Seldinger method.
The company continued to develop and add products, but didn't top the $1 million annual sales mark until 1970. That grew to $100 million by 1983 and passed $1 billion in 2006.
Please enable JavaScript to view this content.