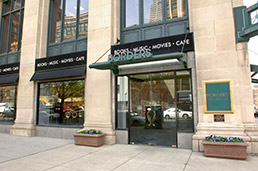 The vacated Borders location at Meridian and Washington streets downtown is thought to be too high profile of a spot to be filled with a pop-up retailer. (IBJ Photo/ Perry Reichanadter)
Now you see 'em, now you don't: fireworks stores, Halloween stores, calendar kiosks. A three-day clothing shop in The Conrad, a robotic vacuum kiosk in Circle Centre, a temporary Toys R Us express store around holiday time. You saw them in the form of T-shirt booths springing up around the Final Four, and you'll see them again during the Super Bowl.
They're pop-up stores, and with the retail vacancy rate hovering around 13 percent locally and nationally, they're becoming a fact of life in malls, strip malls and downtowns around the country.
Here today, gone soon.
"You're probably seeing more of it," said Jamison Downs, senior leasing representative for property manager Sandor Development Co. "They're taking advantage of better spaces."
Generally, pop-ups appear in malls, where kiosks and space can be made readily available at short notice, and often with windows of opportunities that might be 30-45-60-90 days in concert with a specific season, said Bill French, senior vice president at Cassidy Turley.
Pop-up store operators can sell seasonal merchandise, make a quick profit, and not have to stay open when there's little demand for their product. Landlords generally don't have to improve the vacant space and they get an infusion of rent income from tenants who pay a premium—typically about 25 percent above the going
rate, said Steve Delaney, a principal with Sitehawk Realty.
Neighboring stores appreciate the consumer traffic they bring and consumers get a wider selection of merchandise.
Christina Norsig, CEO and founder of Pop-Up Insider, a national online exchange for temporary real estate, is writing a book about the phenomenon, tentatively titled "Bricks, Clicks and Quicks—Pop-Ups: The Next Evolution in Retail." She calls pop-ups "an optimistic story in a down market."
"I do correlate the empty retail at the moment, the percentage of empty retail, with some of the popularity of pop-up stores," she said. "And I do think you will see more of it.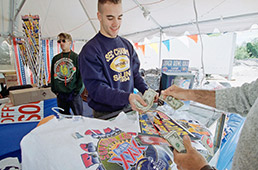 The Super Bowl scheduled to be played in Indianapolis in February is expected to attract pop-up vendors like this one at a Super Bowl in Miami. (AP Photo)
"Of course, we don't want our downtowns filled with temporary," Norsig added. "We always want the comfort of knowing that when we need to buy our basics—when we need to buy the newspaper, when we need to buy our clothing—there are steadfast, permanent merchants that are there. But I think this does serve a purpose."
Norsig traces the pop-up phenomenon to 2002, when Target created a pop-up store on a boat to launch a line of designer Isaac Mizrahi's clothing. In New York City, where Norsig is based, she's seen a number of kinds of pop-ups—some as quick as one-day stores created to launch product lines and others like catalog fruit-and-gift retailer Harry & David's 16 temporary stores, which were designed to reach customers in person.
Those kinds of pop-ups haven't happened much in central Indiana, though The Conrad hosted one for Long Tall Sally, a clothing line for tall women, and iRobot opened a temporary kiosk in Circle Centre in 2009 to promote its vacuums. Norsig thinks we'll see more of that.
But typically, the pop-ups in Indianapolis have been the Halloween stores and fireworks stores, which take space previously occupied by a big-box retailer for a couple of months. Sandor Development's Downs said he's seeing more instances where perhaps a furniture discounter or another retailer moves into a former Circuit City and signs a short-term lease—as Toys R Us has done the past couple of years. But carnivals, Christmas tree stands and tent sales in parking lots are more common temporary businesses.
It's too early to know what to expect in the way of pop-ups during the Super Bowl planned for Feb. 5 in Lucas Oil Stadium, said Brad Carlson, a spokesman for the local host committee. However, he expects some activity.
For retailers with seasonal merchandise or short-term attractions, it's a perfect arrangement.
"You go ask some high-end store in Keystone at the Crossing if they could be open in the months of October, November and December and only pay rent for those three months," he said. "They'd love it. It's kind of crazy that a Halloween store can only be open for two months, but their margins are phenomenal. The merchant pays a premium, the landlord doesn't put money into the deal to improve the property, and the neighboring businesses get traffic."
And sometimes, everything just clicks. Indianapolis-based USA Fireworks, which operates fireworks and Halloween stores in Indiana, Florida and Kentucky, had been running both—seasonally, of course—in College Park Plaza at 86th Street and Michigan Road. Both temporary stores did so well that the company decided to create a permanent store there: USA Party Supplies. The store sells Halloween supplies, fireworks, party goods and other merchandise year round.
Tim Lee, president of USA Fireworks, said they looked at the numbers and location and decided "this has some legs. Let's try to put together a party concept."
"With party stores, the number one season is Halloween and number two is graduation," he said. "It made sense to lock it up long term."•
Please enable JavaScript to view this content.