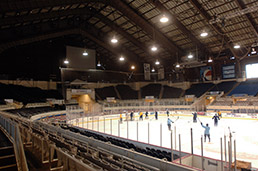 Fairgrounds officials hope to have firmer plans for coliseum renovation by June. (IBJ Photo/ Perry Reichanadter)
Indiana State Fairgrounds officials are laying the groundwork for a massive Pepsi Coliseum renovation that could cost tens of millions of dollars and overhaul the inside of the 72-year-old landmark.
Preliminary plans call for a reconfigured main floor, a much larger backstage area and a new main entrance. Also under consideration is enclosing a 14,000-square-foot, roofed, open-air arena adjacent to the coliseum and adding the capability for a second ice rink there.
No decisions have been made regarding the scope or cost of the project, stressed Cindy Hoye, Indiana State Fair Commission executive director. But she hopes to have more concrete information by mid-June as studies on the project are completed.
How extensive the project becomes could be determined by the amount of money raised from private donations and grants, fairgrounds officials said.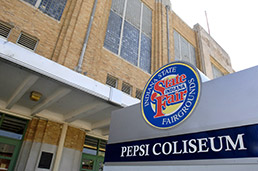 Exterior of the Pepsi Coliseum. (IBJ Photo/ Perry Reichanadter)
"I think there's a great love for the fair and the fairgrounds," Hoye said. "This structure is an iconic Indiana treasure, and I think people here have a great affinity for it. Does that equate into giving a donation? That's what we're testing."
Key to that fundraising effort is a bill recently passed by the Legislature with bipartisan support that allows the creation of the State Fair Foundation. The bill is awaiting Gov. Mitch Daniels' signature.
Funding up in the air
Using tax money for the project has not been discussed, said Sen. Jim Merritt, R-Indianapolis, who authored the bill creating the foundation.
"Any tax money to be used for this project would have to be budgeted through the Legislature and governor," Merritt said.
Merritt thinks there will be wide support for renovating the facility.
"Our state fair and the people who run it are a great story," Merritt said. "A lot of state fairs have really struggled over the years. The Michigan State Fair ceased operations due to financial difficulty. The management of our fair and the fairground facilities has been very successful."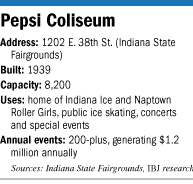 Last fall, fairgrounds officials started working on a strategy for the sprawling fairgrounds complex at 38th Street and Fall Creek Parkway. A subcommittee was set up to focus on the coliseum, the fairgrounds' centerpiece.
And in January, the Indiana University Kelley School of Business was hired to study the economic impact of the coliseum on the fairgrounds and the surrounding community.
The coliseum—for which Pepsi pays $170,000 a year for title sponsorship—takes in more than $1.2 million a year from the sponsorship and hosting about 200 events, Hoye said. That's about 20 percent of annual revenue for the fairgrounds, which supports about two-thirds of its own budget. The state funds the balance of the fairgrounds budget.
Spectators at risk
The coliseum subcommittee was charged with detailing specific problems within and directly surrounding the 8,200-seat facility, which over the years has hosted everything from pro basketball and hockey games to concerts, rodeos and high school graduations.
The coliseum's problems are many, Hoye said. They include the inability to separate spectators and event participants, non-compliance with the Americans with Disabilities Act, flooring damage, failing ice-production equipment, a maxed-out electrical system, sanitary sewer issues, insufficient bathrooms and a poor-quality sound system.
"In the coliseum, you can be at the concession stand buying a hot dog and a hockey player walks by—or a draft horse," Hoye said. "That's a snapshot of the types of issues we're facing."
Fairgrounds officials said a time line for construction has not been set, but those familiar with the project said it could begin as soon as 2012. It also hasn't been decided if the project will be done in phases over a number of years or in one shot. Fairground officials familiar with the project said it could be done within 18 months after it begins.
The project would need only the approval of the State Fair Commission, a majority of whose voting members are appointed by the governor. That vote likely will come later this year.
Work likely would last through one Indiana State Fair season, but Hoye said it would not affect 2012 Super Bowl events planned for the fairgrounds.
Currently, the site is set to be the transportation hub for buses and other shuttles and possibly host a large beach-themed party in the week leading up to the Super Bowl in February.
Ray Compton, a coliseum subcommittee member who was an executive with the Indianapolis Ice hockey team when it played in the building, thinks the coliseum has a huge upside.
"Its available parking, the buildings around it you can use as add-ons, the location in midtown, along with some improvements, could really make this facility attractive for things like indoor football, hockey, ice skating, smaller concerts, major high school events like the Marion County basketball tournament and smaller college events," Compton said.
No threat to Conseco
Hoye said the renovation would make the facility more flexible and might attract more events, but she quickly dispelled the notion it would threaten the city-owned 18,145-seat Conseco Fieldhouse.

"We're not going to get into competition with Conseco Fieldhouse," Hoye said. "This is not a matter of getting bigger. It's just a matter of preserving what we have. We want to be functional, but not a Taj Mahal. We could pick up a few events, but this is mostly about catering to our current customers."
There are no plans for suites, club seats or the other amenities that attract events to Conseco Fieldhouse and the much larger Lucas Oil Stadium, Hoye said.
Entertainment industry experts said Conseco Fieldhouse could lose things like Indiana Ice hockey games, ice shows, circuses, IUPUI basketball games, Indiana High School Athletic Association sporting events and other events to a renovated coliseum.
But officials for Pacers Sports & Entertainment, which operates Conseco Fieldhouse, said they don't see the coliseum's renovation as a problem.
"Once in a while, a concert may decide between the fairgrounds, Verizon [Wireless Music Center] and Conseco Fieldhouse," said PS&E President Jim Morris. "But for the most part, there's very little overlap, and we see the coliseum as a great asset for the community."
A storied past
The coliseum was built in 1939, and during its prime attracted all the biggest shows and events, ranging from concerts by the Beatles and Rolling Stones to performances by Perry Como and Red Skelton.
On Oct. 31, 1963, during a Holiday on Ice show, a propane leak at a concession stand caused an explosion that killed 74 people. Despite that tragedy, the coliseum was still the prime venue for shows of all sorts until Market Square Arena opened downtown in 1974.
After MSA opened, the Indiana Pacers moved out and the coliseum saw fewer major acts. Still, it carved out a niche hosting things like minor-league hockey, rodeos and car shows.
But its viability as a venue is waning.
"It's getting to the crossroads where you have to make some tough calls," Compton said.•
Please enable JavaScript to view this content.