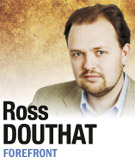 "Let's tell the truth," Walter Mondale said, accepting the Democratic nomination in 1984. "Mr. Reagan will raise taxes, and so will I. He won't tell you. I just did."
Three months later, Mondale lost 49 states, and liberal politicians learned a valuable lesson. In the decades since, national Democrats have often promised to raise taxes—but only for the rich.
Bill Clinton wrote the playbook: "We will lower the tax burden on middle-class Americans," he pledged in 1992, "by asking the very wealthy to pay their fair share." In 2008, President Barack Obama, then a presidential candidate, imitated Clinton, campaigning on a promise to raise taxes for the richest 5 percent while cutting them for everybody else.
In his address on deficit reduction this month, the president followed the playbook again. Obama promised "tough choices" that put "everything on the table." But his tax proposals were aptly summarized by The Atlantic's Clive Crook: "The rich can pay for it all."
As it happens, they can't. Squeezing the wealthy buys some short-term deficit reduction: Over the next decade, Obama's plan could trim (almost) as much off the deficit as Paul Ryan's controversial Republican budget—$4 trillion, give or take.
But that $4 trillion is just a fraction of America's projected long-term debt. The whole point of the Ryan plan is that the real deficit reduction starts at year 10, when his Medicare reforms are phased in.
Under the president's plan, we soak the rich in the short term, and then just keep going deeper into the red.
Does a plan to cut the deficit with middle-class tax increases exist? In a sense, it does. It's called the "current law baseline," a Congressional Budget Office projection in which the Bush-era tax rates aren't renewed in 2012, the Alternative Minimum Tax (which is supposed to hit only the rich but increasingly bites into middle-class paychecks) isn't indexed for inflation, and Medicare payments to doctors are slashed by 20 percent.
With these policies, the deficit drops away in the next 10 years, and more important, it stays manageably low for the decades after that.
This projection has become a touchstone for liberal wonks. It does not represent their ideal policy vision by any means, but it is frequently cited as proof that we do not need to radically reform entitlements to keep the country solvent. All we need to do instead is let taxes rise and keep on rising.
Today, for instance, a family of four making the median income—$94,900—pays 15 percent in federal taxes. By 2035, under the CBO projection, payroll and income taxes would claim 25 percent of that family's paycheck. The marginal tax rate on labor income would rise from 29 percent to 38 percent. Federal tax revenue, which has averaged 18 percent of GDP since World War II, would hit 23 percent by the 2030s and climb even higher after that.
Such unprecedented levels of taxation would throw up hurdles to entrepreneurship, family formation and upward mobility.
They could have ugly political consequences, as well. The working-age America of the future will be far more diverse than the retired cohort it's laboring to support. Asking a population that's increasingly brown and beige to accept punishing tax rates while white seniors receive roughly $3 in Medicare benefits for every dollar they paid in (the projected ratio in the 2030s) promises to polarize the country along racial as well as generational lines.
The Republican vision for entitlement reform, Obama said this month, would lead to "a fundamentally different America" than the one we inhabit today. He's right: Asking the elderly to pay more for their health care, as Paul Ryan proposes to do, would transform the U.S. social contract, and cause no small amount of pain.
But what Obama didn't acknowledge is that the alternative path could lead to a different country as well—a more stagnant and balkanized society, in which our promise to the elderly crowds out the fundamental promise of America itself.•
__________
Douthat is a New York Times op-ed columnist. Send comments on this column to ibjedit@ibj.com.
Please enable JavaScript to view this content.