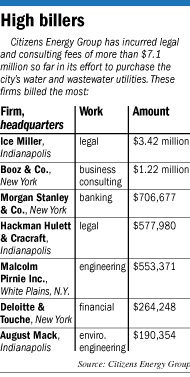 Citizens Energy Group, which is seeking approval to buy the city's water and sewer utilities, could seek to collect from customers up to $14 million to cover costs of lawyers, consultants and financial advisers hired to work on the $1.9 billion deal.
It's a stipulation in a settlement agreement between the city, Citizens Energy, industrial water customers and the state's Office of Utility Consumer Counselor.
The settlement filed April 12 with the Indiana Utility Regulatory Commission was heralded as resolving remaining concerns among the parties. The commission is to decide whether to approve the sale in the second or third quarter.
Among key provisions, Citizens pledged to document savings generated by the sale and provide results to the OUCC, IURC and the public. Citizens projects annual savings of $60 million by the third year.
A loss of direct city oversight of the utilities was among concerns raised by opponents of the deal announced in March 2010 by Mayor Greg Ballard.
But the settlement, if approved by the commission, also would give Citizens more leeway to cover rising costs of the acquisition.
Citizens' new water authority could ask the commission to allow it to recover from water utility customers up to $7 million and from wastewater customers as much as $7 million.
"This is something we pushed for in the negotiations and we believe $14 million is a reasonable cap given the complexity of the transaction," said Anthony Swinger, spokesman for the OUCC.
A cap on attorneys and other transaction fees is in principle a good thing, but the $14 million total, "that's a lot," said Jerry Polk, an attorney for Citizens Action Coalition. The group was not a party in the settlement.
Polk said CAC is poring over details to determine whether the compromises were excessive "and whether it's a good deal."
Brian S. Williams, a local businessman who's been a critic of the water deal, acknowledges that Citizens needs to engage a sophisticated team of bankers and lawyers to help in such a large transaction. But just how much should be passed on to ratepayers remains a concern, he said.
So far, since April 2009, Citizens has spent $7.1 million on various consulting fees related to the water/sewer deal, said Citizens spokesman Dan Considine. He said any additional fees incurred probably won't exceed the cap.
So far, the biggest share of fees— $3.4 million—has gone to Indianapolis law firm Ice Miller. Business consulting firm Booz & Co. has billed $1.2 million.
The city has spent more than $9 million in transaction costs, although those are not subject to being passed along to water and wastewater customers. The city owes Citigroup Global Markets at least $5 million, and local law firm Baker & Daniels could receive more than $2 million.
City officials have said previously that they estimate transaction costs will amount to about five-tenths of a percent of the deal's value, which they say is on par with deals of similar size and complexity.
Separately, the city is paying current Indianapolis Water operator Veolia a contract breakup fee of $29 million. In the end, the city expects to net more than $425 million in proceeds from selling the utilities. Most of that is being spent on infrastructure improvements, such as repair or replacement of roads and bridges.
Despite Citizens' expectation of cost savings as the result of the merger, water bills are on the rise. The commission recently approved a 26-percent rate hike.
Sewer bills are also rising, 10.75 percent, in part to pay for federally mandated sewer system upgrades that will cost billions of dollars. Citizens said water and wastewater rates will be about 25 percent lower than they would have been, without the sale of the utilities to Citizens.•
Please enable JavaScript to view this content.