What was planned as a grand opening celebration quickly took on the added weight of being a memorial when benefactor Bill Cook died just a day before the April 16 rebirth of what is now known as the Indiana Landmarks Center.
To be sure, the event went on as scheduled. Speeches were made. Drinks were drunk. Dinner was served. A ribbon was cut. And oohs and aahs were shared over the remarkable restoration of the former Central Avenue Methodist Church—which now not only houses Indiana Landmarks, but also offers two handsome performance spaces and an art gallery.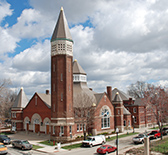 Indiana Landmarks Center (Photo Courtesy Indiana Landmarks)
Even with the monumental work done by restoration specialists, builders, generous donors, fundraisers and more, the reality is that the burden of saving such cultural treasures—and turning them into usable spaces—falls heavily on private citizens with great means. Simply put: The Indiana Landmarks Center would not exist without Bill Cook. And the same can be said of the West Baden Springs Hotel and French Lick Springs Hotel and significant chunks of Indiana University and the city of Bloomington.
While it's sometimes fashionable among artistic types to scowl at the wealthy, it's important to acknowledge what George Bernard Shaw's title heroine wrote of such benefactors in "Major Barbara": "If we turn from the churches they build, we must kneel on the stones of the streets they pave."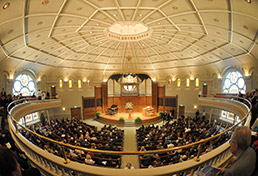 The Grand Hall of the Indiana Landmarks Center includes a renovation of its 1892 Sanborn Organ. The theater now seats 450.(Photo Courtesy Indiana Landmarks/Rob Banayote)
Cook, to be sure, went beyond just writing big checks. By all accounts, he was hands-on in the transformation of this new version of the Old Centrum Building—a transformation celebrated by an emotional John Mellencamp, who honored a commitment to Cook that he'd be there. Sen. Richard Lugar, who was baptized in the former sanctuary that is now the Grand Hall, was also on hand, along with former Indiana first lady Judy O'Bannon, who proved once again an Indiana treasure as a storyteller. Bring her back for her own evening.
Cook's legacy, though, will be in what happens in this space long after the opening weekend cleanup. Indiana Landmarks Center is now available for rental by performance groups and for meetings, weddings and other life cycle events. The venue already has dates booked by the International Violin Competition of Indianapolis, the Indianapolis Men's Chorus, the Writers Center of Indianapolis (for its annual Gathering of Writers), the Indianapolis School of Ballet, and as a venue for the IndyFringe festival.
I'm looking forward to spending many hours there. Thank you, Mr. Cook.
__________
I left in the midst of the Indiana Landmarks Center celebration to make it to the Athenaeum for the jazz finals of the American Pianists Association. It was actually part two of the finals, with all five finalists performing the night before at the Jazz Kitchen.
Even putting aside the who-will-win drama, it proved an outstanding evening of music, with world-class vocalist Dee Dee Bridgewater providing a through line in the first act. What could have been a case of a star takeover instead showcased the give-and-take that makes jazz more than just a showcase for individual virtuoso musicians. With each pairing, Bridgewater and the pianists formed a different kind of bond, each taking great pleasure in the work of the other on such classics as "Love for Sale," "Embraceable You" and "What is This Thing Called Love?".
The second half paired each of the finalists with the Buselli Wallarab Jazz Orchestra, blazing through work by Thelonius Monk, Miles Davis and more. Russ Davis, host of Voice of America's Jazz America program, provided commentary (and a promise that 13.4 million jazz fans around the world will be hearing about this great Indianapolis event), and 2007 winner Dan Tepfer performed one of his own pieces while the judges made their decisions.
Not having seen all the steps in the judging process, I can't say whether winner Aaron Diehl is the best of the best. But I can say that his performances here indicate a star-to-be—one who will be helped considerably by the cash and career support provided by this Indianapolis institution. Bravo to the APA for a great program—and a great night of music.•
__________
This column appears weekly. Send information on upcoming arts and entertainment events to [email protected] Twitter: IBJArts and follow Lou Harry's A&E blog at www.ibj.com/arts.
Please enable JavaScript to view this content.