The 1990 agreement was pretty straightforward: The owner of the old Essex Hotel at Pennsylvania and Vermont streets downtown could tear down the building and use the site for parking for five years.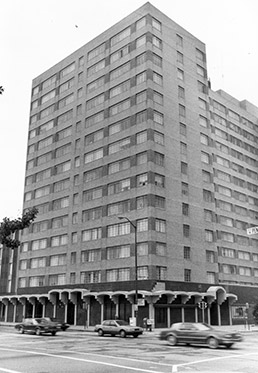 The Essex Hotel was demolished in 1994. (IBJ File Photo)
By 1995, the roughly one-acre site would have to be developed or turned into green space to comply with a city zoning rule barring surface parking lots adjacent to the World War Memorial and American Legion Mall along Meridian and Pennsylvania streets.

But after 16 years, several extensions and a legal battle between the property owner and the city, the former home of the 14-story Essex remains a parking lot and is likely to stay that way at least until 2014.

The city agreed to the first five-year extension in 1994 when the owners finally got around to demolishing the 1950 building, which became the Essex House apartments after its glory days serving high-profile Indianapolis visitors, including The Beatles.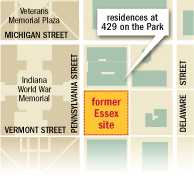 The building stood for only 44 years, a short lifespan for an Indianapolis high-rise. And it was the most recent high-rise demolition in the city, according to Emporis.com, a massive online database of information about buildings.

Cincinnati-based Chavez Properties, an affiliate of Parking Company of America, bought the building in 1994 and had until 1999 to develop the site.

Chavez won a second five-year reprieve in 1999, as it worked to put together a deal for a high-rise condo project with local developers R.A.B. Investments and Eaton Investments Ltd. But the deal fell through in 2004.

Instead, the 165-space parking lot stayed, and in 2006 the owners petitioned the city's Board of Zoning Appeals for another five-year approval and a possible five-year extension after that. During a hearing in January 2007, sensing a denial in the works, the owners amended their request to ask instead for a three-year extension.

The board voted to deny the request that January, and the owners filed suit to challenge the decision in February.

Marion Superior Court Judge Michael D. Keele ruled for the property owners in October 2007, saying the Board of Zoning Appeals did not adequately show that the variance would harm nearby property values and be "injurious to the public health, safety, morals and the general welfare of the community"—as required under Indiana law.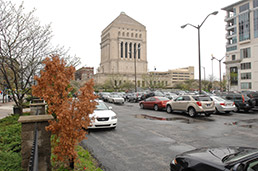 The former home of the Essex remains a parking lot 16 years after it was demolished. (IBJ Photo/ Perry Reichanadter)
The judge noted a chronic shortage of parking in the area that the lot helped allay and that there were 10 other similar surface parking lots along Meridian and Pennsylvania streets nearby, and only one of them had as much landscaping as the Essex property.

Finally, Keele ruled that strict enforcement of the zoning rules would result in "practical difficulties" for using the property.

"The fact that other property in downtown has been, or will be, developed does not mean that the property, consisting of only .91 acres and needing to supply its own parking, can be developed at this time," Keele wrote.

"Despite petitioners' efforts, the use of the property for high-rise condominiums is not yet feasible."

After the ruling, Chavez asked the judge to grant the original request for a five-year variance with the possibility of a five-year extension. The city opposed the motion. The two sides eventually settled on a six-year extension, after which the company would have to seek and obtain a new variance. The agreement sets a new deadline of 2014.

Mike Peoni, the city's planning administrator, expects the planning staff will recommend denial of an extension of the variance if the issue comes up again in three years. Until then, "the court ruled and we just have to abide."

"We were not anxious to have a parking lot at that location," Peoni said. "The appropriate thing to be reasonable was a time limit on the life of that parking lot."

Representatives of Chavez Properties could not be reached, and their attorney did not return a phone message.

The company's investment strategy involves buying and managing parking lots on land that can later be sold for a profit to developers. The firm spent about $2 million on the Essex property and has had it listed for as high as $8 million.

The fact the property remains a parking lot is frustrating to neighbors like Leo Stenz, president of Stenz Corp., which owns the building at 429 N. Pennsylvania St. and has sold 12 of the 19 condos it developed atop its structure.

Stenz would like to see a couple of four- or five-story buildings, and if the price were right, he'd be a buyer.

"It's a prime piece of real estate for sure," he said. "I just don't think they want to sell it right now."•