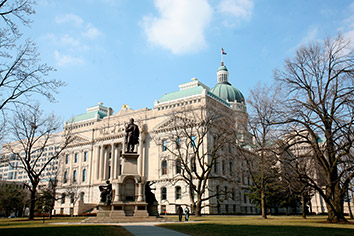 Republican House Speaker Brian Bosma says Indiana lawmakers are on track to finish their work on time as the legislative session draws to an end this week.
A boycott by House Democrats earlier this session stopped work in the House for five weeks. Bosma says lawmakers have made up for the lost time but called the session "emotionally and physically draining" on participants.
There's plenty of work left to finish, including a new state budget. The House and Senate have both approved new two-year, $28 billion budget plans, but there are several differences between them. Budget negotiators for Democrats and Republicans in the House and Senate will try to hammer out a compromise this week.
Please enable JavaScript to view this content.