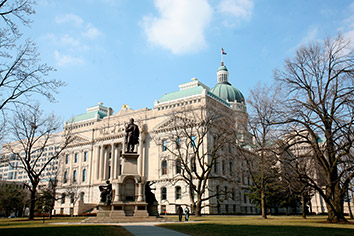 As Indiana's Republican governor mulls a presidential run in 2012, his home state is becoming a showcase of conservative ideas, poised to create the nation's broadest private school voucher system and become the first to cut off all government funding for Planned Parenthood.
And while Gov. Mitch Daniels has pushed the voucher program, the Planned Parenthood measure could present a political predicament for him as he nears an announcement on whether he will run for president.
The Indiana House approved both bills Wednesday, sending them to Daniels to decide what to do next.
The Planned Parenthood measure is a significant victory for the anti-abortion movement and would cut the $3 million in federal money the state distributes to the Planned Parenthood organization for family planning and health programs. It also ban abortions after the 20th week of pregnancy unless there is a substantial threat to the woman's life or health and requires women seeking an abortion be told that life begins at conception and that doctors performing abortions have admitting privileges in a nearby hospital.
But as Daniels considers the measure, he could be forced to make a decision between the state's fiscal interests and a prime goal of his party's social conservatives.
If he signs it, Indiana risks losing $4 million in federal grants for family planning services. If he vetoes it, Daniels could antagonize ardent social conservatives already wary of his public statements about the importance of focusing on economic issues.
But signing it also could provide Daniels with the political cover he needs from those who question his commitment to social conservative causes. He could point to it throughout the presidential campaign as evidence that opposition to abortion rights and other social causes are part of his political makeup.
Daniels has said he will decide on a run for president after the Legislature adjourns, which is expected Friday.
A Daniels spokeswoman said the governor would not comment until the bill arrives on his desk for action. He'll have seven calendar days once he receives the bill to take action. He also could allow it to become law without his signature once those seven days pass.
For its part, Planned Parenthood says abortions account for just 3 percent of the services it provides. Planned Parenthood clinics across the country perform 1 million screenings for cervical cancer, 830,000 breast exams and some 4 million tests and treatments for sexually transmitted diseases. Abortion-rights supporters say cutting funding for Planned Parenthood would primarily hurt poor women who often have few choices for health care.
The organization annually conducts more than 5,500 abortions in Indiana and 325,000 nationally.
Conservative lawmakers say, however, that any money the organization receives at least indirectly supports abortions.
The voucher program, meanwhile, would allow even middle-class families to use taxpayer money to send their children to private schools. It's contentious, but it's also something Daniels himself pursued.
Unlike other systems that are limited to lower-income households, children with special needs or those in failing schools, Indiana's voucher program will be open to a much larger pool of students, including those already in excellent schools. Families would have to meet certain income limits to qualify, with families of four making up to about $60,000 a year getting some type of scholarship.
Daniels' agenda mirrors ideas being pushed nationwide by Republicans empowered by 2010 election victories. But Daniels has successfully led Indiana — a conservative state not known for going out on a limb — into uncharted education territory.
"Other states are going to be taking notice about how far Indiana's going," said Robert Enlow, president of the Foundation for Educational Choice.
Opponents say Daniels' agenda will hurt public schools by taking money and students away.
"He says that his motivation is to improve student achievement, but so many of these reform measures are not aimed at improving student achievement," said Nate Schnellenberger, president of the state's largest teachers union. "He wouldn't be siphoning public money from public schools if he was concerned about those students who remain at public schools."
Please enable JavaScript to view this content.