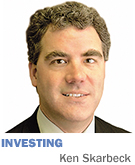 Inflation is on the rise in many countries across the globe. Uncontrolled inflation is a scourge for central bankers who seek to keep it contained within a manageable range using interest-rate policy.

Australia just reported its highest inflation rate in five years (an annual rate of 3.3 percent). Interest rates there are 4.75 percent. High inflation has been a factor for the revolutions across northern Africa and the Middle East. For example, in Egypt, inflation is more than 11 percent. High unemployment and stagnant wages accompanied by rapidly rising consumer prices have contributed to the frustrated population.

In the United Kingdom, inflation is running at a 4-percent rate, twice the level targeted by the Bank of England. And, in the United States, officials are closely watching the data as inflation has ticked up to 2.7 percent. So far, neither the Bank of England nor the Federal Reserve has raised interest rates to curb rising inflation. Both the Bank of England (at 0.5 percent) and the Fed (at 0.25 percent or less) have kept their key lending rates artificially low, as their respective economies struggle to recover from the Great Recession.

Yet, when it comes to global inflation, all eyes are on China, where a rapid rise in prices is causing concern. While China's gross domestic product grew about 10 percent in 2010, inflation over the past year has risen at a 5.4-percent rate—a figure many observers believe is understated. To quell inflation, the Chinese government has raised interest rates four times in the past six months. At present, the country's one-year lending rate stands at 6.31 percent.

Along with raising rates, the Chinese government is trying to moderate growth and rein in inflation by restricting bank lending. Much of the country's growth is being fueled by real estate and infrastructure projects. China's bank regulator recently increased minimum capital levels to protect against rising loan losses.

Famed short seller James Chanos believes China is in a property bubble. Chanos notes that over 60 percent of China's gross domestic product relies on construction and he describes China as "Dubai times 1,000 or worse," referring to the wealthy Middle Eastern country that is presently in the throes of a property bust.

Critics point to examples like Ordos, China, a modern city built to accommodate 1 million residents, but which looms as a ghost town with few citizens (it is worth "Googling" the eerie pictures on the Internet).

For China's communist party government, which is obsessed with social stability, rising inflation could become a difficult problem. Truckers in Shanghai have gone on strike to protest rising prices. One trucker complained that parking fees, rent and insurance have all doubled in the last five years while his wages are flat. The government has responded that it is encouraging higher wages in an effort to close the gap between the urban rich and rural poor. Unfortunately, rising wages tend to fuel higher rates of inflation.

Finally, China's share of the world's commodity consumption was charted in Jeremy Grantham's quarterly letter at gmo.com. The country consumes nearly 50 percent of the world's production of coal, iron ore and cement. In agricultural commodities: 17 percent of the world's wheat, 25 percent of soybeans, and 46 percent of pigs go to China! His analysis focuses on the alarming rate at which the world's natural resources are being consumed and he submits that the rise in prices represent a "permanent shift."•

__________

Skarbeck is managing partner of Indianapolis-based Aldebaran Capital LLC, a money management firm. Views expressed are his own. He can be reached at 818-7827 or ken@aldebarancapital.com.