Citizens Energy Group said its gas pipelines have passed an internal review that federal regulators required of pipeline owners nationwide after a spectacular gas main explosion in Allentown, Pa., in February that killed five people.

The National Transportation Safety Board had asked pipeline operators to take another look at inspection reports for potential problems such as over-pressurization.

Citizens has more than 120 miles of transmission pipe, including one that connects to its gas storage fields in Greene County.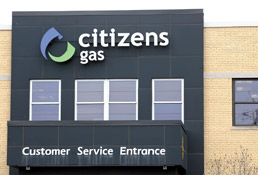 Citizens, the nation's fourth-largest municipal gas utility, has more than 120 miles of gas-distribution lines in the state. (IBJ File Photo)
A series of gas pipeline blasts in recent years also includes the failure of a 30-inch diameter pipeline in San Bruno, Calif., which destroyed several houses and killed eight. The NTSB said the 54-year-old Pacific Gas & Electric pipeline had a non-standard weld and was operating above its pressure rating.

"We … have no indication that the non-standard welding procedure used in California was ever used on the Citizens Gas system," said Lindsay Lindgren, vice president of gas and steam operations.

Nearly all the Citizens' system uses "protected steel" or plastic pipe, which ranks it in the first quartile of companies surveyed by the American Gas Association. The Allentown explosion was traced to failure of an 83-year-old cast-iron gas main.

Citizens over the last 18 years has spent more than $95 million replacing 434 miles of piping and 80,000 gas service lines.