A group of local power brokers is quietly assembling a plan that would transfer control of Indianapolis Public Schools to the Indianapolis mayor.
Organizers of the effort, which has been in the works for months, favor replacing elected IPS board members with mostly mayoral appointees, who would select the district's superintendent. That would give the mayor a direct say in school-related decisions.
Harris
Voters in the IPS district would have to pass a referendum to move the plan forward.
Its chief backers are The Mind Trust, a local education-reform group led by former Mayor Bart Peterson's charter schools director, David Harris, and board members Peterson and Mark Miles. Miles is CEO of the Central Indiana Corporate Partnership and Peterson now is an Eli Lilly and Co. senior vice president.
White
Other community leaders, including Ice Miller partner Lacy Johnson and Indiana University Health Chief Operating Officer Sam Odle, also helped shape the plan and support it, according to people familiar with the discussions.
Those involved in the talks said they were not ready to discuss the plan publicly, in part because they haven't worked out their strategy for building community support.
Supporters had intended to take the proposal before the Legislature this year to allow for a fall referendum, but factors such as the Democrats' five-week absence from the Statehouse hindered their momentum.
Now, they aim to pass Legislation next year, with hopes of holding a referendum in the fall 2012 general election.
Efforts to shift control of IPS—the state's largest district with about 32,000 students and among its lowest-performing—to the Mayor's Office have surfaced several times in recent decades. Cities such as New York and Chicago have given control to the mayor, some with notable success.
Locally, the issue has gained more traction lately.
"Whatever we've tried doesn't seem to have done what the city would want IPS to do," said Indianapolis Urban League President Joe Slash, a former deputy mayor and education advocate who hasn't been directly involved with the plan.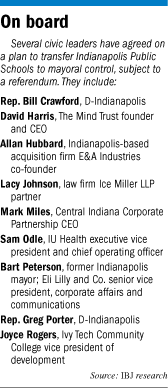 Others say the time has never been riper.
The state rolled out a plan this session detailing how the Indiana State Board of Education would intervene to improve performance at schools eligible for state takeover—defined as those that remain in the lowest performance category for the sixth consecutive year.
Seven of the 21 Indiana schools that could be eligible for such intervention at the start of the next academic year are within IPS.
Pushing mayoral control, some advocates say, could provide a local alternative to state takeover, or an answer to who controls the schools after the state overhauls them.
Meanwhile, the Legislature this session has passed a slew of education-reform bills that would give a mayor in charge of the district broad authority to institute performance-based pay and rein in collective bargaining.
Other urban districts under mayoral control have rolled out similar changes—initiatives that reform advocates strongly believe would boost achievement in IPS.
But the idea already faces opposition from some powerful civic leaders, including Mayor Greg Ballard and IPS Superintendent Eugene White.
Among their chief concerns is the fairness of singling out one of 11 school districts in the county for mayoral takeover.
White said the move is premature and doesn't take into account the mixed results of mayoral control in other cities.
"People are so desperate for a solution, they're reaching out for anything," White said. "The evidence is not there that it works."
Inconclusive evidence
That depends on which evidence you examine.
Ballard
A study by Kenneth Wong, chairman of the education department at Brown University, found that schools in districts under mayoral control posted higher test scores in reading and mathematics at the elementary and secondary levels. He looked at scores in about 100 urban districts from 1999 to 2003.
Wong, who has studied mayoral control in cities across the United States, said the system improves accountability by moving it from several elected officials to one.
"Education is very much a part of the quality of life—it's an important neighborhood revitalization strategy," Wong said. "The mayor could really put education in the center of the citywide agenda."
That's what happened in Chicago. After taking over Chicago Public Schools in 1995, Mayor Richard Daley issued an executive order to ensure other city departments paid attention to schools' needs.
That led the parks agency to provide more after-school and summer programs, and the sanitation department to ensure school buses could be mobile after heavy snow.
Those kinds of efforts, coupled with more rigorous student standards, produced results in Chicago. In the last decade, the district, once considered among the nation's worst, roughly doubled the number of students who met state standards on achievement tests.
"There are many examples where it has proven to be a very valuable tool for improving the quality of education," Peterson said. "I think you'd see the ability to bring more of a clear focus on what it takes to improve educational outcomes for underserved kids."
But other studies show less rosy results.
Kennedy
An analysis released last year by Rutgers University determined evidence didn't show a causal relationship between mayoral control and schools' improvement.
A 2009 report by Milwaukee-based Public Policy Forum determined mayoral control could improve a district's fiscal condition but not necessarily the achievement of students.
And mayors that have authority over schools often find it's a mixed blessing—giving them more clout to make a difference but also entangling them in controversy.
During Michelle Rhee's 2007-2010 tenure as the schools chief in Washington, D.C., the graduation rate rose and enrollment increased for the first time in 40 years.
But steps Rhee took to bring about those changes—including firing more than 200 underperforming instructors and implementing merit pay—created such an uproar that the mayor who appointed her lost a primary race, derailing his re-election plans.
Local challenges
Indianapolis' governance structure could make mayoral control even more difficult here, some say.
Because the mayor represents the entire county, which includes eight township school districts, two excluded-city school districts and IPS, overseeing just one district raises questions about representation.
And while IPS has struggled with poor performance, the township schools also have room for improvement, some observers say. That's why some argue the discussion should include an examination of the governance structure of all districts, not just one.
"There are too many failures in all of those districts," said Derek Redelman, vice president of education and work-force development for the Indiana Chamber of Commerce, which has pushed for education reform. "We really ought to be looking at the education system in Marion County as a whole."
The Mayor's Office, Redelman added, should lead that kind of conversation.
It's unclear whether Ballard plans to do that. But he is unconvinced mayoral control of IPS is the answer.
"I don't think people have an appetite for that," Ballard said.
Melina Kennedy, his likely Democratic challenger in the November election, said she recognizes there's no silver bullet to improving IPS. But mayoral control should be considered among other solutions, she said, as long as it includes community input and a referendum.
"Acknowledging the challenges our schools have had," Kennedy said, "it's appropriate for that to be on the table as an option."
If such a plan were to pass, it's unclear whether the new board would choose to keep White as superintendent.
White argues the district needs more time for initiatives he has launched since assuming the job in 2005 to pay off. Those include expanding full-day kindergarten, adding magnet programs and, most recently, altering the academic calendar
Last year, the district's graduation rate showed a double-digit increase to 58 percent, though it remains below the statewide average of 84 percent. ISTEP scores also increased at all grade levels, with 42 percent of students passing both English and math portions of the test.
White, who has long complained that collective bargaining agreements inhibit his ability to retain some of the best teachers, said new state legislation also will make it easier for the district to raise the level of teacher quality.
"We intend to turn that around," White said. "We don't need mayoral control to make that happen."
But many who support at least exploring the concept of mayoral control have grown weary of waiting for change.
"I think there are a lot of what-ifs right now," Slash said of the prospects for local reform. "But a lot of frustrated people want to see IPS improve."•
Please enable JavaScript to view this content.