A proposed 64-acre development just west of Carmel's U.S. 31 office corridor would help satiate a craving for retail, allowing office workers a lunch hour with more time for dining and less driving.

The grocery store, pharmacy, apartments and restaurants that Gershman Brown Crowley is proposing for the southeast corner of 116th Street and Springmill Road also could attract more employers to the corridor, home to the state's second-largest concentration of jobs behind downtown Indianapolis.

On the other hand, Carmel zoning maps envision residential lots on the site, and neighborhood groups are putting up a fight to preserve the thoroughfare's residential character. They fear a traffic mess, and object to the project's size, the inclusion of apartments, and the proposed half-million-square-feet of office space—which some opponents see as a boondoggle given already high vacancy rates.

"The project is over the top as far as size and scope," said Zak Brown, president of the Springwood Estates Neighborhood Association and CEO of a Zionsville-based motorsports marketing firm. "It feels like they're putting a massive mall in my back yard without addressing traffic. And I don't think any of us think it's needed."

Plans for the roughly $100 million project call for a 250,000-square-foot, grocery-anchored center with several outlots for restaurants, banks, a gas station and a pharmacy; about 300 apartment homes or a senior community; and room for about 500,000 square feet of office space in several buildings.

The development is dubbed The Bridges, named for the old-style stone bridges the developer plans to construct over landscaped water features set to circumnavigate the site.

"We think this is going to be a great project for the area," said Tom Crowley, a principal at the locally based developer, which partnered with Simon Property Group on Hamilton Town Center, a mixed-use project in Noblesville. "It will be a place where people can live, work and shop, all tied in together."

The proposal presents a classic conundrum in growing communities like Carmel, one that nonetheless feels new after a years-long drought of major project proposals.

Developments like The Bridges are few and far between. But when the location and demographics are so promising, the dour economics of land development become less of a roadblock.

"I'm really surprised at the interest we've had in this project without going to the market," Crowley said. "We're already getting unsolicited proposals, including from three grocery stores."

But opponents have proffered a list of demands that make Ruth Hayes, the outspoken president of the Nora-Northside Community Council, look like a pushover.

Among them: Limit retail space to 90,000 square feet; keep office buildings to between two and six stories depending on location; allow only one entrance along Springmill Road; and exclude any apartments, hospital users, gas stations, carwashes, kennels, taverns, hotels or restaurants with walk-up or drive-through sales.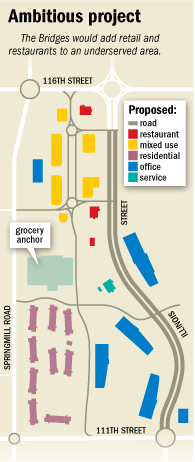 "Typically, when an area is zoned for residential and a request to rezone for commercial [is made], developers and communities do tend to work together and come up with something that's acceptable to everyone," said Ed West, a spokesman for the group opposing the project.

"They all recognize this is going to be developed at some point," he said. "But they want to talk to the developer about their concerns. So far, they've been stiff-armed."

Crowley fumes at the suggestion.

Gershman Brown first approached nearby neighborhoods around Thanksgiving of last year, before filing its first round of plans with the city in December.

Crowley said he has met with an attorney for opponents of the project five times and with individual neighbors 75 times. About 90 neighbors wrote letters of support, and 28 people showed up to support it.

He noted his firm has made at least 120 concessions since December to accommodate concerns from city planners and neighbors, leaving a project that exceeds Carmel ordinances for landscaping and setbacks.

The project's buildings would be prairie-style, designed by the same architects that designed Hamilton Town Center, and surrounded by bike and pedestrian paths.

It could take up to 15 years to build, depending on market demand, and would cost more than $100 million, Crowley said.

He said the company has flexibility under a land contract with the property owners, the Pittman family, to build only as the market dictates. The land is now used for agriculture.

Financing still is available for "good projects," particularly for apartments and retail anchored by grocery stores.

The Carmel Chamber of Commerce is supporting the project in hopes it will spark an evolution of the traditional office corridor—from a model featuring high-rises and large parking lots to one that includes retail and walkable spaces.

"It's really important to us that [the U.S. 31 office corridor] remain viable—a strong tax base for the city," said Mo Merhoff, the chamber president. "The No. 1 reason we support this is remaining competitive on the corridor."

The group didn't take its support of The Bridges lightly: A 12-member committee vetted the proposal, and a 14-member board approved its recommendation.

The Bridges "is something different, and it's a big deal," said Abbe Hohmann, a vice president and principal with Cassidy Turley who specializes in land transactions but did not broker the Gershman deal.

Springmill Road has a mostly residential feel, though Carmel has approved retail projects nearby, including the lifestyle mall Clay Terrace. That project won approval over the strenuous objections of some neighbors.

Hohmann also noted that there is some precedent for apartments in the corridor: The Village on Spring Mill apartments at 146th Street and Springmill Road.

Ultimately, Gershman Brown Crowley brings development credibility, and public input could help make the project better, she said.

"It really comes down to whether people think it's appropriate to put commercial uses over on Springmill," Hohmann said.

The Carmel Plan Commission first discussed the project on Feb. 15, before sending it to a "special studies committee." That group is scheduled to reconvene May 4.

The city also is considering another request from Gershman Brown Crowley to build 193 apartments in five buildings at 12346 Old Meridian St., a triangular site where a similar apartment proposal dubbed Meridian Pointe did not materialize.•