Organizers of the 2009 U.S. Senior Open at Crooked Stick are sinking one birdie putt after another in their efforts
to meet their budget and draw strong crowds to central Indiana later this month. In this economy, sports marketers are calling
ticket and sponsorship sales for the tournament remarkable.
With less than a month until the event tees off during
the biggest economic swoon since the Great Depression, tournament organizers have sold 59 sponsorships and enough tickets
to project attendance at 150,000 for the seven-day event.
U.S. Golf Association officials said this year's
tournament is projected to have higher attendance than any U.S. Senior Open since 2004, and, if not for the economy, it might
have topped 200,000—near the all-time event record.
Raising enough revenue to meet the tournament's
$7.5 million budget shouldn't be a problem, said Steve Baker, a Crooked Stick member and the tournament's co-chairman.
Baker is confident the tournament will be in the black. All tournament proceeds go to the USGA Foundation, which works
with charities benefiting children with disabilities and those from underprivileged homes. If all goes well, Baker said, Crooked
Stick could see a small profit.
"There's not a lot of money in it for the club, and that's not
why we do this," Baker said. "We do this because we know it's a benefit to the community, and to give back
to the game of golf."
Pulling off such a feat in less-than-ideal economic conditions has put the Carmel club
in the hunt for future PGA Tour events.
Crooked Stick, a Pete Dye-designed course, made its mark on the national
scene in 1991, when it hosted the PGA Championships, won by John Daly. Club members are discussing the possibility of bringing
back an event of that stature.
"Crooked Stick has always been on the map, but this event has made their star
shine even brighter," said Tim Flaherty, USGA's U.S. Senior Open director. "It's definitely on the
radar for future USGA and PGA events. When we look for tournament sites, we look at successes, and this year's U.S.
Senior Open is certainly a big success."
Baker credits much of the success for this year's event on
a plan that included launching sponsorship sales a full year ahead of schedule. Crooked Stick leaders and tournament organizers
were able to get numerous financial commitments before the economy started to unravel in the second half of 2008.
While the tournament is shaping up to be a solid success, the tournament's paid on-site director, Max Novena, said
it would have been even bigger if not for the souring economy.
"We started sponsorship sales in August 2006,
and we got off to such a fast start, we were on target to be the biggest U.S. Senior Open in the tournament's history,"
Novena said. "We were certainly slowed down by the economy, but the fast start helped us really stay ahead of the economic
situation."
Attendance and corporate hospitality this year are down almost 10 percent at USGA and PGA events
nationwide, sports marketers said. Though Flaherty wouldn't talk specifics, he admitted that business was down at some
of this country's marquee golf events, including the U.S. Open at Bethpage Black Golf Course in New York.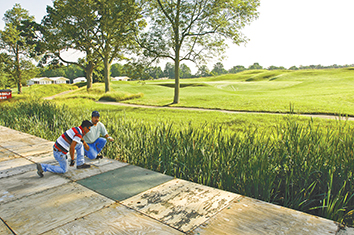 "What's happening at Crooked Stick is an anomaly," Flaherty said. "They've
really beat the curve, and a lot of credit goes to the membership at Crooked Stick."
Crooked
Stick members have already secured a deal to host the PGA's 2012 BMW Championship. While it's
not a major, the BMW should deliver some of the game's biggest names to Carmel. Past winners of
the tournament—formerly known as the Western Open—include Tiger Woods and Jim Furyk.
The economic impact
of these events is no small prize for the region. The 2009 U.S. Senior Open will bring in more than $15
million in direct visitor spending, tournament officials said, including the use of more than 7,000 hotel room nights.
Spectators and volunteers will come from 40 states and six countries.
This year's U.S. Senior Open is proving
that central Indiana is a strong golf supporter.
"People here realize you only have so many chances to see
an event like this in close proximity," Novena said of the tournament, which is expected to draw 156 of the world's
top golfers over the age of 50. The players will battle for a $2.6 million purse.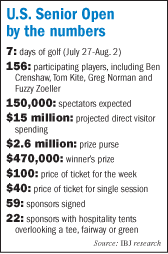 "The golf
following in this region is strong, but organizers of this event have done a lot
to help themselves," said David Morton, president of Sunrise Sports Group,
a locally based sports marketing consultancy. "The marketing of the event has been very consistent,
and the [ad composition] on this campaign is great in the way it creates a connection
to an era of golf that people are very fond of."
Alabama-based
Bruno Event Team is marketing and managing the tournament for Crooked Stick.
Tournament organizers initially offered
only a $100, week-long ticket, but due to the changing economic climate, a $40 single-day ticket was
introduced in May, and a $15 ticket is being sold for any of the three practice days. Novena pointed out that the
weekly ticket for recent U.S. Senior Open tournaments has ranged from $125 to $200. Tournament organizers are also allowing
up to nine children under the age of 18 to attend free with a ticket-paying adult.
"From the very beginning,
our directive from [Crooked Stick leadership] has been to keep it affordable," Novena said. "We feel the price
point of the ticket has helped limit the economy's impact on attendance."
Novena said he remains focused
on selling a few more sponsorships in the $3,000 to $15,000 range.
Tournament organizers will depend on sponsorship
sales making up 60 percent of total revenue. Merchandise sales will generate about 20 percent of the event's revenue,
while ticket sales will account for another 20 percent.
In recent weeks, there's been a flurry of activity
at the course. The paid staff last month grew from seven to 12, and another 20 will join the staff this week. More than 60
contract workers recently began setting up a 10,000-square-foot merchandise pavilion, 22 hospitality tents and spectator grandstands,
TV broadcast venues and other tournament infrastructure. In the next two weeks, the 2,900 volunteers who will help host the
four-day tournament and three days of practice will begin descending on Crooked Stick.
Additionally, tournament
organizers last month launched a massive marketing onslaught that will include television, radio, billboard, direct mail and
print advertising.
"It's a seven-day-a-week operation right now, 14 hours a day," Novena said.
Tournament officials hope to have all the major infrastructure in place by July 20, Novena said, so the last week
can be used to "put on the special touches."•
Please enable JavaScript to view this content.