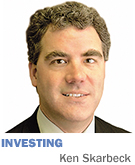 Often overlooked during annual report season is the CEO's letter to shareholders. Many read more like a PR release written by the investor relations staff, but there are a handful of informative letters.
One of the better ones is penned by Jamie Dimon, CEO of JP Morgan Chase. Regardless of how one feels about bankers and their role in the financial crisis, Dimon is perhaps the industry's most capable leader.
In this year's letter, he provides candid observations of mistakes banks made during the crisis while weighing in with his opinion on both the good and bad of the new regulatory rules that will shape banking in the future.
Dimon points out that even as the rules for Dodd-Frank and Basel III (new global bank capital and liquidity rules) are being written, much has already been done to strengthen the financial system. Bank capital levels increased following the U.S. Treasury stress tests, mortgage standards are back to requiring true income verification with more conservative appraisals, and loan-to-value ratios are mostly below 80 percent.
Off-balance-sheet instruments that some banks used to circumvent regulated leverage ratios are gone. Also, U.S. banks have effectively shut down their proprietary trading operations, and derivatives trading is moving toward clearinghouses that will provide the market with greater transparency.
Dimon believes boards and regulators "are more attentive to risk" now—a duty that was sadly trumped by greed and indifference in the years leading up to the credit crisis. He notes that when "group think" invades the banking system, risks tend to build up.
When it comes to the new regulatory agencies and rules birthed by Dodd-Frank, Dimon cautions that it is important to handle this carefully. He is concerned since this new legislation will create several more regulators, when what America really needs is a streamlined regulatory system.
He believes it's imperative that the newly created Financial Stability Oversight Council coordinates the activities of all regulators both domestic and global.
Dimon recommends that regulators have the flexibility to alter, say, loan-to-value ratios if the housing market was to become too frothy, or to change capital requirements on loans that become problematic.
He is not shy about expressing his dislike of the Durbin Amendment, which he says will have potentially significant unintended consequences for consumers. The law limits the amount a bank can charge on debit cards to its "incremental" transaction cost. Dimon points out that this ignores the expense of printing and mailing cards, providing operational support, and ATM costs.
Dimon agrees that banks should pay for the failure of other banks, which they already do through FDIC deposit insurance. But he is against arbitrary taxes on the big banks to fund the cost of bank failures.
Dimon also suggests implementing "countercyclical" accounting and capital rules. For example, now when loan losses are at their lowest point, so are loan-loss reserves. His thinking is that banks should operate a sort of rainy day fund, where you put more away in reserves when times are good to guard against more difficult times, likewise with bank capital.
Finally, he convincingly argues that large global banks are needed for America's long-term competitive position.•
__________
Skarbeck is managing partner of Indianapolis-based Aldebaran Capital LLC, a money management firm. His column appears every other week. Views expressed are his own. He can be reached at 818-7827 or [email protected]
Please enable JavaScript to view this content.