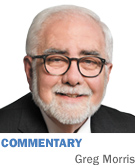 It has been well documented that Indiana legislators made history this session by passing the most comprehensive education reform legislation in the country. Every component of Gov. Mitch Daniels' education agenda was passed and has either been signed or awaits the governor's signature.
While there was sharp disagreement over how to "put students first," we all need to reconcile our differences and be advocates for the success of our children.
What's not as well publicized as the legislative reforms is a companion effort, the Central Indiana Talent Alliance, which is on the front lines of improving education. The executive committee of the Talent Alliance is chaired by IUPUI Chancellor Charles Bantz, who has surrounded himself with a who's who of business, education, foundation and not-for-profit community leaders.
Before I get into the specifics, here's the part that really caught my attention: The Talent Alliance has no desire to create new educational programs. Alliance members don't want to duplicate or displace the work of other community organizations. They simply want to mobilize and align existing efforts in a way that adds value. No new programs? That's when I knew they were really on to something,
By examining the effectiveness of various programs, tracking the progress of the city's children, and directing resources to what works, the Talent Alliance intends to influence the "cradle-to-career" success of our younger population. Cradle-to-career is defined as preschool through baccalaureate degree. Benchmarks have been established and a baseline report issued for 2010. A progress report will be issued annually.
The goal is nothing less than seeing that every student in the region is prepared for school, engaged meaningfully in and out of school, and supported to succeed academically on the way to postsecondary education and a career.
The Talent Alliance breaks the challenge into specific phases of a child's development.
Birth to second grade is the time to prepare children for school. Too many children in Marion County lack access to high-quality early childhood education. The goal is to increase the number of low-income children who attend a high-quality early childhood program in order to improve school readiness and reduce inequities in opportunities for success.
The critical time to ensure academic success is in grades 3 through 8. Too many children in central Indiana are not proficient in mathematics and language arts. The goal is to increase the percentage of students passing ISTEP+ in these areas at the third- and eighth-grade levels.
At all ages, children need support outside of school, but central Indiana lacks a sufficient number of high-quality, accessible and affordable out-of-school programs. The goal is to increase access to positive out-of-school experiences that support social, academic, personal, physical and emotional development.
The critical time to support students to enroll in postsecondary education is during grades 9-12. Currently, too few students take the challenging courses needed to prepare for college and too many students exit high school before earning a diploma. The goal is to increase the percentage of high school graduates who earn a Core 40 or academic honors diploma and increase the percentage of students graduating from high school in four years.
In the postsecondary years, there must be support for students to graduate and enter a career. As of 2008, only 34.9 percent of residents age 25 and over in Marion County held college degrees. The figure is 63.6 percent in Hamilton County. The goal is to increase this percentage in all central Indiana counties.
I encourage everyone to learn more about this important collaborative effort. You will find more information and the complete 2010 Community Baseline Report at www.talentalliance.iupui.edu.
Don't we all want every child in the region to have an equal chance for success in school and a resulting successful life? Over time, this can be achieved. Let's all work together to make it happen. The conversation will continue.•
__________
Morris is publisher of IBJ. His column appears every other week. To comment on this column, send e-mail to gmorris@ibj.com.
Please enable JavaScript to view this content.