Library CEO Laura Bramble plans to retire at the end of the year.
There will be no hiding in the stacks for the next CEO of the Indianapolis library system.

A search is under way for a successor to CEO Laura Bramble, who plans to retire, and expectations from all quarters are high.

The board of trustees wants someone with the acumen to close a budget gap. The union-represented staff wants a morale booster. Everyone with a stake in the $38 million, 23-branch system is looking for a flag waver who will be recognized at city hall, the Statehouse and in neighborhoods.

In short, said Jim Mulholland, spokesman for the grass-roots Sustainable Library Citizens Coalition, the library needs a "visionary."

"This administration right now and the board have been pretty timid," Mulholland said. "I think they're just waiting for somebody to save them."

The Indianapolis-Marion County Public Library faced a fiscal crisis last year, as the effects of property tax caps and lower collections during the recession came to bear.

To close a $4 million budget gap, the trustees considered closing six libraries. But after a public outcry, they decided to cut hours systemwide 26 percent. They also let go 37 of more than 700 employees.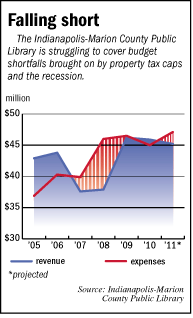 Despite last year's painful cuts, IMCPL hasn't solved its problems. The library has a roughly $4 million reserve, which will help cover this year's projected shortfall of nearly $2 million, Chief Financial Officer Rebecca Dixon said. The library also won't necessarily spend all the operating money it has budgeted.

At some point, IMCPL will have to catch up on maintenance, Dixon said, and, "Obviously, the public would like us to restore the hours we cut back."

Bramble, who rose through the IMCPL system and became CEO in 2007, announced last November that she would retire by the end of 2011. President Tom Shevlot said the board doesn't want to wait until the end of the year, but it's being careful about its search.

"It's a person that's responsible for a $40-million-a-year entity," he said.

The board first formed a search-criteria task force, which included representatives from the Library Foundation and Central Indiana Community Foundation, which has a $25 million fund that benefits IMCPL and Marion County school libraries.

"If you think libraries are important, and we do, in this moment of crisis, you better have a great leader," CICF President Brian Payne said.

Now the trustees have put together their search committee and selected a consultant, Bradbury Associates/Gossage Sager Associates of Kansas City, Mo.

This will be the library's first national search since hiring Linda Mielke from Maryland in 2004. Mielke arrived in the midst of controversy over cost overruns and construction problems related to the Central Library expansion. When the building finally opened in late 2007, it brought a big increase in operating expenses.

Dan Bradbury, managing partner of Bradbury Associates, doesn't think IMCPL's fiscal situation will deter any candidates.

"Funding is the name of the game all over the country," he said

Political savvy may be even more important to Indianapolis. Legislation passed this session will allow the City-County Council to share some of its income-tax revenue with the library, if it's so inclined.

"That's going to be a battle," said Michael Torres, president of Local 3395 of AFSCME, which represents about 300 librarians and paraprofessionals.

Torres said he would like to see the next CEO rubbing elbows with not only elected officials but also the public.

The staff is looking for "someone who can tell our story better, let the public know why we should be funded," he said.

IMCPL has a solid reputation in the library world, Bradbury said, and he thinks the challenges it faces now will be attractive to aspiring CEOs.

"That's why all of us got into this profession in the first place," said Bradbury, who was director of the Kansas City system for 19 years. "It is a thrill to really make the library realize its full potential in the community."

In a recent search for Tulsa, Okla., Bradbury said he had such a strong slate of finalists that the decision was difficult.

Another search consultant, Susan Kent of Los Angeles, agreed that there are plenty of candidates who can take on the challenges of urban libraries. She added that, because of the housing market and economy, "It's not the easiest time to convince people to leave their current environments."

Bradbury was scheduled to visit Indianapolis May 4. One of the first things he'll do is conduct a salary survey. Bramble has been making $114,000 for the past several years. That's at least $15,000 less than Tulsa is paying its CEO, he said.

Kent said the Indianapolis salary struck her as low. She's working on a search for Buffalo, N.Y., which pays about $150,000.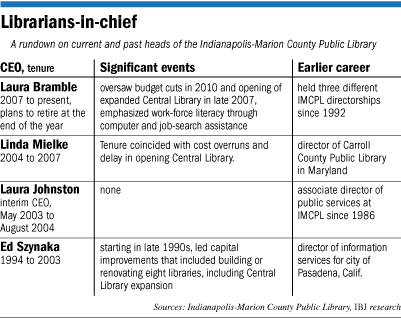 Bramble, 63, said she's not retiring because of the controversy around last year's budget cuts.

"I'm just really ready to retire," she said.

IMCPL has 550,540 registered borrowers, a figure that grew 7.5 percent last year, even while the reduced hours cut into patron visits and circulation. In Bramble's tenure, and partly because of the recession, computer use and other library stats skyrocketed.

Bramble said she hopes the public support will continue.

"I'm not pessimistic at all," she said. "The library's going to change. We have to."

Buildup to budget woes

The library's budget woes have been building since the early 2000s.

IMCPL operated independently until 2005, when the City-County Council became the final authority on its property-tax levy and budget.

Two years earlier, the library began to feel the effect of state legislation that reduced its maximum levy. That threw off a plan to cover rising operating costs, which stemmed from renovations and additions throughout the system that began in the late 1990s.

The final—and most expensive—piece of the improvements was Central Library.

The $104 million project doubled the size of the library and added underground parking. Fraught with design and construction flaws, the project ran two years late, and IMCPL bonded an additional $50 million.

IMCPL has won more than $25 million in settlements from contractors, but also owed money because of the delays, according to Greg Hahn, an attorney for the library at Bose McKinney & Evans. The final piece of litigation, a $24 million claim against structural engineers Thornton Thomasetti of New York, is pending in Boone County.

Bramble said management implemented hiring freezes and cut post-retirement benefits back in the early 2000s.

"So it's a long evolution," she said of the current fiscal straits. "The board and staff have been working and making cuts and struggling to live within our means for many years."

Mulholland, who works as a community organizer in Fountain Square, said the library's leadership did not seem prepared for the new era.

"It's not very nimble or creative when the dollars shrink," he said.•