Local modern art broker Rhonda Long-Sharp will represent three Indianapolis artists this summer aboard the Seafair Megayacht as it stops in two East Coast havens.
Works by Walter Knabe, Lois Main Templeton and Constance Edwards Scopelitis will be on display in the floating gallery as it pulls into Newport, R.I., and Martha's Vineyard in July. Long-Sharp's ModernMasters Fine Art & Brokerage LLC has reserved one of 30 exhibition spaces aboard the yacht.
Long-Sharp, who is also an attorney, has typically sold works by modern masters, including Andy Warhol and Pablo Picasso, through a partnership with Editions Limited in Broad Ripple.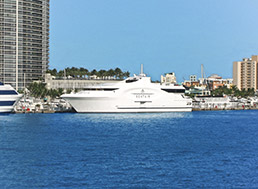 The work of three local artists will be featured at a summer exhibition aboard the Seafair Megayacht. (Photo Courtesy Seafair Megayacht)
About a year ago, she decided to launch Indy Contemporary, a sister business created to represent artists in her own back yard. Long-Sharp already had pieces by Knabe, Templeton and Scopelitis in her own collection.
Knabe is known for his wall-covering designs and fine art, Templeton for abstract painting, and Scopelitis for figurative painting.
Please enable JavaScript to view this content.