Shares of Endocyte Inc. have doubled since the company's initial public offering in February—even though the common wisdom is it won't see sales from its first cancer drug until 2014.

But there are signs the company could beat that forecast. The run-up in its stock—from $6 a share to around $12—is thought to be fueled by hope the company will get approval earlier than expected to sell its ovarian cancer drug in Europe.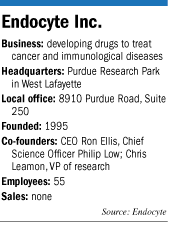 The biotech firm, which is based in West Lafayette and has offices here, said it intends to seek permission to sell its ovarian cancer drug in Europe on a limited basis. The decision to proceed came after consultation with the European Medicines Agency and written advice from the regulators, Endocyte CEO Ron Ellis said late last month.

The company said its filing will be based on results of its phase II trials. The intent to file suggests those results are promising.

Regulators may grant conditional marketing authorization when a drug is shown to be reasonably effective in treating life-threatening diseases in which there is an unmet medical need.

Analysts said the company by midyear is likely to launch phase III trials, those involving a larger number of patients and generally the last step before seeking full marketing approval.

Trial progress notwithstanding, what has some investors bullish is Endocyte's underlying approach to fighting cancer.

Endocyte developed a compound that attaches a chemotherapy drug to folate, which is a nutrient required for cell division. Fast-dividing cancer cells over-express folate receptors. Endocyte's drug can target cancer cells while leaving alone most of the healthy tissue.

That's a departure from chemotherapies that indiscriminately kill both cancer cells and normal cells. The side effects from traditional chemotherapy limit how much treatment can be administered at a given time.

Besides a more-targeted approach to hitting cancer cells, Endocyte uses a companion imaging agent that allows physicians to conduct a body scan to determine which patients have the over-expressed receptors. Those patients would most likely benefit from the company's drug.

This pairing of a therapeutic drug with a diagnostic component—getting information on an individual patient to select the most appropriate care—is known as personalized medicine.

"It's a huge trend in health care," noted Matthew Neff, president and CEO of Indianapolis-based CHV Capital, previously known as Clarian Health Ventures. The potential enticed CHV and several other investors to participate in a $26 million round of funding Endocyte raised in 2009.

Other local backers benefiting from the company's robust stock performance include CID Capital, the Indiana Future Fund and the pension fund of the Christian Church (Disciples of Christ).

"The companion imaging agent lowers risk by identifying patients likely to respond, improving the risk/benefit" ratio, states a recent report on Endocyte by RBC Capital Markets.

Health care payers are more likely to reimburse for such a drug.

Broader uses

RBC also cited the likelihood of expanding the market for Endocyte's drug to other diseases, such as lung cancer.

Endocyte appears to have the firepower. It's been issued 63 patents and has another 178 pending, according to Boston-based Leerink Swann LLC.

The company was founded 16 years ago by Philip Low, a Purdue University chemistry professor.

"He's a fountain of intellectual property," said CHV's Neff.

Endocyte has told investors that folate receptors are over-expressed on other tumors such as breast, colorectal, endometrial and kidney cancers.

According to regulatory filings, the next-furthest-along drug in the pipeline is one to treat non-small-cell lung cancer. That drug has entered phase II trials.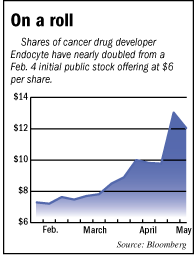 A prostate cancer drug is in preclinical stage.

In spite of signals that some form of early approval might be coming from Europe, RBC continues to project a 2014 market launch for Endocyte's ovarian cancer drug there and in the United States. U.S. sales in the first year could reach $25 million, and $12 million in Europe, RBC says.

By 2018, sales could hit $200 million and $118 million, respectively, the firm estimates.

Leerink Swann sees U.S. Endocyte sales of $213 million in 2019.

Partnerships likely?

Among risks cited by analysts are that the U.S. Food and Drug Administration may not deem Endocyte's clinical data robust enough.

Neff echoed concerns, noting the FDA's obsession for almost "bulletproof safety," a well-intentioned approach that he said has had unintended consequences for the drug industry and for U.S. patients.

"One thing that saddens me is that companies like Endocyte have to go to Europe" first, in hopes of approval, Neff said.

Leerink Swann said it does not expect conditional approval for the ovarian drug in Europe based on Endocyte's phase II data alone, but "we view it as a potential source of large upside if realized."

RBC notes that a number of competitors, including Roche and Amgen, are developing ovarian cancer drugs that have shown some promise.

"Endocyte is often competing with larger competitors, and as a small company with limited resources, there could be execution risks," Leerink analysts Howard Liang and Jonathan Eckard said in a recent report.

As for financial resources, Endocyte received $80 million from its February IPO. It has another $18 million or so of cash. Combined, that's enough to fund its phase III trials to at least the first half of 2013, analysts said.

They also expect that the company will find a regional partner—one for Europe and perhaps another for Asia.

"Ideally, we would like to see the company retain a portion of marketing rights," RBC said, in an April 25 report.

In a recent regulatory filing, Endocyte said it intends to commercialize its cancer drugs in the United States through its own focused sales force, or collaborate with "one or more larger pharmaceutical companies that have established capabilities in commercializing cancer therapies."•