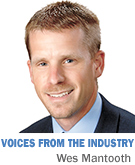 When was the last time you, as an employer, were expected to buy groceries or clothes for your employees? The idea is absurd! But for peculiar historical reasons, employers have evolved into providing most of the country's access to health insurance.
The evolution has put you in a precarious situation. Until recently, you paid and had no say. And in a time when the average person looks to prescriptions to fix our ailments and self-entitlement is at an all-time high, it's hard to contend with the fact that the majority of health challenges can be fixed or prevented with better personal choices.
Eating healthfully, exercising regularly, maintaining a healthy weight and not using tobacco are all great choices.
However, if you aren't doing these things—you're choosing to be or become unhealthy. The problem is, too many people make unhealthy choices and the consequences of these choices become everyone's problem.
Every employee in a company shares the burden of paying higher health care premiums. Compare the health insurance fee structure with car insurance. If you have a bad driving record and an expensive car, you pay more as an individual. The same isn't true for health insurance premiums. There is no correlation between a healthy individual and lower premiums. Every person in a company essentially subsidizes the sickest.
Now, compound these issues with employees who have untreated, undiagnosed or ignored health conditions. Think this doesn't affect you? Wrong.
Let's say you have a more-than-middle-age person who is overweight and not controlling his diabetes. That person drops a moderately heavy box of office supplies, crushing his little toe. This creates a Worker's Compensation claim. An unfortunate injury that should cost a few hundred dollars and take a few weeks to heal turns into a major medical issue in which the person loses his foot.
It's why we see so many organizations implementing wellness programs and strategizing about health risk management. It isn't just about health insurance costs. Choices affect Worker's Compensation costs, presenteeism, absenteeism and productivity. They affect your company every day.
Not long ago, during a conference focused on employers and health care, a representative from one company stood up to defend her inability to lose weight. She blamed the problem on her employer for not providing more resources or access to weight loss surgery. Her choices, employer's problem.
As much as 25 percent of the U.S. population contends with health problems related to behavior: overeating, lack of exercise, smoking and not managing chronic diseases.
That's no way to live. But it is a way to die much younger than a healthy person. And with staggering medical costs.
We spend more on health care than does any other country—over $2 trillion a year. That's 17 percent of the national economy and over a $1 trillion increase in spending over the last decade.
We're among the three most obese countries in the world. The United States of processed food, high fructose corn syrup and fast food has topped the charts over the last half century. We've made smoking socially unacceptable, so why are we doing the exact opposite with being overweight?
Intervention is an up-and-coming term in the world of health care. From insurance carriers, think tanks and legislators to companies specializing in intervention, everyone agrees costs will continue to rise until there's a push for behavioral change and long-term social changes. Employers need to wake up!
In the last few years, we have been inundated with information and legislation on health care reform. Few people will argue that we don't live with a broken system, and perhaps some of the health care reform provisions will help.
But more needs to be done—certainly stronger coverage mechanisms for preventive care, more focus on health risk management and wellness incentives, and cost transparency from insurance carriers, providers and pharmacies.
Employers can't be the answer to every problem. But they can effect change. When asked to rank trusted sources for health care information, employers rank on the upper end—typically behind doctors, nurses, family and friends. In other words, people are more likely to believe information relayed from their human resources department than an advertisement.
This is highly valuable information for employers who want to make sweeping cultural changes to behavior, mind-set and personal responsibility within their companies.
So where do we start? With you and me and the choices we make as individuals. And we take it a step further to evoke cultural changes within our companies to create an environment ripe for success for those who want to stay healthier or become so.•
__________
Mantooth, who works out of Indianapolis, is a principal and the employee benefits practice leader at South Bend-based Gibson Insurance Agency Inc. Views expressed here are the writer's.
 
Please enable JavaScript to view this content.