It's fairly easy to write about what the Miller House is.
It's harder to write about what it feels like to be there.
The latest gem in the architectural crown that is Columbus, the Miller House is a wonder of building, interior and landscape design ranked among the top mid-century modern residences in the world. A treasure trove of smart ideas, intriguing details, beautiful choices and fascinating decisions, it's a National Historic Landmark created by world-renowned designers Eero Saarinen, Alexander Girard and Dan Kiley and filtered through the gate-keeping of the late industrialist/philanthropist J. Irwin Miller (of Cummins fame) and his wife Xenia Simons Miller.
Want to see for yourself? The home and grounds, bequeathed to the Indianapolis Museum of Art, are now open to tours through the Columbus Area Visitors Center.
Now I should say upfront that I've never been a frequenter of home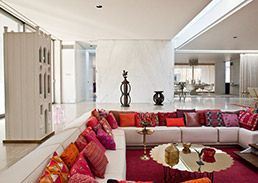 A sunken conversation pit in the living area keeps the views uncluttered at Columbus' Miller House. (Photo Courtesy Indianapolis Museum of Art)
tours. I don't begrudge others their pleasures, it's just that, for me, they quickly become exercises in envy—underlining the lack of funds, time and motivation, etc., that prevent my humble home from becoming remotely presentable.
I share that in order to make clear that walking through the Miller House is an experience of an entirely different order. Rather than simply admiring the taste demonstrated, giving a thumbs-up/thumbs-down to choices, or experiencing class envy, visitors to the Miller House may find themselves, as I did, feeling as if they are gliding through a work of art.
That's true in the living area, designed for a maximum of exposure to the wide windows and a minimum of clutter. It's true as you round the one-of-a-kind fireplace, positioned like a sacrificial altar away from the walls. And it's true when you walk through the allee of honey locust trees that stand between the home and the expanse of green space that serves as a massive back yard. Every textile, every chair, every lighting fixture has been carefully selected and integrated into the whole. And while it might take you 15 minutes to walk through a home of this size if you were being led by a real estate agent, here, I found myself lingering to soak in every new angle.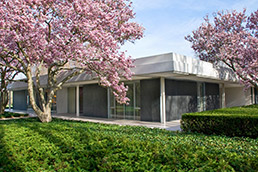 Miller House is now administered by the Indianapolis Museum of Art and available for tours. (Photo Courtesy Indianapolis Museum of Art)
In preparing the house for tours, some of the artwork that once adorned the walls has been removed, the kitchen shows no sign of cooking ever being done there, the beds are crisply made, and the books are all in place. Family photos are absent from the living room, and the color-coordinated pillows in the swanky conversation pit are all in their proper places. You are forgiven if, as I did, you have trouble believing that five children were actually raised here.
Yet signs of life do emerge. The carpet in the family room, for instance, is made up of symbols relevant to the lives of the family (including an elephant representing their Republican allegiance). The expanse of books comes from the Millers' collection, and the high-end tchotkes each has family meaning. The speed-dial buttons on the master bedroom phone still have names assigned. (Yes, I asked about the one that said "Hookers"—Relax, it's the surname of family friends.)
Beyond its design significance, the Miller House is also important because of Irwin Miller's catalytic influence on Columbus. It was Miller who, back in 1957, created the foundation that funded the use of world-class designers for local buildings. Thanks to Miller, Columbus entered the upper echelon of architecturally significant U.S. cities (ranked sixth by the American Institute of Architects). To have his own home available for tours is more than a plus—it places Columbus on an even higher plateau. And writers from around the country have been flocking to Indiana to sing its praises, with stories already appearing in the Chicago Tribune ("A Modern Midwestern Gem Unveiled"), Travel + Leisure ("America's Most Significant Modernist House"), The New York Times ("Living Color") and more.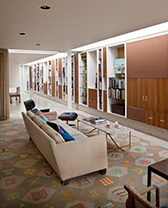 A lengthy wall of bookshelves, decorative areas and storage spaces connect the living room to the den. (Photo Courtesy Indianapolis Museum of Art)
Just don't try finding the Miller House yourself. Since the home is in a residential neighborhood, tours begin and end at the downtown Columbus Visitors Center. Group size is strictly limited, so call early for a reservation. More information is available at www.imamuseum.org and www.columbus.in.us.
A symposium on the Miller House and Gardens will be held May 20 at the Indianapolis Museum of Art featuring architecture critic Suzanne Stephens, architect Deborah Berke, interior designer Brad Dunning and landscape architect Laurie Olin.•
__________
This column appears weekly. Send information on upcoming arts and entertainment events to lharry@ibj.com. Twitter: IBJArts and follow Lou Harry's A&E blog at www.ibj.com/arts.
Please enable JavaScript to view this content.