Yes, I know. The theme for this month is newer ethnic restaurants. But the fact that the venerable Fountain Square institution Santorini Greek Kitchen reopened just months after what could have been a throw-in-the-tzaziki-and-retire fire is, for me, a strong reason to stretch the definition of "newer."
Besides, who among us could resist an excuse to once again dine at the city's most venerated Greek restaurant?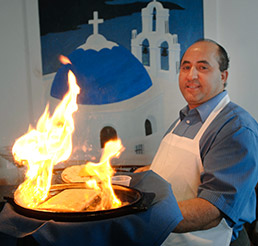 Latest flame: For attention-getting table service, you can't beat Santorini's signature Saganaki. (IBJ Photo/ Perry Reichanadter)
We were in a grazing mood, so we started with the Combination of Three appetizer ($17), electing for Hummus, Feta Cheese and the signature flaming Saganaki. The traditional ground chickpea dip was served with wonderfully warm pita wedges, the feta accented with just enough olive oil and oregano, and the attention-getting Saganaki scooped up nicely once the flames were vanquished.
We also dug into the Chef's Special Combination ($20), anchored with sizable portions of Moussaka and Pastitsio (the latter similar to the former, only without the eggplant). It also included Gyro meat—tasty, but better when served in a pita as an entrée ($13), Spanakopita and Tiropita (the first has spinach in addition to the cheese and phyllo dough), dolamades (delicious grape-leaf-wrapped ground beef and rice), and lightly crispy, flavor-packed tomato balls.
On the vegetarian front, there are plenty of flavor variations in the Athenian Salad ($8.75). And while it's difficult to resist traditional Lentil or Avgolemeno (egg lemon soup), a dining companion was thrilled to have opted for the less-familiar, steamy and creamy Garlic Mushroom Soup ($4/$5).
There were some concerns in my party about the belly dancer roaming the room. Now, for some, such a dancer is a core part of the Greek dining experience. For others, it's just awkward. I'm thankful to say that Santorini's hip-shaker seemed to have a strong sense of which tables welcomed her and which were best to avoid.•
__________
Third in our month-long series of reviews of newer ethnic eateries.
Please enable JavaScript to view this content.