Live Nation Entertainment has scaled back summer concert schedules at large amphitheaters across the country, and that includes one of its top performers, Verizon Wireless Music Center in Noblesville.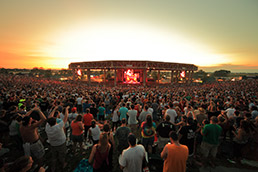 Fans gathered July 10, 2010, at Verizon Wireless Music Center for a Tom Petty and the Heartbreakers concert. The venue will host fewer shows this year. (Photo courtesy of Live Nation Entertainment)
The former Deer Creek amphitheater will host 22 to 24 concerts this season, down from 29 last year.
The cutback is part of Live Nation's strategy for avoiding a repeat of last summer, when attendance at amphitheaters nationwide dropped 6 percent, to 9.4 million. That was on the heels of a 3.8-percent decline in 2009.
Overly aggressive booking and faulty ticket pricing contributed to a dismal summer in 2010, said Gary Bongiovanni, editor of Pollstar magazine, which tracks average ticket prices for artists and show attendance. This year, he said, there will be fewer shows, lower ticket prices and better supporting acts.
"Everybody from promoters to artists are going to be conservative," he said.
This year's season at Verizon Wireless, which kicked off May 14 with Jason Aldean, includes blockbuster country artists Brad Paisley and Kenny Chesney, Jimmy Buffett, and rockers Kings of Leon and Muse.
General Manager Tom Mendenhall isn't finished booking the local venue, but he confirmed that there will be fewer shows at the 24,000-capacity amphitheater.
Meanwhile, The Lawn at White River State Park, which fits 7,500, may see as many as 13 concerts, the most since Live Nation started booking the downtown venue eight years ago.
"Every year in the spring, we're cautiously optimistic," Mendenhall said. "We're still in that economic recovery time period."
Verizon Wireless Music Center reported selling 365,415 tickets last year, making it No. 4 among its peers nationwide, according to Pollstar data. Actual ticket sales were probably higher, but Live Nation stopped reporting on a weekly basis in the midst of the "disastrous" season, Bongiovanni said. The data reflects 21 shows.
Verizon Wireless Music Center is one of eight amphitheaters that Beverly Hills, Calif.-based Live Nation owns outright. Others are leased or operated under a booking contract.
The ticketing and promotions giant inherited the venue through a series of mergers. Local concert promoters Dave Lucas and Steve Sybesma opened Deer Creek in 1989 and later sold their company, Sunshine Promotions, to SFX Entertainment. Clear Channel Communications acquired SFX and in 2005 spun off Live Nation.
Live Nation put the 203-acre Noblesville property on the market in 2006, but didn't get any takers. The company invested in some upgrades ahead of the 2010 season, including a new stage and sound system in the lawn area.
The company also added the "Rockstar Club," which has air-conditioned rest rooms, a bar and a viewing deck. Access to the area costs an extra $10.
The addition of cushier digs speaks to the industry's recognition that fans are staying away from giant outdoor venues, at least for non-festival concerts.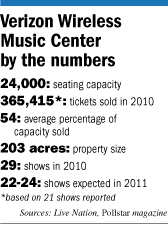 "There are less artists out there today that can sell out large amphitheaters than there were 10 years ago," said Lucas, who now owns locally based Live 360 Group. The firm is a booking consultant to a number of independent venues, including Conseco Fieldhouse.
"There's so many types of music out there," Lucas said. "People's tastes are splintered."
Mendenhall said Rockstar Club was simply an idea Live Nation's local crew had been "kicking around a while" and decided to try in 2010.
Ticket sales in 2010 were down slightly from 2009, Mendenhall said.
"I wouldn't say we were down dramatically," he said. With most shows selling 10,000 to 12,000 tickets, he said, "It's still a really good business."
The declining popularity of big amphitheaters mirrors the waning influence of radio and album sales, said Craig Pinkus, an intellectual property lawyer at Bose McKinney and Evans who has represented Lucas.
"It's not something that started last year," he said.
Pinkus thinks young people, ages 12 to 24, are less likely to tie their personal identities to certain bands or genres of music. At the same time, older people, who relate to big-name acts, don't want to fuss with lawn seating.
"They want amenities. They want comfort. They want good food available. They want no jostling," he said.
That doesn't mean the outdoor summer concert experience is dying. Live Nation has ramped up its booking at The Lawn at White River State Park. So far, there are 11 shows on the calendar, compared with nine last year.
The Lawn is one of Pollstar's top-rated venues. The midsize venues are more profitable because they offer the artists less gross potential, which in turn drives down how much they demand in fees, Bongiovanni said.
Though they may earn less money, he said, "Most artists would prefer to sell out."
Live Nation CEO Michael Rapino told investors in a conference call earlier this month that the amphitheaters are a "mature" business, but still an "important profit driver." (Arena concerts are the most profitable, while festivals are the company's fastest-growing segment.)
Rapino said it was too early to forecast summer ticket sales, but he hoped better pricing from the outset—thereby avoiding last-minute discounts—and "optimizing" the mix of concerts would shore up the amphitheaters' profitability.
The second part of that strategy means fans won't see acts like Creed or Lilith, two shows that did not sell well in Noblesville last year, Bongiovanni said.
In the long run, Bongiovanni thinks Live Nation will continue trying to unload the high-capacity amphitheaters wherever possible. Even Verizon Wireless Music Center, lauded by fans and artists for its design and sound quality, probably is worth more as a redevelopment site than for concerts, he said.
"It's almost like Live Nation created a Frankenstein monster with their outdoor amphitheaters, and it's eating them alive."•
Please enable JavaScript to view this content.