Mayor Greg Ballard is unsure about new districts.
The city is on a path toward creating four more tax-increment-financing districts. The TIF districts, which would be created to seed economic development in four core urban neighborhoods, would join 22 other such districts in the city, but would be the first created under Mayor Greg Ballard's administration.

Indianapolis officials are meeting the last two weeks of May with stakeholders and leaders of the neighborhoods—which are in the vicinity of 16th Street and the Monon Trail; West Washington Street and Tibbs Avenue; and East Washington Street and Jefferson Avenue. The fourth is the Midtown area, which stretches from Broad Ripple to 34th Street and from College Avenue to Illinois Street.

They're discussing designating each of those neighborhoods redevelopment areas, a designation allowed under state law that gives local governments more flexibility in buying, selling and improving properties within specific boundaries.

Establishing such areas is the first step in creating TIF districts. Within TIF districts, cities can capture property taxes on new development to use on other projects, such as roads, sidewalks and new buildings, within the district. That can encourage private developers to build in the area, particularly if the public investment directly benefits their projects.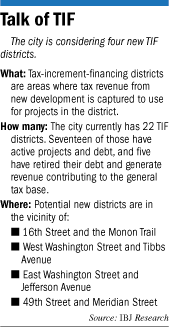 TIF districts have been used with success in Indianapolis and other cities, both as a way to spur redevelopment in hard-hit urban areas and provide incentives for suburban developments. But they remain unpopular among some who say they tend to outlive their use and divert property-tax money from traditional recipients, such as schools.

All four neighborhoods the city is targeting are either distressed or have sections beginning to decline. They also have momentum for revitalization, with one or several projects in the hopper, and have been discussed as hubs for potential future mass transit, including rail and buses.

Those planning improvements for the neighborhoods say the redevelopment area designations—and TIF districts that often accompany them—could help propel change.

"I think we all have learned that the larger, mixed-use projects still have an investment gap," said Kathryn Shorter, president of the HARMONI initiative to revitalize Midtown, which includes one of the redevelopment areas the city is considering. "Somebody who wants to build something like that can do it so easily north of the county line in a cornfield. There needs to be some financial incentive to help qualified developers do a really good job of that."

In an interview earlier this month, Ballard said the city had not decided whether to move forward with the redevelopment areas but he had "not ruled it out."

He said if new districts were created, they would focus mainly on commercial development, rather than housing.

Any redevelopment areas, as well as new TIF districts, would have to be approved by the City-County Council.

Existing momentum

Some commercial interest has been bubbling in the targeted areas. In Shorter's Midtown district, which spans from Michigan Road to the Monon Trail and 38th Street to the Central Canal and includes Broad Ripple, several projects being discussed could benefit from TIF.

Those include a mixed-use development on College Avenue between 49th and 50th streets; a mixed-use parking structure proposed for the Broad Ripple district; and a promenade near the Central Canal whose plans are in the works.

Some of these initiatives—for example, the promenade plan—have been supported through private fundraising. Shorter's group has been in talks with the city for about two years to get a TIF district and now has traction.

On the west side, TIF is being discussed for the former Central State Hospital campus, said Craig Lintner, vice president of development with Carmel-based developer Pedcor.

Pedcor plans to break ground late this summer on a $20 million, low-to-moderate-income housing development on eight acres of the 150-acre campus, which runs from Washington to Vermont streets and from Tibbs to Warman avenues.

Lintner said it will be the first major development project on the site, and Pedcor plans to proceed with or without it being made a redevelopment area. But the company is hopeful for TIF because it would help spur other development on the site, which a master developer called Central Greens LLC, has a contract to buy from the city.

"We're hoping it happens," Lintner said of the potential TIF, "but we're not relying on that for our project."

Developer interest in the area near 16th Street and the Monon has been matched by attention from federal groups, such as the Environmental Protection Agency, which has taken an interest in the area because of its large number of brownfields. The EPA has provided about $900,000 in funding for planning and cleanup-related projects in the district, which spans several blocks west along 16th Street and a few blocks north on the Monon.

A TIF district could help further advance plans for the area—though some who work in the neighborhood point out additional resources would be needed.

"You're not looking at a gold mine with TIF," said Chelsea Ernsberger, project manager with King Park Area Community Development Corp., which does redevelopment work in the neighborhood. "It's not security you're going to be able to develop the whole area. It's a tool that provides stimulation to the area."

Catalyst or hindrance?

An existing TIF on the city's near-eastside has done just that, said Joe Bowling, a community builder with the John H. Boner Community Center.

Tax revenue from the TIF, which also includes residential properties in the area between Oriental and Rural streets and north of East Washington Street, has helped fund some area infrastructure, such as urban streetscape work along East 10th Street and green alleyways that capture and channel rainwater.

Bowling said a recently created plan to renovate the commercial corridor along East Washington Street from roughly Oriental Street to North Oakland Avenue calls for adding another TIF that would include that area. TIF is a tool, Bowling said, that could help make the plan for the corridor a reality.

"We should be careful where new TIF [districts] come in," Bowling said, "but I don't think we should be fearful."

Pat Andrews, a neighborhood activist who ran unsuccessfully as a Democrat for a council at-large seat in the recent primary, disagrees.

She said the way the city has used TIF districts makes them a hindrance to the tax base.

In many cases, the city issues debt for projects in a TIF district and relies on the property-tax revenue from new development built there to pay it off.

Once the debt is retired, the property-tax revenue goes toward the general tax base. But in some of Indianapolis' districts, the debt doesn't get paid off for several decades because the city keeps issuing new bonds for projects.

That, Andrews said, makes the areas "dead zones," where assessed value growth can't benefit entities that need the property taxes.

"If you keep covering the city and county with TIF, who is going to pay for the fire department? Who pays for schools?" said Andrews, vice president of the Marion County Alliance of Neighborhood Associations. "There's a substantial problem with the approach that's been taken."

Mike Shaver, a Carmel-based community development consultant who works with Indiana municipalities but does not work with Indianapolis, also says the tool has pitfalls. For example, communities such as Anderson have made TIF districts too large. That can cause problems because if property in one section of the TIF declines, it has a negative impact on revenue in the entire district.

But Shaver said it appears the areas Indianapolis has targeted have enough commercial potential to make TIF thrive there.

Neighborhood leaders such as Shorter say a bigger risk than using TIF is not using it—and missing out on the opportunity to make a dent.

"The pitfall," she said, "is if we allow things to continue to decline."•