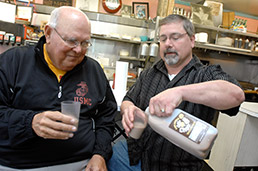 Joe Wolfla, left, and partner Dan Iaria try out a jug of Choc-Ola at Rock-Cola Café.(IBJ Photo/ Perry Reichanadter)
Turns out Hoosiers have a taste for nostalgia, especially when it's chocolate-flavored.
The chocolate beverage Choc-Ola, launched in the 1940s and pitched to a generation of fans in the 1970s by Cowboy Bob on WTTV-4, is hitting store shelves again after a 10-year hiatus.
Two south-side entrepreneurs—Dan Iaria and Joe Wolfla—are leading the reintroduction of the beverage originally manufactured near Beech Grove. Choc-Ola was available for sale primarily in the Midwest until parent company Yoo-hoo phased out production in 2001.
Iaria, who owns the Rock-Cola Café on Brookville Road, discovered in 2009 that the trademark for Choc-Ola had expired. He snapped up the trademark last year for little more than a $275 application fee, acquired the recipe separately and began bottling the beverage in small batches for restaurant customers. The response suggested there was a demand for large-scale production.
So Iaria partnered with longtime customer and serial entrepreneur Joe Wolfla to pitch the drink to Martin's Super Markets, a 21-store chain in northern Indiana and southern Michigan. That led to a deal to produce Choc-Ola at an Anderson facility owned by Carlinville, Ill.-based Prairie Farms Dairy.

Production began in March and already customers have snapped up more than 35,000 half-gallon jugs of the concoction of water, sugar, low-fat milk, cocoa and a handful of other ingredients.
This month, Prairie Farms plans to begin distributing Choc-Ola in 18 states and add individual-sized bottles to the half-gallon jugs, which retail for $2.49. The bottles will be sold primarily in grocery stores and convenience stores.
Choc-Ola fits within a growing beverage category and should generate strong interest among consumers, said Harry Balzer, chief industry analyst for New York-based The NPD Group and an expert on food and diet trends.
NPD surveys through February 2011 show that 13 percent of Americans consumed a chocolate beverage, including chocolate milk, at least once during a two-week survey period.
That's the highest figure NPD has recorded going back more than 15 years, well above the 7 percent to 8 percent range of a few years ago, said Balzer, who authors the company's annual "Eating Patterns in America" report. By comparison, 60 percent of those surveyed had consumed a carbonated beverage, and 90 percent had consumed milk.
The fact Choc-Ola is new and chocolate will probably lead consumers to give it a try.
"We are always looking for variety in the beverages we consume," Balzer said. "We love new things, even if they're old things. We know chocolate, and we like it."
Iaria and Wolfla would not discuss the financial arrangement other than to say they will be paid a royalty from each bottle. They said they started the business "like south-siders"—spending less than $50,000 to relaunch the brand.
"It's the greatest-tasting chocolate milk you've ever had," said Wolfla, 73, a book publisher who in the 1960s owned the Indianapolis Capitals professional football team. "Once you taste it, hell, you never go back. It's so much different."
Iaria figures there's plenty of room for growth. He said the brand sold more than 30 million units a year at its peak in the 1970s, and that was just in Indiana, Kentucky, Ohio, Illinois and Michigan.
He said a chemist at Prairie Farms preferred the flavor to the company's chocolate milk.
"Choc-Ola is much lighter, with a rich chocolaty sweet taste," said Iaria, 48.
The inventor of Choc-Ola, Harry Normington Sr., set up shop at 2301 Churchman Ave. in 1944.
He sold the business in 1977 to Moxie Industries, which sold it in 1985 to the makers of Yoo-hoo. The fellow chocolate-drink specialist closed the local plant in 1985 but continued making Choc-Ola at a facility in New Jersey until 2001, when Yoo-hoo became part of the Mott's division of Cadbury-Schweppes.
After a 2008 spin-off, Yoo-hoo is now part of the Plano, Tex.-based Dr Pepper Snapple Group.
The rebirth of Choc-Ola was exciting to advertising copywriter Evan Finch for a couple of reasons: It gives the city a local soft drink at a time when local beer is making a resurgence, and it brings back memories of his first sip of a Choc-Ola, which he bought from a vending machine "at a lake somewhere with my parents.
"The short answer is that Choc-Ola tastes like 1973 to me, and drinking it brings back a lot of good childhood memories," said Finch, 46, who created a Choc-Ola fan club on Facebook. "I don't think I really missed it until I couldn't get it anymore."
Finch found out Choc-Ola was back after visiting Rock-Cola Café. They had sold out the day he visited, but the server promised to make up a batch if he called in advance.•
Please enable JavaScript to view this content.