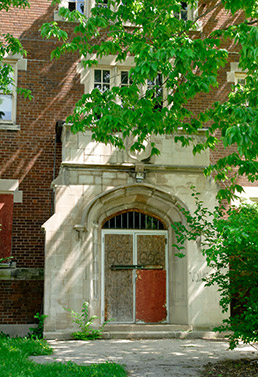 Central State Hospital closed in 1994, and the city bought it a decade later. Mike Higbee and Charles Garcia have been working on a redevelopment plan since 2007. (IBJ Photo/ Perry Reichanadter)
A dormant plan to redevelop the 150-acre former Central State Hospital campus is starting to get momentum.
Locally based developer Pedcor Cos. plans to break ground late this summer on the site's first project: a 144-unit affordable apartment complex estimated to cost $20 million. Meanwhile, talks among developers and the city about providing public money for roads, sidewalks and utilities are intensifying.
The project's main developers, Mike Higbee and Charlie Garcia, expect to begin discussions in July with potential tenants for commercial development along West Washington Street planned as part of the project's first phase.
Those activities provide some signs of hope that the long-discussed plans to rebuild the area will materialize. Central State closed in 1994, and the city bought it a decade later.
Arnold
"The majority of neighborhood people don't believe it's ever going to happen because it's taking so long," said Diane Arnold, executive director of the nearby Hawthorne Community Center who has lived in the west-side neighborhood near Central State about 50 years.
But "144 units of rental property could be an incentive for someone to put in a drugstore or a grocery store. The key is, something needs to jump-start the project."
The latest site plans, which were updated in April and discussed in a public meeting in late May, call for a mix of housing, retail, recreational areas, green space and other facilities, such as a community center and charter school. Developers estimate spending $100 million to $150 million to revamp the site.
The idea is to make the area, which lies between Tibbs and Warman avenues and Washington and Vermont streets, a place that serves the neighborhood but also draws patrons from outside of it.
Developers hope a successful project would improve the surrounding area, where abandoned houses, negligent landlords and vacant storefronts make revitalization efforts a challenge.
"We're not going to turn in; we're going to turn out," said Higbee, managing partner with DC Development Group. "Hopefully, we'll have some very positive impact."
Even with the recent signs of life, executing the ambitious plan will be a challenge. Development in general remains tough in a still-recovering economy where credit is tight and aversion to risk is plentiful.
Sparking interest among people to move into the neighborhood, some say, also will be difficult.
Changing plans
Higbee and Garcia signed a project agreement to develop the site in 2007. At the time, their plans called for heavy single-family home development.

But months later, the economy tanked, led by the residential housing market. So the developers, who operate under an entity called Central Greens LLC, reconfigured their plans. Last year, they told city leaders they thought 2011 would be the year development could start.
Around the same time, Pedcor, a Carmel-based developer known for its suburban projects, came forward with the apartment complex proposal.
The project, called the Steeples of Washington, is heavily subsidized with federal tax credits and will house only those earning 60 percent or less of median income.
It will be situated just off West Washington Street, near the commercial development that's planned along the corridor as part of the broader redevelopment.
Higbee said with that apartment project in place, the next step is attracting tenants to outlots and mixed-use buildings planned for that section of the site.
The development likely would include some national chains but also businesses owned by neighborhood entrepreneurs to complement the many Hispanic-owned shops—from groceries to nightclubs—that have cropped up in the area. The focus for the first commercial installment area is smaller-scale businesses such as barbershops, bakeries and restaurants.
Higbee and Garcia have had interest from potential tenants including banks and a doctor's office. The developers aim to lock in deals this year and start construction by late this year or early next.
Higbee said he thinks commercial demand is sufficient, given the scarcity of retail outlets in the neighborhoods and the ability to draw residents from areas such as downtown to shop there.
"We think we're in a position now to really have significant talks that are meant to get a deal done fairly quickly," Higbee said.
Developers also are talking with Arnold's group about building a community center on the campus in an area that also could include a charter school and a senior living center.
Arnold said Hawthorne is at capacity in its current building a couple of blocks from the Central State site, and while she would like to build on the site, she is considering expansion at the current location as a less-costly alternative.
The Central State site eventually would include another section of commercial development, anchored by a grocery store, that Higbee hopes to get under way next year.
Additional plans for housing—including both affordable and market-rate townhomes, apartments and single-family homes—also remain part of the framework. But developers are putting off that portion until at least early 2013 while they wait for the housing market to improve and work on designs for the development.
Meanwhile, they're in early talks with the city about a sports complex or recreational space on a section of the site where many of the existing buildings would be preserved.
IBJ reported this month that Central State is one of the sites that tennis enthusiasts are considering for a new Indianapolis Tennis Center. The sports-complex section of the project would be at least two years away, Higbee said.
'Some reservations'
Getting development under way quickly could be ambitious, given the economic climate.
John McIlwain, a senior housing fellow at the Urban Land Institute, said the tax-credit-financed apartment complex Pedcor is building is a logical project for the site, and likely is the only kind of housing development that could get done right now.
The project could gradually spur more development in the area if it rents quickly, but McIlwain said, "It's not going to hit the ball out of the park and all of a sudden revitalize the area."
"If it proves there's a market there for housing and people are willing to move there, then other developers may start to look in the area and compound it," McIlwain said.
But he said that could take three to five years.
"It takes a long time for a neighborhood to fall apart, and a long time for a neighborhood to come back."
Christina Smith, who has lived in the area for six years, said she thinks getting people to move to the neighborhood will be a challenge.
Smith, 31, and her husband moved there before they had children because they were drawn to the charming older homes, affordable housing and proximity to downtown.
But now that she has kids, ages 2 and 4, she said she worries about the schools they'll attend. She said that, along with the perception of blight in the area, could keep others away.
"Getting people in the neighborhood that are going to improve it and make it thrive is a concern," Smith said. "Everyone is really hopeful that [the development] could be great, but there are some reservations that if it doesn't take off right away, interest will be lost."
Public financing for infrastructure on the site will be critical to getting the project moving, Higbee said. The area needs new underground utilities, roads and pedestrian pathways.
Along with asking the city for assistance, developers are hoping to cobble together funding from other sources, such as federal grants and assistance from utility companies.
Higbee, who led the Department of Metropolitan Development under former Mayor Bill Hudnut, said he's been in multiple talks with city leaders, who he said are "intent on being a real partner on this."
"They think [the project] is a good thing for the west side," Higbee said. "They understand we have some infrastructure needs over the next six to 12 months and they should be a party to that in some way."
The city has not yet committed to providing funding. Michael Huber, the city's deputy mayor for economic development, called it a "very exciting project" and said the city is still looking at ways it could provide support by investing in infrastructure.
Arnold, who frequently walks her dogs on the Central State campus and lives just a few blocks away, is encouraged by the progress.
But she said it's important that plans be carefully executed so that commercial development doesn't squeeze out mom-and-pop shops and the housing mix doesn't price residents out of the area.
"I want us to be very careful," she said. "It will be the best or the worst thing that will ever happen to this neighborhood."•
Please enable JavaScript to view this content.