The city's information technology sector may be a step closer to easing a worker shortfall created by the rise of cloud computing.
Local cloud data centers, such as BlueLock and nFrame, have been growing at a torrid pace in recent years, straining for hires among the city's limited supply of IT workers.
Harrison College said it recently became the only school in the state to offer certification in what's known as VMware, the leading software used by the data centers that are the backbone of the cloud.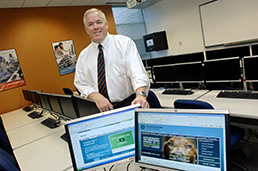 Harrison College Dean Joe Meadors has just revised the institution's IT offerings to make them more relevant to the needs of the work force. (IBJ Photo/ Perry Reichanadter)
Companies are increasingly outsourcing part or all of their in-house IT networks to such data centers. Such virtual—or cloud-–computing via the Internet can be more cost-effective for a company than investing in additional software or hardware for its own IT needs.
A company limited to a Windows platform could turn to this virtual machine solution to use a Linux-based application, for example. Sometimes a company will use the cloud only periodically, such as when its IT system is operating beyond capacity, or for disaster-recovery backup.
A report by Connecticut-based industry analysis firm Gartner pegs the penetration of new servers used in the virtual setting by the end of 2012 at nearly 50 percent, up from 12 percent at year-end 2008.
Harrison College is jumping on the trend. The 6,100-student institution formerly known as Indiana Business College has been improving its aim at the local high-tech sector. It now has a satellite classroom on the northwest side, near Interstate 465, where many of the city's big tech firms are headquartered.
"We need to be able to provide people (with VMware skills) … We're really out in front," said Joe Meadors, dean of the school of information technology at Harrison College.
Meadors just completed a revamping of Harrison's IT offerings that includes the new virtual technology concentration and other offerings more relevant to the work force. Students can graduate not only with a bachelor's degree in IT but also obtain up to 14 industry certifications, such as one in VMware.
In September, Harrison plans to add a bachelor's degree in health informatics.
Just more than 100 students are enrolled in Harrison's IT program—about 25 of them learning in the classroom and 80 of them online.
It used to be you could get a certificate and it didn't matter whether you had a college degree, Meadors said. "IT almost used to be a maintenance operation."
Those same IT workers in a cloud-computing data center face more challenges. They often interact with customers from multiple companies from multiple industries. "The scope of the responsibility has gone up so much," said Pat O'Day, chief technology officer at BlueLock.
The need for workers in all areas of IT is growing, particularly among software companies, said Mark Hill, a director of the Indiana technology advocacy group Techpoint and managing director of local tech investment firm Collina Ventures.
"Software engineering experts with knowledge in Java and .Net are being solicited by nearly all software companies," for example, Hill said.
In a few of the companies in which he's involved there are critical needs for expertise in SharePoint and Voice over Internet Protocol.
One Indianapolis company in the VOIP arena—call-center-software giant Interactive Intelligence—has partnered with academia to help cultivate a capable future work force.
A few years ago, Interactive installed some of its software at a Purdue University lab for students in an advanced networks-services class. Interactive also sends some of its engineers to lecture to the students.
"It really enriches their curriculum," said Hans Heltzel, vice president of technical support and professional services at Interactive Intelligence.•
Please enable JavaScript to view this content.