Two of the nation's hottest concepts in retail—a yoga apparel specialist and a new dollar-store concept targeting teens—are coming to Indianapolis.

Lululemon Athletica plans to open its first Indiana store at The Fashion Mall at Keystone. The chain, founded in 1998 in Vancouver, is moving into the mall's eastern wing, taking over the former home of Brookstone, which is moving to a spot near the Apple Store. The Lululemon store is scheduled to open in about three months. The chain already operates a "showroom" shop with limited hours at 64th Street and Cornell Avenue in Broad Ripple; Lululemon uses the "showroom" concept shops to market the brand in communities that don't yet have a full-line store. The chain has more than 120 locations worldwide.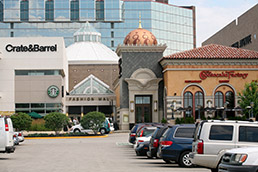 The Fashion Mall will house Indiana's first Lululemon Athletica, a yoga apparel store, in about three months. (IBJ File Photo)
Five Below is looking at sites for five to six stores in the Indianapolis area. The unique dollar-store concept targets children and teens with products such as sporting goods, games, books, DVDs, snacks, jewelry and iPhone accessories, all priced at $5 or less. The Pennsylvania-based chain just opened its first store in Indiana, in Merrillville. Five Below stores take about 7,500 square feet. The chain, founded in 2002, already has more than 140 locations in 14 states.