Christamore House, a west-side community center that was in danger of closing its doors last year, recently hired an Eli Lilly and Co. retiree as executive director in the post-crisis era.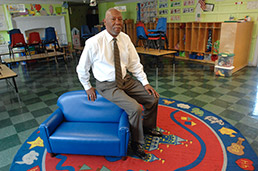 Bill Scott is executive director of Christamore House, a west-side community center. (IBJ Photo/ Perry Reichanadter)
Bill Scott, 57, took on the job as a post-retirement challenge and to give back to the Haughville neighborhood where his grandmother and other relatives lived. A graduate of Crispus Attucks High School, he used to play basketball in the Christamore House gym.
"I'm working harder now at a third of the salary," he said with a laugh. "I really feel blessed and honored to have an opportunity to do this."
Christamore House is one of the anchors of a neighborhood that struggles with low education levels, poverty and, in recent years, a large amount of vacant housing.
The center runs a preschool, after-school programs and senior activities. The staff also helps young people find jobs and families with emergency food and bill-paying. All its clients live below the poverty level.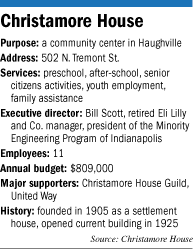 The not-for-profit is on solid footing now, but keeping such organizations afloat is never easy. Scott will have to tackle paying off $250,000 in debt incurred last year. He'll also have to reinvigorate fundraising at a time when even the United Way of Central Indiana—a major supporter of the city's community centers—continues to struggle.
Christamore House ran into trouble last summer after various funding sources dried up and the previous leader delayed making necessary cuts in payroll. The current budget is $809,000, down from $1.3 million, and it covers 11 full-time and part-time employees, including Scott.
The organization laid off seven staff members last fall and dropped certain activities, such as the city's prisoner re-entry program, to focus on core services. Education is a major emphasis of a new strategy.
Haughville, a majority black neighborhood since the post-World War II era, has changed since Scott was growing up. About 28 percent of the housing is vacant, according to 2010 Census data compiled by the Polis Center at IUPUI, and it also has a significant Hispanic population—about 15 percent.
One of the items on Scott's wish list is to hire a Spanish-speaking staff member.
Scott isn't the first corporate retiree to lead one of the city's 13 community centers. Myron Richardson became executive director at Flanner House in 2006 after a career at Allison Transmission.
Experience working with budgets is a plus, but Santina Sullivan, a turnaround consultant who served as interim director, said Scott also brings professionalism and patience to the job.
"You can't turn these things around in a day," she said.
Scott's last job at Lilly before taking an early-retirement package in 2008 was overseeing maintenance and repair operations. His department budget was $7 million.
An electrical engineer by training, Scott had also been involved for 20 years in the Minority Engineering Program of Indianapolis, a volunteer group of professionals who introduce middle through high school students to engineering fields and help them prepare for college.
He heard about the opening at Christamore House and decided to give full-time not-for-profit management a shot.
Working around kids is nothing new for Scott. His big adjustment is discovering the 86-year-old building's maintenance needs and figuring out how to address them on what amounts to "Band-Aids" or "duct tape," he said.
There's no money right now to fix, for example, the second-story windows, which are stuck in a half-open position with only storm windows to keep the elements out.
Scott intends to work his way down the long to-do list with the help of volunteers and grants.
"I'd like to see that all aspects of the facility are in proper working order," he said.
United Way of Central Indiana, a major source of funding for community centers, is providing Christamore House about $200,000 this year, about one-quarter of its budget, said Christie Gillespie, director of agency services for United Way.
She said United Way typically covers about 25 percent of community centers' funding. Because the centers have small staffs and aren't well-known outside their neighborhoods, they tend to rely more on grants than raising money from individuals, Gillespie said.
That reliance has hurt community centers since 2009, when United Way cut its annual allocation to agencies 10 percent.
This year's United Way annual campaign raised $38.2 million, just shy of its goal. Because of the shortfall, the allocation will be reduced again by 3.65 percent, Gillespie said. The impact on individual not-for-profits will vary, depending on how they score on United Way's evaluation.
Christamore House is unusual in that it has a dedicated, private funding source in the Christamore House Guild. The guild's annual gala raised $90,000 last year and was instrumental in keeping the doors open through 2010, Sullivan said.
Sullivan thinks that's just the starting point for Scott's future fundraising efforts. He could tap guild members who are no longer active, churches and people who have roots in Haughville, she said.
Scott admits he has a lot to learn about asking for money. It's all about making a case and "telling stories that warm the heart," Scott said. "I've got to learn how to do that. I'm going to get good at it, though."•
Please enable JavaScript to view this content.