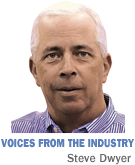 To many economists, job creation is a matter of simple math: When the cost of hiring is exceeded by the employee's expected output, the company will make the logical decision to expand.

So when it comes to putting more Hoosiers to work, it stands to reason that policymakers and industry leaders should work together to reduce the costs of employment in Indiana's largest economic sector—manufacturing and logistics.

Each year, Conexus Indiana works with Ball State University's Center for Business and Economic Research to release a Manufacturing and Logistics Report Card that assesses the state's strengths and weaknesses in these industries, and how we stack up against other states. This analysis gives us a sense of where our costs represent a competitive advantage—tax climate, Worker's Compensation—and where they present potential barriers to employment—health premiums and long-term health costs, for example.

But by far most companies' largest cost, and their largest source of productivity and innovation, is their employees. In this human capital area of the report card, Indiana scores a "C" based on our disappointing overall educational attainment rankings and middling high school graduation rates. Human capital represents a threat to our prosperity—but also can be a big opportunity to reduce costs and spur growth.

Over the last several decades, manufacturers and logistics firms have invested heavily in new technologies like robotic automation, computerized equipment and supply chain management systems to make their operations more efficient, productive and globally competitive. So, jobs being created by these employers demand increasingly advanced technical skills, problem-solving and teamwork savvy to succeed in a modern factory.

With more and more baby boomers retiring from the work force, manufacturers are finding the need for a whole new generation of employees with these skills. But there are two issues complicating this task: First, too many younger Hoosiers fail to pursue vocational education beyond high school; and second, there's a tendency on the part of the companies themselves to embrace an insular approach to training.

The educational attainment issue has been well-chronicled. Indiana ranks 31st among states in the percentage of our adult population with a high school degree or higher, and in the bottom half of states in younger workers with associate's degrees.

But instead of getting engaged to solve educational challenges faced by the state, too many employers seem resigned to finding their own narrow solutions.

Conexus Indiana recently conducted a statewide survey of manufacturing and logistics companies that illustrates this outdated attitude: Nearly 70 percent of respondents indicated they do not require education beyond a high school diploma or GED for hiring. (A recent Indiana University study notes that more than half of Midwestern manufacturing employees have only a high school diploma.)

Companies are shouldering the burden for training their own employees in-house—an inefficient and costly proposition for individual firms.

Third-party certifications exist—the Manufacturing Skills Standards Council's Certified Production Technician, the Society of Manufacturing Engineers, the American Welding Society—and are well-regarded in many circles.

But in our survey, half of employers indicate they don't often use them for hiring purposes, saying they don't know enough about the programs, that the programs don't reflect the skills needed for the jobs available, and that not enough applicants have these credentials to start with—a dismal trifecta.

This is our challenge—getting industry involved, aggressively soliciting industry input to create a consistent, relevant system of credentials that meet relevant needs.

Such a system will reduce the need for expensive in-house training programs, cutting the costs of preparing employees for work. And when it becomes known that employers truly value these industry certifications and base hiring decisions on them, it will be much easier to encourage young people to enroll—helping address Indiana's educational attainment issue and raising the state's human capital grade.

Once again, it's basic economics: If you raise the cost of something, you'll get less of it. Lower the cost, produce more.

In this case, creating meaningful credentials that truly meet the needs of industry allows employers to hire with greater confidence while spending less on training—and by cutting the cost of employment, we'll help create more manufacturing jobs for Hoosiers.•

__________

Dwyer is president and CEO of Conexus Indiana, an initiative focused on the work force and other needs of the state's manufacturing and logistics industries. He formerly served as chief operating officer of Rolls-Royce North America. Views expressed here are the writer's.