Colleen Hittle always liked science and solving problems. She never guessed that combination of interests would someday lead her to captain a firm that helps pharmaceutical and medical-device companies navigate the complexities of U.S. Food and Drug Administration regulation.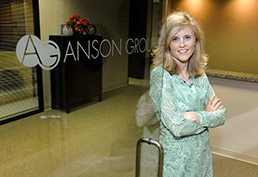 Anson Group's Colleen Hittle says offering her employees part-time, telecommuting and flexible-hours options allows them to take care of family. (IBJ Photo/ Perry Reichanadter)
In April, Hittle became president, CEO and sole owner of Indianapolis-based Anson Group, a consulting firm with $8 million in sales. Its national and international clients need guidance in applying for FDA approval for their products. She bought the business from co-founder Gerald Richardson, who retired at the end of March.

Hittle operates in a tiny sliver of the female regulatory-professional world. Only 3 percent of women in the regulatory field run a company, according to the Washington, D.C.-based Regulatory Affairs Professional Society.

Anson Group is also settling into new digs near the Pyramids, where it moved from Carmel. Hittle said both transitions have been less chaotic than one might think. The business "didn't miss a beat," she said.

Much more challenging these days, but a challenge Hittle relishes, is the fast-paced change in health care regulation. Passage of the health care reform law last year and changing FDA regulations have made this "a vibrant time to be in the regulatory industry," she said. "You feel like you can't even take a week off."

Not that Hittle, 43, takes a breath often. She graduated from Purdue University with an industrial engineering degree. She was drawn to the regulatory field early on because she saw more women who could serve as mentors there than in other science-related industries. She joined Anson Group in 1997 and hasn't slowed since.

Along the way, she's also balanced a family life, with a husband and five children.

"I don't have any hobbies," she said, outside of following her children's interests in soccer, Scouts, ballet and gymnastics. Other than that, she said, "I get personal passion out of what I do."

Hittle spends weekends "trying to squeeze in an hour here, an hour there" of Anson work between family commitments.

"I don't think of it as work. I'd rather be doing that" than gardening or reading or other hobbies, she said.

"Multi-tasking just isn't adequate to express what she does," said Richardson, Anson's co-founder. "Colleen gets much more done on a conference call than most people could on a personal visit."

Anson's specialty is in building teams of experts through employees and subcontractors to help clients with every aspect of their regulatory journey. The firm has 12 employees and about 60 subcontractors with legal, insurance or regulatory expertise, Hittle said.

Those teams work together more tightly and efficiently for clients than what Dane Stout has experienced elsewhere. Stout joined Anson Group in 2009 to help Hittle create a connected health care practice, a line of business that would focus on how technology is increasingly integrated in health care. Online patient records is one example.



Stout said Hittle's work to develop trust with Anson's subcontractors gives the firm "a very flexible business model" that can scale up and down easily as needed.

Laura Lyons, of Lyons Consulting, has partnered with Anson Group on about 20 projects over the last 2-1/2 years. She is brought into projects that need a specialist in diagnostics, she said, or to work with clients who've had a particular difficulty in understanding what the FDA is looking for. She said she feels more like a strategic partner than a subcontractor when she works with Anson.

"We really are part of a team [as subcontractors]," she said.

If Lyons needs questions answered or even support with travel arrangements, "They're there to help," she said.

"To me, the real beauty is the supportive environment of the Anson Group, especially Colleen."

Relationship-building is one of Hittle's strengths, Richardson said. Hittle joined Anson only a year after it was founded by Richardson and Joe Andrew, who became chairman of the Democratic National Committee in 1999 and left Anson.

Hittle brought her experience in regulatory affairs to a firm that had a focus on Richardson's background in medical-device firms. By 2005, Richardson said, Hittle had expanded the firm's business to include pharmaceutical companies, and had increased the subcontracting force from about five to about 50.

"She had a real knack for interviewing people and assessing which people would be the best fit for a project based on their skills and compatibility," he said.

"I could have never done that, wouldn't even have tried. But she was brilliant at it, continues to be."

Richardson's confidence in Hittle prompted him to make her a partner with an ownership stake in 2000. In 2005, the two devised a vesting plan that increased her stake each year until the partnership was equal, with the understanding that the business would become Hittle's when Richardson retired. She has been running the day-to-day operations for some time, he said, while he retained only "a couple of legacy clients."

Stout said Anson's "emphasis on really treating employees with a lot of dignity and respect is phenomenal." And Hittle "sets the tone" for that, he said. "Colleen recognizes the value of people and invests in them."

Hittle said the relationships she's developed are the most valuable part of her job. And she thrives on the variety of work that comes from consulting. No two days, or two projects, are the same, she said. "If you have a dash of adult ADD, consulting is the thing for you."•