When Mayor Greg Ballard launched a city office designed to help ex-offenders avoid a repeat prison visit, it kindled hopes among many in the field that the first-of-its-kind initiative for Indianapolis could become a national model.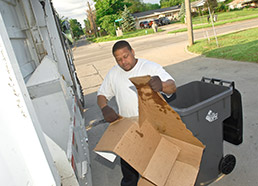 Melvin Mitchell works on the recycling truck as it stops at a fire station to pick up trash for recycling. (IBJ Photo/ Perry Reichanadter)
Three years later, some of those original supporters say the city's Office of Re-Entry Initiatives not only has fallen short of that goal but has accomplished little else.
And in some cases, the office has hurt relationships with entities such as the Department of Correction, turned away expertise, and bungled chances at landing money for re-entry efforts.
Helping more ex-offenders become law-abiding, productive members of the community would have huge implications for Indianapolis' overburdened public safety system. Encouraging employers to hire ex-offenders—and supporting the companies that do—also would have a significant impact on addressing the problem.
More than 5,000 ex-offenders are released each year into Marion County, and an average of 53 percent of them return to prison within three years.
"This should be and could be an opportunity to make a real difference and create a national model," said Mark Renner, who was deputy public safety director under Ballard and later served as interim director of the department. "We lost an opportunity."
Defenders of the mayor's re-entry efforts highlight programs the city has implemented to provide ex-offenders with mentors and place them in temporary jobs to strengthen their prospects for full-time employment. They also say starting an office from scratch takes time to implement and produce results.
But critics—more than a half dozen of whom spoke to IBJ—point to those programs' mixed results and say they would be more effectively carried out by local not-for-profits.
The critics say the office, which already is on its third director, has struggled because of a lack of clear mission, failure among leaders in the office to accept advice, and power struggles among city staffers.
Many of the critics requested anonymity because they feared alienating city staffers they're working with now or might be in the future.
"It's a disadvantage to the community," said one person involved in local re-entry who is familiar with the city's office. "We're wasting a lot of time, energy and opportunities."
Ballard defended the city's efforts, including creating the Office of Re-Entry Initiatives, saying his administration has been more proactive than his predecessors' in addressing the problem.
He touted the 30 ex-offenders the city hired in 2010 and the $1.25 million the city awarded in crime-prevention grants toward re-entry service providers this year.
"The city has never addressed this complex issue at the level that we are," Ballard said.
"There are going to be fits and starts and problems along the way. But we have a lot of partners on board, and the broader picture is, we are going to continue to address this issue because it is important."
Rocky start
Olgen Williams
Some say the office's launch was rough from the get-go. Olgen Williams, the city's deputy mayor for neighborhoods, hired Khadijah Muhammad, who had previously worked as manager of community transition for DOC, to be its first director.
Since the office was new, the Baltimore-based Annie E. Casey Foundation, which focuses on re-entry initiatives across the United States, offered to provide the city technical assistance or other help to get it running. Neither Muhammad nor Williams took the group up on it, according to those familiar with the discussions.
Muhammad declined to speak to IBJ.
Williams recalled a rushed meeting with Casey representatives and said it wasn't clear they were offering technical assistance.
But some say learning best practices initially could have helped the city avoid some of the missteps that followed.
The office formulated an advisory task force of 45 people, and Muhammad and Williams stacked the panel full of local experts and big names in the field.
But according to those familiar with meetings, the forums were poorly run—without an agenda or purpose.
"One of the complaints I heard over and over again from the re-entry board was, 'We show up to these meetings, but we don't do anything,'" Renner said.
As a result, many of the influential members of the panel eventually stopped attending the meetings.
Williams said the city wanted to allow the group to formulate its own mission.
"It's like any group," Williams said. "You start off and try to figure out where you're going."
Attempts at organizing events to encourage employers to hire ex-offenders also were unsuccessful.
The city opened the first event in 2008 to a broad array of ex-offenders, including some who remained on house arrest. Because of that, the job fair was packed with an overwhelming number of participants and not enough employers to accommodate them, some involved with the fair said.
At the next forum, in 2009, about 60 employers showed up for a luncheon where former Indianapolis Colts coach Tony Dungy spoke. But fewer than five stuck around for the job fair, according to people who attended.
Williams said the poor employer showing was because the city planned the event on the same day as another job fair at Conseco Fieldhouse. The office hasn't hosted any job fairs since because they're tough to execute successfully on a large scale, he said.

The city missed out on some grant opportunities under Muhammad's direction, too. The Indiana Criminal Justice Institute was among a number of organizations that applied for federal Second Chance Act grants, which supported re-entry activities in cities across the United States. That money would have benefited re-entry programs in Marion County.
But a letter Muhammad was supposed to provide endorsing the Indiana Criminal Justice Institute's application showed up days late. The state agency was not awarded the grant.
The period also proved tough for the city office's relations with DOC. Among the sticking points was the city's handling of the First Day Out program, which matches those leaving the prison system with mentors.
The DOC's Plainfield Re-entry Facility was supposed to partner with the city on the program, and mentors were supposed to show up at the facility to work with the inmates before their release.
But in the first couple of months, no mentors showed up, according to the DOC.
The department eventually decided to end its involvement with First Day Out.
That incident—as well as Muhammad's attempts to give the city's re-entry office credit for broader, community-wide re-entry efforts—created friction between some in the DOC and the mayor's re-entry office.
As a result, the department was slow to cooperate in providing the city with information, such as data about ex-offenders that would allow the city to track their progress, Renner said.
Renner gave Muhammad credit for coming up with initiatives, but said she often failed to execute them.
"Her heart was definitely in the right place," Renner said. "She didn't have that ability to get the details done."
Tough transition
After the second unsuccessful job fair, several concerned re-entry advocates came up with a plan to replace Muhammad with a new director.
Rhiannon Williams, who was the head of Public Advocates in Community Re-Entry, a not-for-profit that provides re-entry services, took over as director in October 2009.
She was, by many accounts, the perfect candidate for the position because of her hands-on experience in re-entry. Advocates who pushed Ballard to select Williams had a plan to make the office an effective tool with her at the helm.
The plan included goals such as educating employers about re-entry, advocating to end government practices that aren't ex-offender-friendly, and encouraging collaboration among the not-for-profit service providers.
But Rhiannon Williams and Renner, who had stepped in as interim public safety director, ran into roadblocks in their attempts to implement those ideas, say several people familiar with what took place during that time.
Because Olgen Williams, the deputy mayor, had not selected Rhiannon Williams (they are not related), there was constant tension, people familiar with the matter said.
There also were constant battles over whether the office should be under control of Olgen Williams, who served a year for a federal embezzlement charge and takes the issue personally, or Renner in public safety.
That conflict stymied efforts to get things done.
Among the initiatives Rhiannon Williams and Renner had discussed was bringing together the Indianapolis Metropolitan Police Department, neighborhood groups and service providers to visit ex-offenders at their homes and make them aware of services they could use. But that initiative never got off the ground because Olgen Williams didn't support it.
In other cases, plans were delayed or dragged out because Olgen Williams would insert himself into the process or ask Renner and Rhiannon Williams to change plans midstream. While Rhiannon Williams reported to Renner, she was instructed to keep Olgen Williams in the loop.
The city had secured a $954,000 federal Transitional Jobs grant, which connects ex-offenders with temporary employment to prepare them for long-term employment, in June 2009.
After Rhiannon Williams became director, she and Renner began to study successful job programs in other cities, brought in a national task force, and put out a request for proposals to hire a contractor to run the program.
But their efforts dragged on for six months before a contractor was hired because they had to rethink aspects of the plan Olgen Williams opposed and add his recommended appointments to the review committee.
The struggle for control of the re-entry office continued after current Public Safety Director Frank Straub took over the department in January 2010.
Because Straub had helped create successful re-entry models in other cities, some city staffers pushed for him to take control of the re-entry office. But he, too, got into battles with Olgen Williams, those who observed the battles firsthand said.
Straub declined to comment on the issue.
Olgen Williams said he scrutinized the Transitional Jobs program because he wanted to make sure the city used a successful model.
He also said he had philosophical differences with some at the city about whether the office should be run as a social services agency, as he preferred, or under public safety. But he disagreed there was tension over that issue or Rhiannon Williams' hiring.
"I don't have tension like that," Olgen Williams said. "What we care about is the people we serve."
Eventually, Rhiannon Williams grew tired of being caught in the middle. She left the city in spring of 2010, six months after she took over as re-entry director.
Momentum, at last?
Some in the re-entry community are hopeful that Maxine Bryant, who took over as director in June 2010, will help steer the office on the right path.
Bryant worked with Williams, the deputy mayor, when he was at the social-services agency Christamore House, and some say the fact that he chose her better positions her to get things done.
Bryant said she is getting things done. Some of the programs, such as the Transitional Jobs initiative, are under way, and the city is administering two other federal grant programs to help ex-offenders with efforts such as mental health and pair them with mentors.
The office—which has an annual budget of $60,000 to fund the salary of Bryant, its sole employee—also hosts informational meetings for service providers, coordinates a focus group for ex-offenders, and is working on setting up a system to track ex-offenders being served by not-for-profits.
"I would beg to differ that we're not at all a national model," said Bryant, who noted that two groups from Illinois have visited Indianapolis to observe components of programs the city administers. "There are different models for different communities."
But if some see those as hopeful signs, others say they're too little, too late.
Some not-for-profits have cut ties with the city's office after negative experiences.
And some say those service providers, which have the capacity and infrastructure to carry out federal-grant programs, should be the ones running the city's programs.
The programs have shown both successes and shortcomings. For example, of the 20 people who completed the Transitional Jobs initiative, 10 now have jobs, but nine of the original 29 participants left the program.
And of the 53 participants in the First Day Out mentoring program, 15 recidivated—meaning they either went back to the Department of Correction or avoided prison but got additional charges.
Rather than focus on programs with a limited funding lifespan, the mayor's re-entry office should push systemic changes, some involved in local re-entry efforts say.
They say the office could use its influence to get city departments and outside agencies to channel resources toward re-entry. It also should use its bully pulpit to influence policy changes, they argue.
"It hasn't reached its full potential by a long shot," said someone involved in local re-entry efforts who has studied best practices in a few other U.S. cities.
"[Ballard] made this great gesture, and it remains kind of a gesture. Just naming an office isn't enough."
Jocelyn Fontaine, a research associate at the Washington, D.C.-based Urban Institute who focuses on re-entry, said other city re-entry offices across the United States have struggled with moving from a service-provider to an advocacy role.
"There's a need for someone—probably at the level of the Mayor's Office or Governor's Office—that's doing some advocacy on this group's behalf," Fontaine said. "They have specific needs and barriers that need to be addressed at a policy level."
But Gregg Keesling, who leads Workforce Inc., which connects ex-offenders with jobs, said the mere fact that an office of re-entry exists has been an asset.
"Yes, it's been clunky. Yes, they've made missteps, but the most important step that's been made in re-entry is to put a mayoral focus on it," Keesling said. "That office—as bad as it's been—has been one of the greatest things that's ever happened in our little [re-entry] world."•
Please enable JavaScript to view this content.