The construction site at 16th Street and Park Avenue is covered in mud puddles and building debris.
A pallet lies broken underneath a toppled stack of cinder blocks. Gravel litters the ground that workers tread, and they use wooden 2-by-4's to cross the moats that formed during last night's downpour.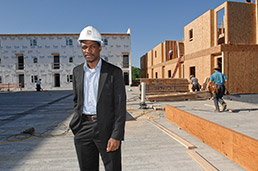 Sungano Ziswa, a 30-year-old architect at Domain Architecture, checks 16 Park Apartments, a project he designed that is under construction at 16th Street and Park Avenue. (IBJ Photo/ Perry Reichanadter)
Just over two miles away, Sungano Ziswa, 30, sits in his office at Domain Architecture Inc., meticulous in his black slacks, subtly striped suit jacket and pointed black dress shoes. His view is tidier—at least for now.
Ziswa works with computer-assisted drafting software, making adjustments to the design of what has become his primary project. The 30-year-old native of Zimbabwe scrolls through the plans, tweaking dimensions here and there.
Some of his changes are minute, measuring less than a quarter-inch, but even small modifications can have a big impact.
Every detail is critical because of housing and zoning laws. Even the slight alterations Ziswa makes now have to be drawn up and filed. He has to make sure he gets it right.
"These are contract documents, so when you submit them, that is the end of it," he explains. "That is the law."
He widens the view to show the entirety of the project. Domain is developing "high-end public housing" for the Indiana Housing Authority. With 155 units and 146,000 square feet of space, 16 Park Apartments takes up nearly an entire city block.
"It's massive," Ziswa says. "You can't see that on paper."
Indeed, the apartment project is the largest solo effort Domain has undertaken in its 15-year history, said Ziswa, who joined the 13-employee firm about 18 months ago.
He is the primary adviser for the site but just one member of the team that deals with details as small as the color and placement of electrical outlets.
Ziswa works with suppliers to choose everything from carpet to lighting. He has had spirited debates with construction supervisors and his colleagues alike about wall structures and the location of light bulbs. His job, he explains, is to be "more of a design eye" and think of both the big picture and the tiniest intricacies.
Electrical outlet misplacement, he says, is one of the seemingly small things that gets him going. While it's not a major problem, an upside-down outlet can often "bug" owners, and an architect can always spot it.
"To us, it's funny," he says. "In the office, we'll take a picture of it and chuckle."
About 87,700 architects are employed nationwide, including more than 1,100 in Indiana, according to the most recent figures available from the U.S. Bureau of Labor Statistics. The median salary for the profession: $72,550.

A graduate of the Illinois Institute of Technology, Ziswa enjoys the family atmosphere at Domain, which has offices in Indianapolis and Louisville.
"I prefer the smaller firms," he says. "There's a lot more personal touch to them."
Sometimes, that means he has to get his feet dirty.
Ziswa looks out the window at the rain and lets out a sigh. Then he smiles.
"It's going to be muddy," he says.
The architect gathers his things—a hard hat with the Domain logo stamped on the front and a notebook where he keeps information about the project—and heads for the construction site.
He steps out of his car and walks toward the supervisor's trailer. Still in his dress clothes, he treads carefully through the stones toward the camper.
"They don't keep it very walker-friendly," he says.
Ziswa climbs the steps into the trailer and calls out to a man inside.
"How are you doing?" he asks. "Everything OK?"
"No," Jessie Straight calls back sarcastically.
Ziswa chuckles. He's used to these jabs by now. "I don't want to hear it."
Within minutes, he's back outside with the site supervisor on his heels. An 18-year veteran of the construction business, Straight works for Indiana-based CRG Residential, a full-service construction management firm licensed in 15 states.
The men make their way to a nearby unit under construction, using a makeshift entrance to the first floor. It has the look of an obstacle course: a walk across a couple of 2-by-4's over a 4-foot pit of mud, up a set of cinder block "steps" to climb a ladder to the final stage, a slim plank of wood leads into the unit.
"You want a piggy-back ride, Sungano?" Straight jokes as he works his way into the building.
Then Ziswa takes his turn, handing Straight his notepad. As he crosses into the structure, he takes it back, brushing himself off.
The two can use stairs to reach the second level, but they must navigate another puddle and ladder to get to the third floor. After looking at units on the fourth floor, Ziswa climbs down, satisfied.
He looks out from a spot where a window will be on the second floor, marveling at how execution of his intricate designs comes down to workers pounding cinder blocks with sledgehammers.
"See what I mean?" Ziswa says. "I work in CAD—very precise. Sledgehammer? Not very precise."
"Hey, he's got a line of chalk there," Straight replies. "You can't move those with a mouse."
Ziswa says he enjoys checking out construction sites, even if his role has evolved since his college days. Back then, workers treated him as "one of the guys" when the architects made an appearance.
"They'd say, 'Oh, the suits are here,'" Ziswa recalls. "I'm the joke now."
Even so, it's an important part of the job, helping him find solutions to problems that are inevitable as buildings go up.
"It's a learning experience for me," Ziswa explains. "You can spend the whole time in the office doing things on a computer, but until you come out in the field, nothing is tangible and real."
When he heads back to the office, he again takes his place at the computer and starts going over his notes from the day. Despite the excitement of on-site work, this, he says, is where he belongs.
"I'd go crazy if I were outside all the time," he explains. "There are too many inaccuracies. I like the fact that I can come in here and put everything together."•
Please enable JavaScript to view this content.