By all objective measures, Carmel's Merchants' Square should be a powerhouse shopping center.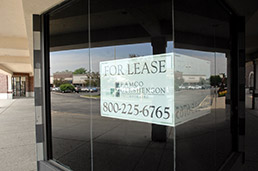 Merchants' Square was redeveloped in the mid-1990s. (IBJ Photo/ Perry Reichanadter)
It sits at a high-traffic corner in central Indiana's most-sought-after suburb. More than 145,000 people live within a five-mile radius and their families have an average household income of more than $112,000—higher than the area surrounding The Fashion Mall at Keystone.
But the center—built in 1970 as the Target-anchored and enclosed Keystone Square Mall and redeveloped into an open-air center and renamed in the mid-1990s—is riddled with vacancies and bracing for another high-profile departure.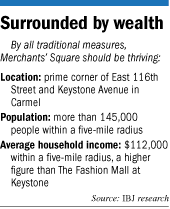 Old Navy and Finish Line decamped years ago for Clay Terrace. Hobby Lobby, Starbucks and Chipotle headed for locations with better visibility. And now the furniture and home accessories superstore Arhaus plans to leave for a location in Rivers Edge along East 82nd Street.
The center has performed so poorly that its owner, Farmington Hills, Mich.-based Ramco-Gershenson Properties Trust, managed to persuade a lender late last year to sell the note on the property at less than half its face value.
The publicly traded company paid $16.8 million to retire a debt balance of $37.7 million, records show.
"When you look at the numbers, it's stunning that thing doesn't work," Brian F. Knapp, a director in the local office of Colliers International, said of the Carmel retail property.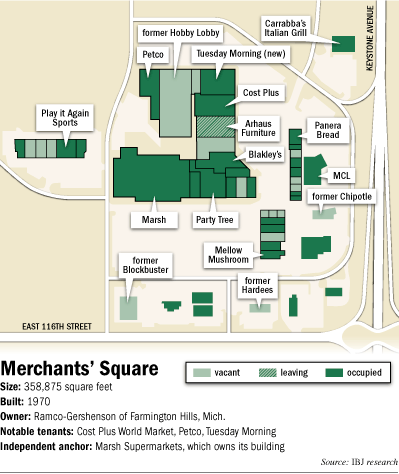 The center's less-than-ideal visibility from 116th Street, Keystone Avenue or Carmel Drive hasn't helped. Neither have long-lasting road restrictions to add roundabouts in the area and turn Keystone Avenue into a limited-access highway, although traffic is improving now that the work is done.
Another factor is competition from new retail centers. Merchants' Square has become less of a regional retail draw with the addition of Clay Terrace and Hamilton Town Center, said Paul Gold, vice president in the local office of Pittsburgh-based Echo Retail. The center also suffers from its proximity to the Keystone/Clearwater shopping area.
"The opportunity is as more of a community-oriented center," Gold said.
Ramco-Gershenson officials say the deal with the lender gives them flexibility to attract tenants with more competitive rents and generous allowances for tenant improvements.
Already, the company is seeing progress. Tuesday Morning has filled the long-vacant Old Navy space. New small tenants including Chyten Tutors and Test Preparation, CPR Cell Phone Repair and Core Pilates have joined the center in recent months.
William Gershenson, the company's director of shop leasing, said another national tenant has expressed interest in the 12,000-square-foot former home of athletic footwear and apparel retailer Finish Line, a replacement is looking at a former Starbucks location, and a new user is poised to replace a former Hardees restaurant near the corner of 116th Street and Keystone Avenue.
He declined to name any of the replacements.
"The climate has changed in retail," Gershenson said. "We are seeing a huge uptick in tenant interest."
He said the company would pursue redevelopment of the center if the right opportunity came along.
In the meantime, Ramco-Gershenson's top target as new tenants are entertainment users such as a movie theater, bowling alley or arcade that would turn Merchants' Square into "a grocery-anchored center on steroids," Gershenson said.
Carmel officials over the years have researched the possibility of attracting other uses to the Merchants' property, including classroom space for IUPUI or Ball State University.
But ultimately, the city wants to keep the center on property tax rolls so the owners can repay the roughly 40 percent still outstanding on $22 million in tax-increment-backed bonds that financed part of the property's redevelopment in the 1990s, after Target decided to move its store to Westfield.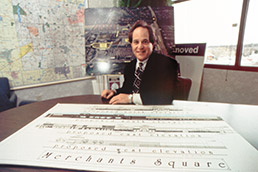 Gary Linder, now deceased, led the redevelopment of Merchants' Square in the mid-1990s, after Target opted to move to Westfield. (IBJ file Photo)
The redevelopment was led by The Linder Co., predecessor to Sitehawk Retail Real Estate. Linder basically turned the existing center inside out and added three retail strips and outlots to the perimeter of the property. The center reopened in 1998.
Ramco-Gershenson owns 278,875 square feet of the center, and Marsh owns its own 80,000-square-foot grocery store. Ramco acquired the center from Linder Co. in 2004, paying $37.3 million and assuming $23 million in debt.
Carmel Mayor Jim Brainard said Merchants' Square was 100-percent occupied for years after the Linder Co. renovation, remains viable today and could return to high levels of occupancy with some more attention from its management. He said the center today has a vacancy rate of about 25 percent.
"It's been successful in the past, and there's no reason it shouldn't be successful in the future," Brainard said.
Surrounding retail properties also have struggled. In the center immediately south of Merchants' Square, Longhorn Steakhouse moved to a spot near Castleton Square Mall, and Borders closed its bookstore earlier this year.
There have also been signs of progress in the neighborhood: Zhu Lan Buffet, from the same family behind The Journey on 96th Street, has replaced a shuttered O'Charley's restaurant, and The National Bank of Indianapolis has begun construction on a branch to replace a Burger King.•
Please enable JavaScript to view this content.