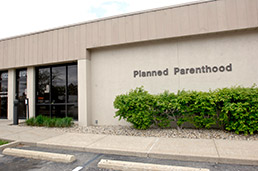 The U.S. Justice Department entered the court battle over a tough new Indiana abortion law that disqualifies Planned Parenthood of Indiana from the Medicaid program, siding with the organization in its request Thursday for a court order blocking the statute as unconstitutional.
In a brief filed electronically after the close of business, Justice Department attorneys said U.S. District Judge Tanya Walton Pratt should grant Planned Parenthood's request for an injunction because it blocks Medicaid recipients' freedom to choose the provider of their choice. The law signed May 10 by Republican Gov. Mitch Daniels cuts off Medicaid funding for Planned Parenthood because the organization provides abortions.
"The public interest strongly supports preserving the freedom of choice that Congress conferred," the brief said.
It was unclear how the last-minute filing would affect the timing of Pratt's ruling. She has said she intended to rule by July 1.
Planned Parenthood attorney Ken Falk said the brief caught him by surprise.
"I had no idea this was coming," Falk told The Associated Press Thursday evening.
The brief was consistent with earlier actions by federal administrators for Medicaid, the state-federal health insurance program for low-income and disabled people. Medicaid Administrator Donald Berwick sent a letter to his Indiana counterpart on June 1 saying federal law states beneficiaries can obtain general health services from any qualified provider and the mere fact that Planned Parenthood performs abortions separately does not disqualify it.
Indiana Solicitor General Thomas Fisher, in a final brief filed earlier this week, said the Berwick letter was not final and authoritative because Indiana can appeal his decision. Indiana opposes the injunction because even though Medicaid doesn't pay for abortions in most cases, the program may provide indirect funding by subsidizing some of Planned Parenthood's overhead costs.
However, the Justice Department brief said the letter was indeed authoritative because the Department of Health and Human Services, which administers the Medicaid program, was applying its "longstanding interpretation of the complex and technical Medicaid statute" with the letter, which rejected changes to Indiana's Medicaid plan to account for the new state law.
"HHS has long taken the position that a State's criteria for qualification must be related to the provider's ability to render services and properly bill for those services," the 23-page brief said.
E-mail and telephone messages were left for Fisher on Thursday night seeking comment on the brief.
The law cuts off about $1.4 million in Medicaid funding to Planned Parenthood, money the organization says it needs the money to provide cancer screens and other general health services to 9,300 Medicaid clients, both men and women, served by its 28 health centers across Indiana.
Falk and Fisher have agreed as much as $5.3 billion in total Medicaid funding to the state could be at risk since Berwick rejected the changes in Indiana's state Medicaid plan. Indiana had 60 days from June 1 to appeal his decision.
Please enable JavaScript to view this content.