Brad Chambers knew early on he wanted a career in real estate.
And from the time he started a landscaping business in high school with three buddies, it was clear multifamily would be his specialty. After all, the most lucrative line of business for Superior Lawn Care was mowing lawns for apartment complexes owned by a partner's father.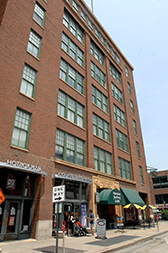 One of Buckingham's trophy properties is downtown's Harness Factory lofts, which sits across Pennsylvania Avenue from Conseco Fieldhouse. (IBJ Photo/ Perry Reichanadter)
Chambers bought his first apartment property in 1984, when he was a sophomore at Indiana University: a 24-unit, concrete-block building on the near-west side of Indianapolis, at 1432 N. Pershing Ave. He saved up $5,000 for the down payment and secured a loan from Peoples Bank, which was later acquired by Fifth Third.
The next few years were "trial by fire," Chambers said, as he learned how to manage an apartment property while traveling back and forth from Bloomington to earn a degree in finance.
Chambers is now one of the city's most prolific developers and president and sole shareholder of locally based Buckingham Cos., which manages more than 18,000 apartment units in
eight states, including 6,000 company-owned units. The company has more than 500 employees in development, construction and property management divisions, including about 80 at its headquarters at 941 N. Meridian St.
He's got an impressive pipeline of projects, including the $150 million North of South apartment, hotel and retail development on properties owned by Eli Lilly and Co. in the southeast quadrant of downtown; a $25 million project called The Avenue, with 130 apartments and 27,000 square feet of retail space along 10th Street near IUPUI; and a $55 million project called The Lex, with 266 apartments and 25,000 square feet of retail near the University of Kentucky.
"Brad has shown an ability to get complex deals done in a difficult economy," said Deputy Mayor Michael Huber. "He values historic structures and urban mixed-use development but also values the arts."
Chambers
Buckingham also owns Providence at Old Meridian in Carmel, downtown's Ambassador Apartments and Harness Factory Lofts, and The Foundry adjacent to the University of Notre Dame in South Bend.
All the while, Chambers has managed to survive a nasty recession that ensnared several competitors and ride out some high-profile whiffs of his own on ambitious redevelopment proposals, including his proposal for a $500 million project to replace an apartment complex in Carmel.
"One deal at a time, one acquisition at a time, we grew the business," said Chambers, 47. "We have been very methodical about growing."
Much of the company's growth came from small acquisitions, but its largest deal, with Century Realty Trust in 2006, gave Buckingham 18 multifamily properties for $86 million. The company now manages properties in Indiana, Ohio, Illinois, Kentucky, Michigan, Iowa, Georgia and Mississippi.
Chambers' secrets are hard work, extreme persistence and a finely tuned risk-reward calculator, said Steve LaMotte Jr., senior vice president of the multifamily group at CB Richard Ellis and Buckingham's investment broker since 2004.
Even some bets that didn't pan out can be deemed a success. The city of Carmel "hadn't yet popped" into the haven for development when in 2004 Chambers put down $30 million to buy the 564-unit Mohawk Hills apartment community at East 126th Street and Keystone Avenue.
He had hoped to build a $500 million project called Gramercy with more than 2,000 residential units on the 116-acre property. The deal never materialized. But unlike some other developers who found themselves stuck with land where the only source of revenue is corn and soybeans, the well-located 1960s apartment community and golf course have only appreciated in value as Carmel has become more appealing.
"Nobody has a flawless track record where you can look at every deal and call it a home run," LaMotte said. "But they've done very well at taking calculated risks and most of them have worked out."
There's an element of luck, of course. Heavy exposure to the multifamily segment, which bottomed out last year without experiencing the nausea-inducing drops of retail and office, certainly helps a company exit the recession in a position to grow.
Even the multifamily focus is no accident, LaMotte said. As an asset class, apartments are generally more stable and diversified, since leases roll over year-round and owners have less exposure to individual tenants.
The foreclosure wave and falling single-family home values have provided an added boost to apartment communities—bringing in families who now lack the credit to buy a home and younger folks who don't view homeownership as essential to building wealth.
"I think the single-family homebuilding model is game-changed for a decade," Chambers said.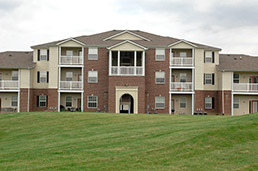 One apartment complex developed by Buckingham is The Reserve at Williams Glen in Zionsville. Buckingham now manages more than 18,000 apartment units.
Chambers keeps Buckingham focused on core markets, follows through on his promises, and builds well, said Steve Lains, CEO of the Builders Association of Greater Indianapolis.
He has a knack for knowing where the market is going, partly through networking.
That helps him exploit angles others have missed; Chambers courted officials with Eli Lilly and Co. for more than three years before approaching city officials about North of South. He honed his pitch that the company needs a boost from downtown to stand a chance of competing with Boston and Silicon Valley for talented young scientists.
"You gotta find those connections, whether political or professional, that are beneficial on both sides," Lains said. "North of South is a great example of the networks he has built."
Chambers is particularly keen about prospects for downtown, which he says has the highest barriers to entry in central Indiana. He's snapped up several properties including retail buildings and vacant land around the Buckingham headquarters in recent years.
Industry observers said Chambers stays focused on his work, avoiding the spotlight and party scene and only reluctantly talking to the press. (He agreed to speak with IBJ for this story but declined to be photographed, saying he wants the focus on the company and its employees.)
It's no coincidence that people tend to hear about Buckingham projects only when Buckingham wants them to know. He doesn't want competitors swooping in on deals.
Chambers is married with one son. He started the Chambers Family Foundation in 2006. Its mission is to combat homelessness and increase the availability of affordable housing.•
Please enable JavaScript to view this content.