Dick Lutin has never been interested in aggressively growing the Indianapolis sign-making company he founded 11 years ago. He's content to work with creative clients that share his vision for out-of-the-box designs—a laid-back philosophy that nevertheless has resulted in an impressive customer list.
ACS Sign Solutions is a small Hoosier company with a far reach, landing recent deals to create signs for The New York Times offices and Avon Cosmetics' corporate headquarters in Manhattan.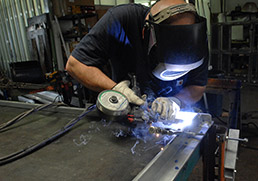 ACS Sign Solutions employee John Harville works on a client project. The local sign-maker recently landed two big-name customers: The New York Times and Avon Cosmetics. (IBJ Photo/ Perry Reichanadter)
Despite the rocky economy, ACS has nearly tripled annual revenue since its admittedly humble beginnings. This year, Lutin expects upward of $850,000 in sales.
All told, sign-making is a $49-billion-a-year industry, according to estimates from the International Sign Association, a trade group based in Alexandria, Va.
Lutin, 58, is happy with his slice of the pie, as long as ACS can stick with its artisanal approach to sign making.
Lutin
Despite industry consolidation, smaller companies can succeed by focusing on specialty markets, said Frank Hancock, CEO of Indianapolis-based Sport Graphics, a 118-employee firm with "several million dollars" in annual revenue—and a niche in sports. Sport Graphics makes signs for the NCAA and the NFL, for example, and its work was featured at last year's Super Bowl.
Although business has fluctuated in recent years, Lutin and others said demand is picking up locally.
"We're seeing a huge influx in work at this time, more than we can get at," said Andy Chapman, president of the 17-employee Indianapolis Sign Works. "The initial shock of the recession is still there, but [it's] not what it used to be."
Humble beginnings
Lutin earned a degree in biology from Indiana University in South Bend, but opted for a different career path.
He opened several music stores in Michigan in 1980, and five years later received a grant to create neon signs for them, allowing him to purchase the necessary equipment.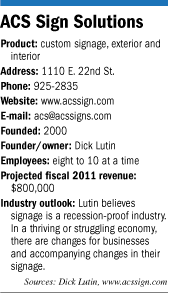 That ignited his longtime interest in more creative work, a flame that had been stoked by lessons learned from his father and grandfather—hobbyists who dabbled in projects such as building radios and a mechanical rocking horse.
He stayed in retail a while longer, then moved to Indianapolis in 1990. He worked for a year at a local business called Sign Studio, then joined Voltarc Technology in 1991 as a sales representative. That company, now a division of Connecticut-based Light Sources Inc., specializes in neon and fluorescent signs.
Lutin's interest in the business was piqued during his time at Voltarc, when he became acquainted with an interior sign company in Michigan that worked with architects to produce high-end designs.
"I thought, 'That's not something that's done down here much,'" Lutin said.
After Voltarc was sold, he set out to fill that niche in Indianapolis. Lutin and business partner Joseph Lehner started what was then called ACS Sign Systems in 2000, working with Lutin's equipment and selling neon signs door to door.
ACS got its big break in 2003, when it won a contract to produce way-finding signs for the Monon Trail. To accommodate the influx of business, the six-employee firm outsourced some of its manufacturing, but Lutin soon decided to keep production in-house to ensure quality.
So ACS moved to a 20,000-square-foot building, where it remains.
In 2007, Lutin and Lehner took on a new business partner, Steve McKenzie, who previously sold signs for a New York firm. But it was not a good match and two years later the trio ended up in arbitration to settle their differences.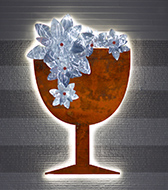 ACS aims to make artistic signs, like the giant chalice with flowers that hangs outside Brugge Brasserie in Broad Ripple. (IBJ Photo/ Perry Reichanadter)
Lutin was awarded the firm's receivables, inventory, equipment and jobs in progress. He changed the company's name to ACS Sign Solutions and became its sole owner and president.
Small by design
Lutin wants his company to create signs that reflect their environments, drawing inspiration from nature and elements of buildings' architecture. Among materials ACS uses: limestone, glass, high-end laminates, acrylic and even materials embedded with leaves and reeds.
For the New York Times building, Lutin collaborated with international design firm Pentagram to make 45 custom signs featuring vintage photographs from the Times' archives.
"Signs are a form of public art," Lutin said. "Every hallway is a blank canvas."
Lutin said this approach is uncommon since builders often go over budget with projects, leaving them with little money to spare on signage.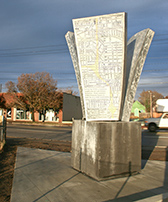 A sculpture in Fountain Square that resembles a map during the day and lights up at night.(IBJ Photo/ Perry Reichanadter)
"The lowest bidder will get it; they'll use the least-expensive materials, the least-expensive manufacturing method," he said. "Yet signs are arguably one of the most important aspects of the project."
ACS' signs for The Schomburg Center for Research in Black Culture in New York City helped the firm land the New York Times and Avon jobs, but it still does about 80 percent of its work locally.
Its artistic projects here include a lit sculptural sign in Fountain Square, interior and exterior signs at Brugge Brasserie, and Lutin's personal favorite: an "airy" church-spire-inspired sign outside Lockerbie United Methodist Church that features social justice quotations.
Brugge Managing Partner Ted Miller said in an e-mail that the Broad Ripple brewpub hired ACS because Lutin is an artist first and a sign maker second.
"Our giant chalice with flowers on the north side of our building is one of the coolest signs around," Miller said.
Speaking about ACS' work along the Pennsy Trail in Cumberland, Town Manager Jeff Sheridan said working with the company has its pros and cons.
Lutin "is very creative, and it's great to have a local entrepreneur who can create some of those pieces," Sheridan said. "The downside is he's a small operation, and sometimes the turnarounds aren't as fast as you might like. But that's a reasonable tradeoff."
Lutin said he already has his dream clients—those that value the artistic input ACS provides. He hopes to continue cultivating that corporate culture, rejecting the idea of a standard sign catalog and placing a high value on unique design.
He is currently working extensively with Kite Realty Corp., creating exterior signage for several of its commercial properties.
"It costs about the same to manufacture signs whether you pull them out of a catalog or do them custom," he said. "I'd rather put in the extra work and donate some of my time just to get a better-designed sign."•
Please enable JavaScript to view this content.