The lead developer of a $15 million parking garage and retail project in Broad Ripple said the deal would not have worked had the city not been willing to pick up more than 40 percent of the cost.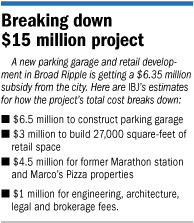 Keystone Construction CEO Ersal Ozdemir declined to share the math that led him to ask the city for $6.35 million. He would not say how much his firm stands to profit on the deal.

City officials also have refused to share financial projections for the construction and operation of the 350-space parking garage, describing the documents—which Keystone filed as part of its bid—as a "trade secret" exempt from public disclosure.

Neither side would provide a draft of a project agreement outlining the terms of the deal; the document won't be shared with the public until the deal has closed.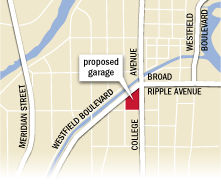 For now at least, taxpayers will have to take the word of city officials and the developers that they're getting a good deal on the project at the southwest corner of Broad Ripple and College avenues.

They'll have to trust that the winning proposal from Keystone Construction, Newpoint Parking, Ratio Architects and Walker Parking Consultants is superior to options from other bidders that called for dozens of apartment units, retail space and a larger private investment in exchange for more money from the city.

And they'll have to accept that Walker Parking, a partner in the winning bid, was mistaken when it wrote in a 2007 study that the selected site would be inappropriate for a parking garage and that such a structure should cost about $15,000 per space. The $6.35 million subsidy for Keystone works out to more than $18,000 per space.

The city is investing in the project to fix a simmering parking problem in Broad Ripple, and to clean up a blighted corner with a long-vacant Marathon station. The private developer will own the project, including the garage, and collect all the revenue.

Ozdemir says the deal is a great value for the city, which gets to fix Broad Ripple's parking problem, clean up the area, add to the tax base and open a new, rent-free police substation. The police facility was a last-minute sweetener sought by the city.

"I think it's a heck of a deal," Ozdemir said. "We're spending a lot of time and money developing this project. Do we want to make money? Sure. We won't make the same profit as a private deal, but there are intangible values for us here."

Evolving deal

The Mayor's Office sought proposals in March and ultimately picked from seven options, including bids by powerhouse local developers Kite Realty Group, Browning Investments and Buckingham Cos. The city is contributing funds it collected by selling its parking meters.
The city of Indianapolis chose a team led by Keystone Construction to build a 350-space Broad Ripple parking garage. The $15 million project will include 28,000 square feet of retail space and a police substation. The city is providing a $6.35 million subsidy. (Rendering Courtesy city of Indianapolis)
Marc Lotter, a spokesman for Mayor Greg Ballard, said the Keystone proposal won because the developers controlled a strong site for the garage and asked for less public assistance than the other bidders.

The project is a bit pricier than a typical parking garage thanks to the site's triangular shape, lack of a staging area for construction crews, and remediation required for the former gas station, Lotter said.

The developer and city officials said political contributions were not a factor. Ozdemir has given more than $25,000 to Ballard. And in 2009, he hired Ballard's chief of staff, Paul Okeson, as Keystone's vice president of business development.

As announced, the project would cost $15 million and include 350 parking spaces. But Keystone's original proposal called for a less expensive project with more parking spaces.

The company's original bid documents list two options: a $12 million project with 308 parking spaces that required a $5.2 million incentive, or a $13.5 million project with 428 spaces that required a $6.4 million incentive.

Ozdemir gave several reasons for the rising price: Keystone doubled the proposed retail space to about 28,000 square feet, added electric car chargers and bike racks, and shrank the garage from four to three stories to accommodate neighborhood concerns (a taller garage is cheaper per space since the cost is spread over more spaces).

Keystone also submitted a second possible site for the garage: a row of five rental houses between Winthrop Avenue and the Monon Trail, south of Broad Ripple Avenue. That project would have cost $25 million, included 99 apartments, and required a smaller subsidy from the city of $4.25 million.

The city opted against the Winthrop Avenue proposal because of concerns about traffic, Ozdemir said.

Best use?

In its 2007 study, Walker Parking said the best site for a Broad Ripple parking garage was an existing surface parking lot behind The Vogue. But no developer submitted a plan that used that property.

The property submitted by the Keystone-led team was runner-up in the Walker study, even though Walker said the site would be inconvenient for Broad Ripple visitors and cost-prohibitive.

"The location is less than ideal for parking, as patrons would have to cross College Avenue to reach the main entertainment area of Broad Ripple, and the odd shape does not provide the most efficient area to lay out a parking [garage]," the study notes. "Because this site does not provide sufficient space, and is most likely not the best use for this prime location, we do not recommend developing permanent parking on this site."

At the time, Walker said a parking garage in Broad Ripple should cost about $15,000 per space, not including land and any demolition costs.

A competing proposal from Browning called for roughly $15,000 per parking space. Monument Realty said in its bid it could develop parking for $13,000 per space, but a bid from Whitsett Group pegged the per-space cost at $20,800.

Keystone's bid mentions a project at Ivy Tech Community College as relevant experience for two of its partners. The companies are helping develop a 500-space garage, along with 21,000 square feet for a library and 3,000 square feet of retail, all for just $7 million. And another partner managed to build a garage at Duke University that has more than five times as many spaces as the one in Broad Ripple, and also has retail space, at a cost of $35 million.

Ozdemir said comparisons of per-space costs of parking garages are useless without considering that every garage is different. The proposed garage in Broad Ripple, for example, will feature a skin that dresses up the façade.

Urban sites with existing buildings that must be acquired and demolished also are more expensive to develop, he said. The Marathon station has sat on the market for years with an asking price of $2.5 million, and the owner of the Marco's building (a partner in Newpoint Parking) is asking $1.8 million for the property.

Ozdemir said the parking garage likely will wind up costing more than the city's $6.35 million contribution. The retail could wind up subsidizing the parking portion of the project.

"We just told them what we need to make it successful," Ozdemir said. "That number happens to divide to $18,000 per space."

Other options

Among competing bids, Browning suggested a $24 million project called Canal Pointe that would have had 185 apartments, 18,000 square feet of retail space, and 544 parking spaces. The five-story project would have replaced another former gas station and a handful of older apartment buildings bordered by College and Carrollton avenues and the Canal.

For its initial bid, Browning assumed the city would retain ownership of the parking garage it was paying to build, and offer tax-increment financing for the project. After the company learned otherwise, it asked for a subsidy of $8.65 million for its proposal and to set aside 180 of the parking spaces for residential units, said Jamie Browning, a principal.

The project would have been a catalyst for improvements to the canal area, he said.

"This all came down to economics—the city had a certain amount budgeted, and Keystone's was more in line with their allotment," Browning said. "We're disappointed, but that's the way it goes."

Kite wanted to redevelop the southwest corner of Broad Ripple and Guilford avenues—properties now occupied by Kroger, Cardinal Fitness and Jimmy John's.

The publicly traded redeveloper and owner of Glendale Town Center expected to build a grocery store, more retail, apartments and a 600-space parking garage on the site.

"Not only is KRG confident in the proposed site for a garage use, we also feel it is an ideal site for retail and multi-family development," the company wrote in its pitch. "Our intent would be to attract retailers that are new to the Indianapolis market and are attracted to the eclectic Broad Ripple Village atmosphere."

Kite did not yet control the parcels and did not specify how much public assistance its proposal would require.

A bid from locally based The Whitsett Group, which is turning the 707 E. North St. condo building into apartments, suggested a site along Winthrop Avenue south of 62nd Street with a row of five rental homes in disrepair. Its project, in partnership with builder Shiel Sexton, would have accommodated 410 cars and 120 residential units. The company asked for a $9.8 million subsidy.

Not convinced

The plans for the garage were greeted with excitement by several business owners in Broad Ripple, along with the Broad Ripple Village Association.

"This high-performance mixed-use structure will transform an eyesore into an asset," BRVA Board Member Tom Healy said at a June 13 press conference announcing the project.

But the numbers don't add up to the satisfaction of Pat Andrews, a neighborhood leader who writes Had Enough Indy, a political blog.

She'd like to know how members of the team that won the deal managed to build parking garages elsewhere for so much less per space. The city denied her request to look at a project agreement or review the deal's financials.

"I've lost confidence that the city is operating with any degree of due diligence in these deals," Andrews said. "They're making it up as they go. They're doing whatever they want and saying whatever they think they need to say to get it through."•