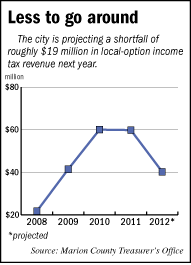 A drop in local income-tax revenue could put Mayor Greg Ballard between a familiar political rock and hard place as he faces re-election this fall.
For the first time since the local-option income tax went into effect in 2008, the revenue it generates will not be sufficient to cover government units' expenses.
Across all entities that receive the money, the city is projecting a shortfall of $19 million in 2012. That could mean a hit to the Indianapolis-Marion County Public Library and excluded cities as well as Indianapolis and Marion County, which combined would bear roughly $12 million of the shortfall.
Forcing painful cuts would be an undesirable prospect for Ballard in an election year. Next year's budgets must be approved in October, when Ballard's race with Democratic challenger Melina Kennedy will be in the home stretch.
But the alternative—raising the income tax rate—would be even less desirable.
Ballard, a Republican, swept to victory in 2007 after then-Mayor Bart Peterson hiked the very same income tax in the midst of community upheaval over skyrocketing property-tax bills.
The increase needed this year to make up the $19 million would be about 0.13 percent, a fifth of Peterson's 0.65-percent increase.
Vaughn
But both Ballard and City-County Council President Ryan Vaughn, a Republican, say they won't pursue any kind of tax increase.
It will be up to the county income tax council, made up of representatives from most taxing units, to decide this month whether to increase the tax or keep it at its current level. Vaughn and fellow City-County councilors have about 90 percent of the votes on the tax council.
Members of Ballard's administration say the reasons to keep it steady are based on policy, not politics.
"I don't think the mayor views it as political to balance budgets and find ways to do more with less," said Marc Lotter, Ballard's communications director. "His mission every day is to find ways for the city to do more with less, and that requires the city to make some tough choices in these economic times."
But some Marion County residents fear forcing cuts would hurt important government services.
Burton
"I don't like paying taxes any more than anybody else," said Cathy Burton, president of the Marion County Alliance of Neighborhood Associations. "But if our parks become unusable, our libraries become unavailable, our trails become unsafe—who is going to want to live here?"
'Down to the bone'
The local-option income tax (LOIT), the public safety tax and the county-option income tax (COIT) are the three sources of income-tax revenue in Marion County.
Together this year, they provided $250 million of revenue for the units receiving income taxes.
Peterson's administration raised COIT from 0.9 percent to its maximum amount of 1 percent, a change that went into effect in July 2007.
That same summer, Peterson took advantage of new legislation passed by the General Assembly allowing the county to raise the public safety tax.
At the same time, to comply with state law, the city froze the amount of property-tax money most government units could raise for operating expenses for 2008 and 2009. To make up for that property-tax revenue loss, the city raised the LOIT.
The public safety tax is now at 0.35 percent, and the LOIT sits at 0.27 percent.
In its first couple of years, the LOIT churned out more revenue than needed to make up for the lost property tax revenue, and the extra money went into a reserve.
Then, in 2009, the county income-tax council voted to extend the freeze in property-tax revenue for another year but did not raise the LOIT.
Existing LOIT revenue and reserves from the robust initial years were sufficient to cover expenses last year and this year. But next year, the reserves will be virtually tapped, and there will be $41 million in LOIT revenue for roughly $60 million in expenses.
Remaining income and property tax revenue for government units is expected to remain relatively flat, but total revenue projections won't be clear until later this summer.
Making up the $19 million would require increasing the LOIT to 0.4 percent, which would mean an additional $65 in income tax payments for a Marion County resident earning $50,000 annually.
Given the unlikelihood of that increase, though, local units are starting to examine how they would make up the difference.
The $12 million city-county gap is substantial "because there are a lot of demands on the city-county government—it's a complicated enterprise," City Controller Jeff Spalding said. "2012 will be the most difficult fiscal year for municipalities in Indiana."
Spalding said he intends to make the city's cuts without affecting service.
Options under consideration include adjusting employees' contributions to heath and retirement plans, closing fire stations that no longer are needed because of mergers with township departments, and trimming the city's work force through attrition.
Other units of government might be forced into cuts that would have a more obvious impact.
The city of Lawrence, for example, stands to lose about $400,000—a larger amount than it requires to fund some of its departments.
"We've already cut down to the bone," said Kim Diller, the city's controller. "We're going to have to cut deeper and really start to look at the services we provide at this point."
Tough decisions
It's unclear how cuts would play out politically. The city has not made drastic service reductions under Ballard's tenure.
But some entities, such as the library, have had to reduce hours and service because of dwindling revenue—cuts that elicited a public outcry.
Rebecca Dixon, the library's chief financial officer, said it's not yet clear how the potential $1.2 million LOIT shortfall would affect the library's operations next year.
Tax increases, though, could trigger a more vocal uprising.
Melina Kennedy, Ballard's Democratic challenger, doesn't want to go down that path. In an e-mail, her spokesman responded simply "no" to a question on whether she would be willing to increase income taxes to make up the gap.
"Neither political party, particularly in the city of Indianapolis, wants to be associated with raising taxes," said Brian Vargus, a political science professor at Indiana University-Purdue University Indianapolis who specializes in campaigns and elections, "particularly because people associate Bart Peterson's loss with raising taxes."
Some residents, however, say they would like to see local leaders address the city's needs, even if that means an increase in taxes.
"I sincerely hope that the elected officials base their decisions on what is right to maintain the minimal levels of service," Burton said, "and not what is popular to get them re-elected."•
Please enable JavaScript to view this content.