If you asked me a week ago what I knew about Indiana's direct involvement in the Civil War, you would have been met with a blank stare.
Ask me today and I can at least walk you through the basics of Confederate Gen. John Hunt Morgan's gutsy drive across the Ohio River from Kentucky—and the subsequent push back (OK, push sideways) that booted Morgan and company into Ohio.
Why do I know this?
Because I was part of the 103rd, the Indiana Militia regiment that helped kick the raiding party out of Indiana as part of the new "1863 Civil War Journey: Raid on Indiana" interactive exhibit at Conner Prairie.
With two kids in tow (the Conner Prairie version of the 103rd doesn't have an age limit), I hit the park during regular operating hours, the better to experience the new interactive area the way regular visitors do. After reading through our Volunteer Enlistment papers, we skipped past familiar Prairietown, and walked through the covered bridge, now accented inside with audio and posters to set the mood for what's to come.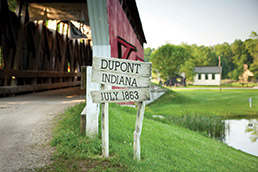 Tiny Dupont provides the setting for interactive action at Conner Prairie. (Photo Courtesy Conner Prairie)
Coming out through the other side, it was immediately clear that something was different here at Conner Prairie. Not only could we see the still-smoking remains of a burned warehouse and some train tracks to nowhere, but we could also see a Dippin' Dots stand and a soda machine over by
the Dupont train depot. Suddenly the BP logo on the Conner Prairie balloon ride didn't seem as much of an anachronism.
A wounded young man outside the Mayfield & Nichols Dry Goods Store asked us about enlisting and, when enough of us had gathered, took us inside the recently raided store.
What started as a traditional Conner Prairie ask-questions/get-answers/touch-period-stuff encounter, though, soon became something new. The Dry Goods Store has been tricked out in ways that, well, I don't want to give too much of it away. Suffice it to say that 21st-century sound and video technology have been incorporated in creative ways and, while our costumed interpreter seemed to still be struggling a bit with his expositional lines, the experience effectively set us in the right time and place.
With the kids eager to join the militia, the interpreter directed us across the tracks to a gathering area near the Porter House, where a solider said it would be about 10 minutes before he collected another batch of recruits. After a little time-killing tree climbing by the kids, we returned to the area where recruits were being taken in to "The Raid," a more intensive audio visual experience recounting Morgan's Raid and subsequent move across southern Indiana.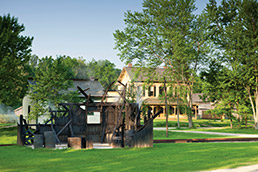 Visitors to "1863 Civil War Journey: Raid on Indiana" can see the aftermath of Morgan's Raid in a burned down warehouse. (Photo Courtesy Conner Prairie)
A little redundant? Yes. But the show further pumped the kids to sign up and chase Morgan and company.
We hurriedly exited the building only to find … uncertainty. No guidance was offered as to where to go next or what the next step was in the process. Wander over to the field? Check out the log barn or the chicken coop? Years of visiting Conner Prairie has trained visitors to free-associate around the grounds. It seemed from the beginning, though, that, "Raid on Indiana," had different rules. But now the rules were gone again.
All the build-up demanded something physical to give the experience completion. Yes, it was fun for the kids to get a patient lesson in gun handling and marching (with a stone-faced drummer to accompany them). A game of 1860s baseball is always a great pleasure, particularly on a perfect summer day (even with an inadvertent sliding catch into a moist cow patty). And a not-well-disguised modern water activity area certainly works for a kid cool-off.
But while Conner Prairie has the makings here of a remarkable and unique educational and fun experience, the arc isn't quite right. The climax of a Conner Prairie experience shouldn't come on video.
Still, as with most visits to Conner Prairie, the pleasure is in the details. And in just being out in the open air with Allisonville Road far enough away to almost forget, stilts just waiting to walk on, and knowledgeable-but-never-pushy performers willing to make you part of a very human experience.
Once again, I left more solid in the belief that those who repeat history are condemned to not forget it.
Note: It was only after safely returning to the 21st century that I read up on the exhibition and realized I had missed an entire building of interactive activity. Apparently, we were supposed to have stopped in at the Porter Family Home before experiencing The Raid. There, the impact of the invasion on a family was demonstrated in live and tech-enhanced ways. Blame may fall largely on my own sun-baked brain lapse, but organizational clarity and guidance from interpreters certainly could help.•
__________
This column appears weekly. Send information on upcoming arts and entertainment events to lharry@ibj.com.
Please enable JavaScript to view this content.