Mike's Carwash Inc. will use a new design at two locations that are under construction in Anderson and West Lafayette.
Mike's plans a ground-breaking ceremony Wednesday for the $4 million Anderson carwash, which is at 5010 S. Scatterfield Road in front of a Wal-Mart.
"We have always wanted to be in Anderson. We've been looking for a great site, and now that we've found one, we're really looking forward to serving the people there," CEO Bill Dahm said in a prepared statement.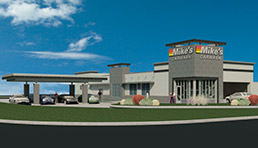 In the new design, an awning covers four vehicle lanes, and offices are in a two-story tower. (Submitted image)
The stores are expected to open this fall and bring the Indianapolis-based chain's total to 39 stores in Indiana and Ohio. Each store has about 15 to 20 full-time and part-time employees.
Mike's plans to add three new stores a year. "We are completely focused on growing," Dahm said.
In the new design by Indianapolis-based Cripe Architects + Engineers, an awning covers four vehicle-intake lanes, and offices are in a two-story tower. Exterior materials are in neutral tones of grey and white. Signs no longer will contain the word "Express." The company said the facility will feature a "high-tech, high-powered self-serve vacuum system."
Mike's is a family-owned company worth about $49 million with real-estate holdings valued at $24 million, according to a lawsuit filed last year by former owner Jerry Dahm, a cousin of the current owners. Bill and Mike Dahm are the only shareholders in the company, which their father Joe Dahm started in 1948 in Fort Wayne.
Mike's is the fourth-largest carwash chain in the country, the company said.
Please enable JavaScript to view this content.