Loon Lake Lodge may be gone, but its faux-rustic atmosphere lives on.
Housed in the former Adobo Grill spot, the first Indy location for Butte-based chain MacKenzie River Pizza Co. (4939 E. 82nd St., 288-0609) is nowhere near a river. In fact, the creek visible from the patio only serves to mock the place's name. Still, few local eateries have anything in the way of scenic beauty visible, so that's neither here (in a strip center) nor there (in the Montana wilderness).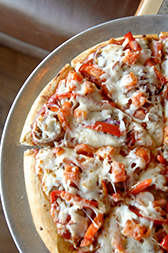 The choice of crust is yours at MacKenzie River Pizza Co., which opened its first Indy location on 82nd St. (IBJ Photo/ Perry Reichanadter)
Hungry, we started with the sharer-friendly Taos Salad ($9.75). Warm chicken chili served as centerpiece to an ample salad of greens, tomatoes, cheddar cheese, scallions, peppercinis and just enough crumbled corn chips for crunch.
You pick from original, thin, or natural grain crust for Signature Pizzas. The last proved a drag on a large Sequoia pie ($16.50), which otherwise nicely mixed sun-dried tomatoes, artichoke hearts and toasted pine nuts with fresh pesto. A thin-crust Bear Tooth Sausage pie ($17) transcended the usually pork pie by giving equal weight to diced tomatoes, onions and red peppers. (FYI: Bear Tooth isn't an exotic form of encased meat—just a colorful MacKenzie River name.)
Beyond the pizza, the Buffalo Chicken Mack n' Cheese ($9.75) featured watery sauce, blue cheese crumbles and minimal fajita chicken pieces. The Willow Creek sandwich ($9.25) fared better with a warm combo of turkey, bacon, avocado, spinach, tomatoes and mozzarella cheese. Other choices include a Pulled Pork Hoagie ($9.25) and a Meatloaf Melt ($9). The latter is also available as the centerpiece of an entrée ($12.50). Those ambitious enough for dessert can pick from Mud Pie, Cheesecake, Warm Apple Cobbler or a plate of gooey chocolate chip cookies. Those feeling touristy can pick up a T-shirt, hat, pint glass or salad dressing. We just picked up our sizable leftover boxes.•
—Lou Harry
__________
Second in a month-long series of reviews of newish pizza places
Please enable JavaScript to view this content.